2021 was a momentous year for the three major music companies.
Music Business Worldwide research – based on the published financial numbers for Universal, Sony and Warner – has discovered that the three majors (across recorded music and music publishing operations) generated over $4 billion more last year than they did in calendar 2020.
According to MBW's calculations (explained below), the three majors' global music operations cumulatively generated $23.11 billion across the 12 months of calendar 2021.
That was the equivalent of $2.6 million every hour… $63.3 million every day… or $444.4 million every week.
And just for fun… it was also around $732 every single second.
---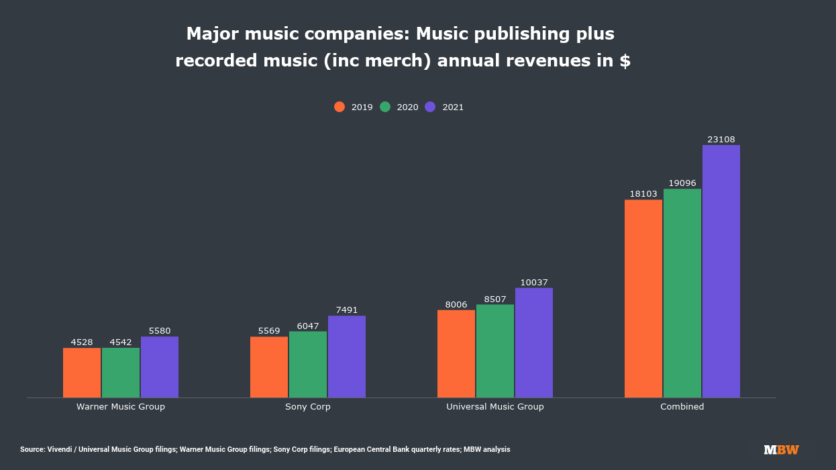 ---

The biggest overall gainer year-on-year was Universal Music Group, which enjoyed a monetary annual revenue bounce (for its recorded music operation plus music publishing) of $1.53 billion in 2021 vs. 2020.
As previously reported, that growth saw Universal take its annual revenues above $10 billion for the first time in history, to $10.04 billion.
As you'd expect, Universal Music Group was the largest global company last year in terms of annual recorded music revenues alone (including merch sales), with $8.48 billion.
Those annual recorded music revenues grew by $1.32 billion year-on-year, according to MBW's calculations.
And Universal's publishing division, Universal Music Publishing Group, saw annual revenues hit $1.58 billion, up $279 million YoY.
---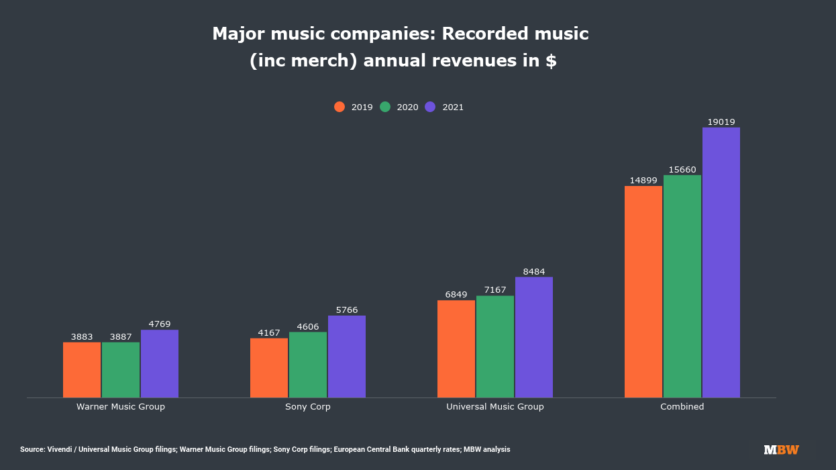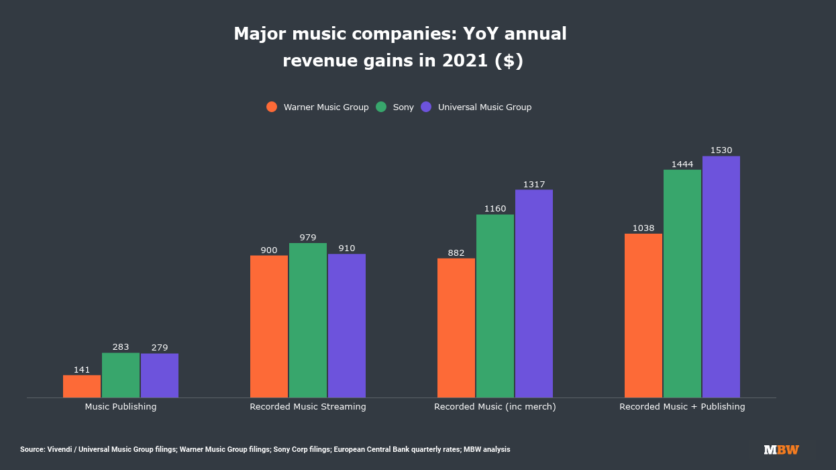 ---
HOW WE DID IT: MBW has converted published financial results for two of the major music companies – Universal Music Group and Sony's music operation – into USD from different root currencies (EUR in the case of Universal; Japanese Yen in the case of Sony). For Universal, we have converted UMG's quarterly EUR results for each quarter of 2021 using the European Central Bank's official average quarterly EUR-USD rates. For Sony Corp, we have used the average Yen-USD rates in each quarter as provided by Sony. Warner Music Group publishes its quarterly financial results in the root currency of USD.
---

Sony's global music operation across recorded music and publishing (as previously reported) posted $7.49 billion in annual revenues in calendar 2021.
That was up by $1.44 billion on the equivalent number from 2020. (MBW's numbers here omit Sony's 'Visual Media & Platform' operation, which is counted under its corporate Music division. VM&P focuses on mobile video game releases.)
Sony's global recorded music division (including merch) posted revenues of $5.77 billion in calendar 2021, up $1.16 billion year-on-year.
Sony had a particularly prosperous year in terms of recorded music streaming revenues, which grew by $979 million in 2021 to hit $3.94 billion.
2021, of course, was a big year for Sony's acquisitions in recorded music: it bought both UK-based AWAL and Brazil-based Som Livre last year, amongst other purchases. Following separate investigations, both of those deals recently won local regulatory approval.
Sony's global music publishing operations (led by Sony Music Publishing) saw annual revenues grow by $283 million YoY in calendar 2021, topping $1.72 billion.
As previously reported, if Sony's publishing operations can grow by that margin again (+$283m) in 2022, they will surpass a $2 billion annual revenue figure this year.
---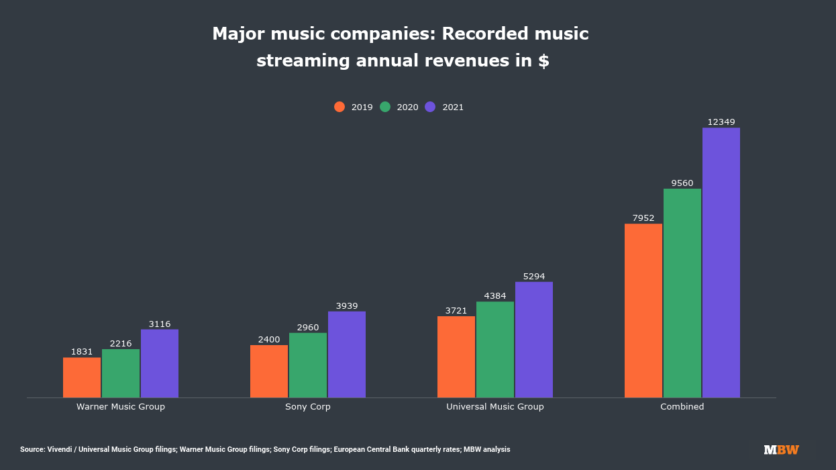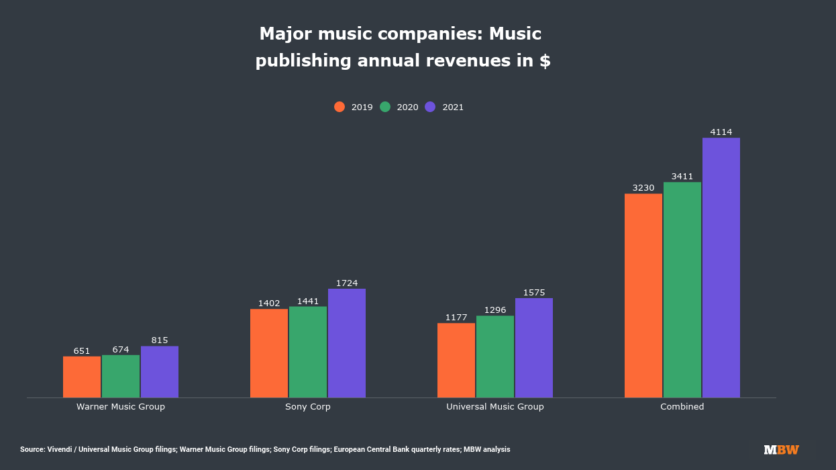 ---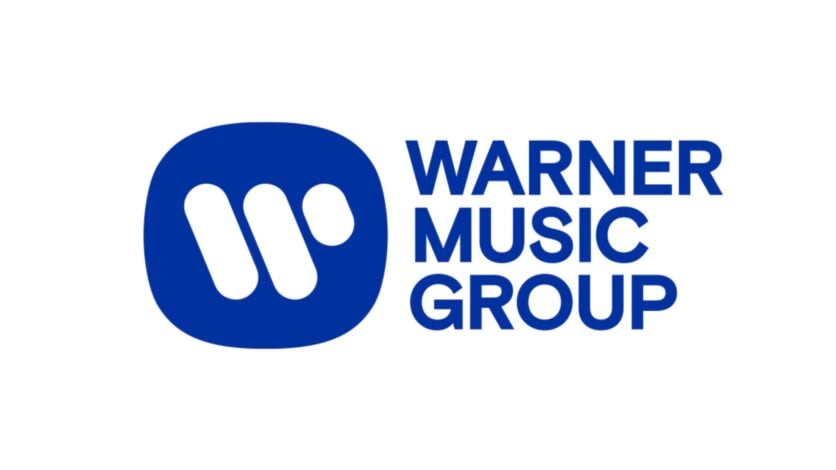 Warner Music Group posted overall revenues – across music publishing and recorded music – of $5.58 billion in calendar 2021.
That figure was up by $1.04 billion year-on-year.
Warner's annual recorded music revenues (including merch) leaped up by $882 million year-on-year to hit $4.77 billion in 2021.
The firm's recorded music streaming revenues alone were up $900 million year-on-year, to reach $3.12 billion.
And Warner's music publishing division, Warner Chappell Music, saw its annual revenues grow by $141 million to reach $815 million in calendar 2021.Music Business Worldwide