The MBW Review is where we aim our microscope towards some of the music biz's biggest recent goings-on. This time, we drill into Universal Music Group's newly-announced Q4 and FY 2021 results. The MBW Review is supported by Instrumental.
---
Universal Music Group saw its overall annual revenues surpass USD $10 billion for the first time in history in 2021.
That's according to MBW's calculations based on the music rights giant's newly-published Q4 and FY financial results for last year.
Universal, which trades in Amsterdam on the Euronext, today (March 3) announced its results in the Euro currency.
Those results show that UMG's total global revenues for the year – across publishing, records, and merch – weighed in at €8.50 billion ($10.03 billion).
That figure was up 17.0% year-over-year in constant currency.
UMG's annual recorded music revenues in 2021 hit €6.82 billion ($8.06bn), up 16.9% YoY at constant currency.
If you add in UMG's merch sales (categorized separately in Universal's financials, at €363m for the year) to its recorded music revenues, the number for 2021 comes out at €7.19 billion ($8.48bn).
(UMG's rivals, Warner Music Group and Sony, both count merch sales under recorded music revenues in their fiscal results, which is why it's worth welding these two figures together).
And in terms of recorded music streaming revenues, Universal Music Group generated €4.48 billion ($5.29 billion) in 2021, up 19.8% YoY at constant currency.
Meanwhile, Universal's publishing division – Universal Music Publishing Group – posted annual revenues of €1.34 billion in 2021, which represented another milestone: the first time in history that Jody Gerson-led UMPG has surpassed the USD $1.5 billion barrier in annual sales.
---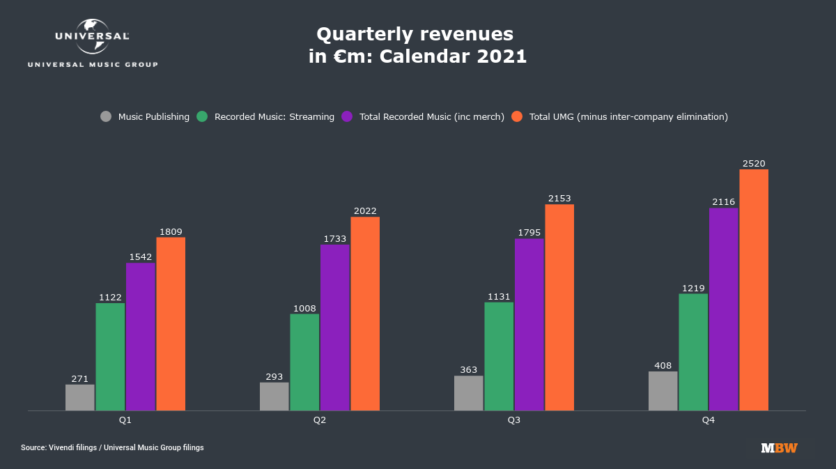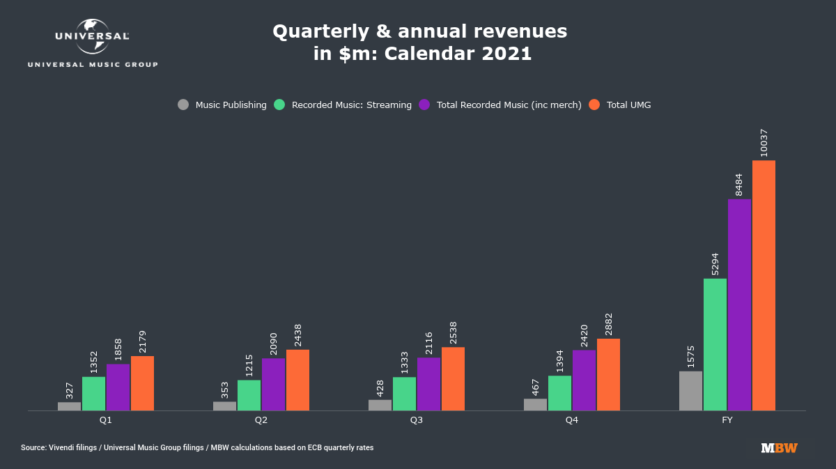 ---
There is one more very important number in UMG's results that the music industry keeps a close eye on: its EBITDA profitability.
Universal ended 2021 with an EBITDA of €1.69 billion, and an adjusted EBITDA (which omits one-time costs related to UMG's listing in Amsterdam, as well as share-based compensation expenses) of €1.79 billion.
A while back, MBW asked if Universal could possibly end 2021 with an annual EBITDA in excess of USD $2 billion.
According to our calculations, on an adjusted basis, it did just that: Universal's annual EBITDA (€1.69bn) was worth USD $1.99 billion, but its adjusted EBITDA (€1.79bn) hit USD $2.11 billion.
The firm's adjusted EBITDA margin in the year was 21.0%.
---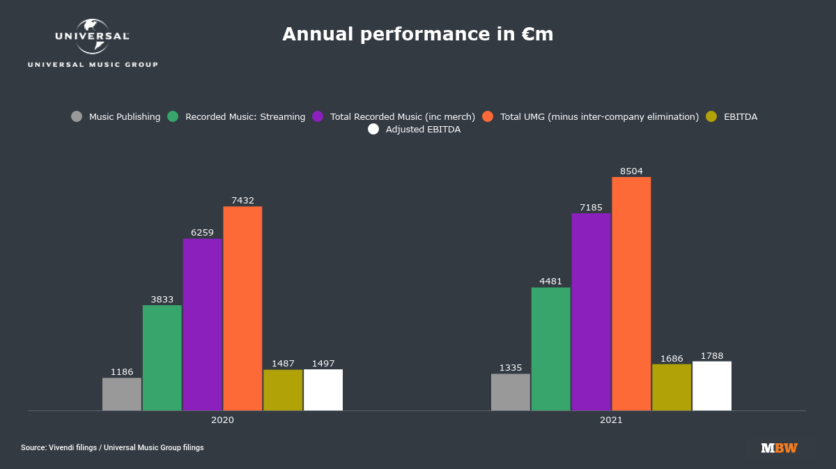 ---
A reminder of UMG's key numbers in 2021, then:
Annual revenues above USD $10 billion;
Annual streaming recorded music revenues above USD $5 billion;
Annual publishing revenues above USD $1.5 billion;
An annual adjusted EBITDA above USD $2 billion.
And check this out: Universal Music Group's total revenues on a Euro basis in 2021 (€8.50bn) were more than double the size of UMG's annual revenues a decade earlier, in 2011 (€4.20bn).
2011 just happened to be the year Sir Lucian Grainge was named global CEO and Chairman of Universal Music Group. (The following year, under Grainge's leadership, Universal completed the acquisition of 'the fourth major record company', EMI Music, in a $1.9 billion deal.)
All told, then, 2021 was not a bad 10-year anniversary in Universal's hotseat for Grainge, who said of UMG's latest numbers: "2021 was yet another historic year for UMG. We helped our artists achieve extraordinary success – including 8 of the IFPI's top 10 global artists of the year.
"In addition to strong performance in streaming, we drove new areas of opportunity for our artists – ranging from merchandise to brand management, sponsorship, ecommerce, and film & television. And we expanded our partner portfolio into emerging growth areas such as health and fitness, Web3 and social video.
"2021 was yet another historic year for UMG. We helped our artists achieve extraordinary success – including 8 of the IFPI's top 10 global artists of the year."

Sir Lucian Grainge, Universal Music Group
"Our success in all these efforts showed in our financial performance – revenues increased by 17% on a constant currency basis, Adjusted EBITDA margin expanded and Free cash flow improved significantly.
"Going forward, we see the industry continuing to grow and – with our unique experience, our deep understanding of the business and the vast artist relationships and global creative networks – we expect to further strengthen our position as the industry leader as we continue to break new artists and build on our world-class catalogue."
---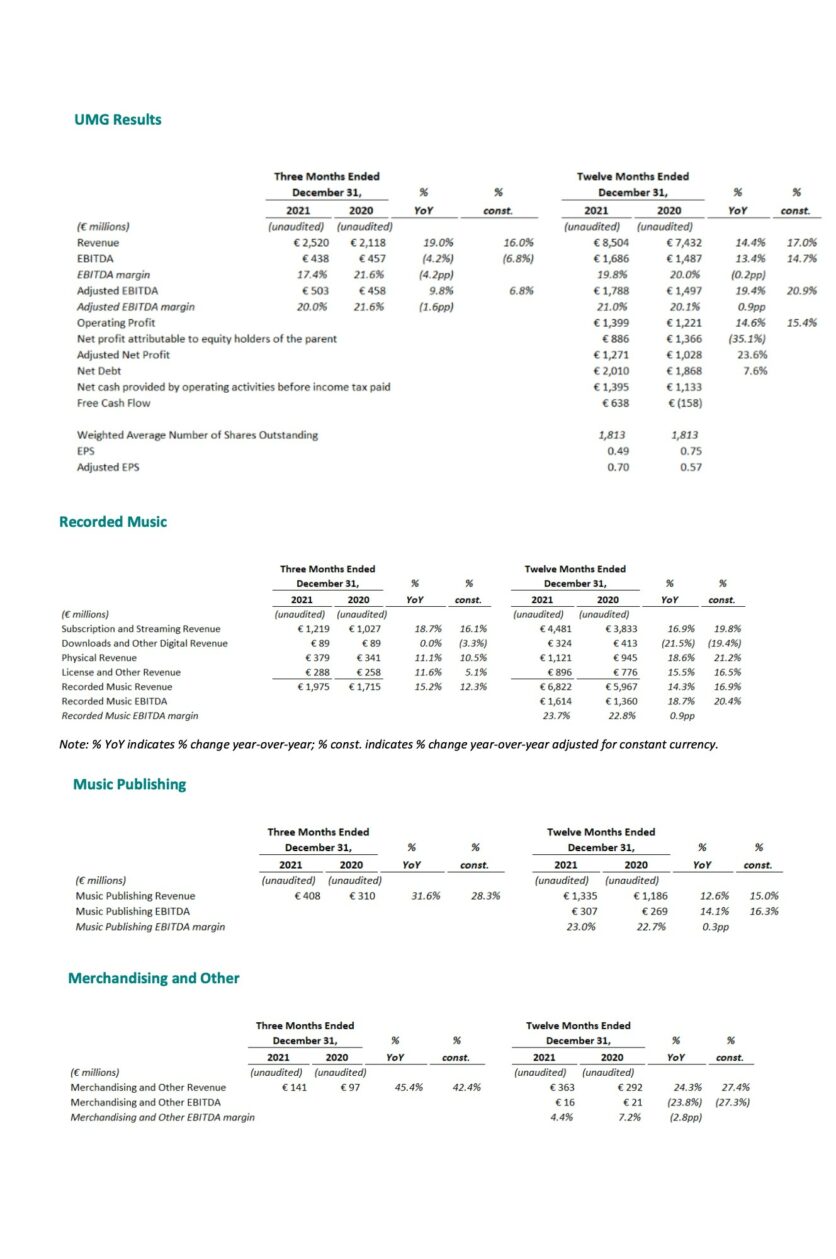 ---
A quick note on currency exchange: MBW has calculated UMG's annual revenues in USD for 2021 by converting the company's published quarterly results using the European Central Bank's relevant quarterly reference exchange rates for EUR-USD. For EBITDA and adjusted EBITDA, our USD numbers have been calculated using the IRS's annual average EUR-USD conversion rate.
---

The MBW Review is supported by Instrumental, one of the music industry's leading growth teams for independent artists. Instrumental uses data science to identify the fastest growing independent artists on the planet and then offer funding, premium distribution and marketing support to take them to the next level, without taking their rights.Music Business Worldwide