The richest man in Britain still believes in Deezer.
Len Blavatnik's Access Industries has participated in a €100m ($109m) funding round for the French Spotify rival – just three months after its scrapped bid to float on the Paris stock exchange.
The other investor in the new round is Orange, which has held a long-term bundle offer with Deezer in France that some suspected would come to an end this year.
This is the second time that Access Industries has invested in the French company; it pumped another €100m into the firm back in October 2012, in a round with previous investor Idinvest.
Deezer lost just under $100m (€87m) in the three-and-a-half years from 2012 to end of June 2015 alone.
Between 2012 and 2014, it paid out $23m (€20.6m) in unallocated advances (breakage) to record companies – out of €257m ($287m) total advances in the period.
This month, it saw new market entrant Apple Music overtake its subscriber base.
Apple Music is now on 10m subscribers, with Spotify believed to have accrued north of 25m customers.
According to a document released when Deezer attempted to IPO last year, Deezer's total global subscriber base stood at 6.34m in the first half of 2015.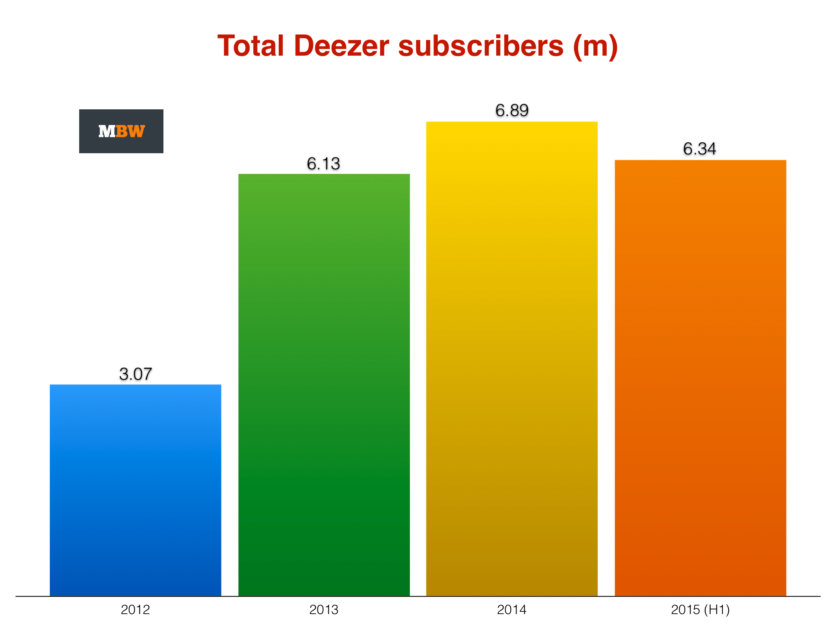 However, only 3.8m of these subscribers were actually coughing up month-to-month ('revenue-generating'), either through a standalone subscription or a bundle deal.
According to the 2015 document, Deezer had 3.34m 'monthly inactive bundle subscribers' using (or rather, not using) Deezer.
That amounts to 53% of the service's total 6.34m total subscriber base.
Deezer CEO Hans-Holger Albrecht said: "We're in the early stages of the music streaming market and it's quickly becoming the primary distribution channel for music.
"The additional funding will allow Deezer to consolidate our position as a leading global, independent audio streaming service and expand our offering to music lovers around the world."Music Business Worldwide