Apple Music officially has more than 20 million paying subscribers.
The Cupertino company just confirmed the milestone to MBW – and it comes less than 18 months after the streaming service launched on June 30 last year.
The next obvious question: how does Apple's latest subscriber count compare to Spotify's?
Daniel Ek announced in September that his platform had bypassed 40m subscribers – while MBW expects it to top 50m by February 2017. (This could be accelerated by recently-announced price promotions worldwide.)
In 2016 alone, Spotify has added 12m subscribers at last count (28m > 40m) while Apple Music has added 10m (10m > 20m).
Apple would counter by pointing out that, after launching in 2008, it took Spotify seven years – until Summer 2015 – to reach 20m subscribers.
(Although, obviously, Spotify hasn't sold a billion iPhones – an installed base which rather helps enhance Apple's ambitions.)
Regardless, seeing two services attract over 60m streaming subscribers between them is promising – especially when you consider that, at the end of 2014, the music business counted just 41m paying subs across all on-demand services globally (source: IFPI).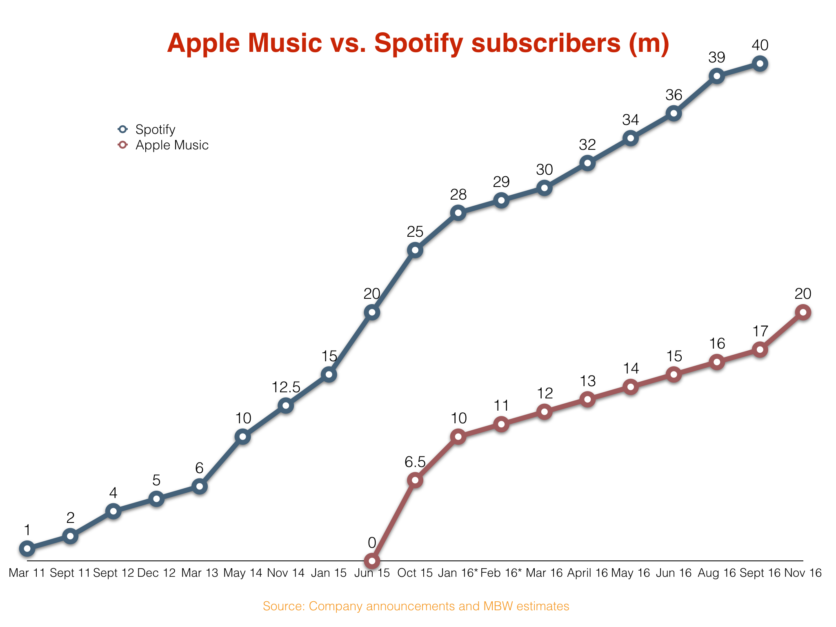 Apple's latest update came amid the reveal of it 'Best of 2016' list, which highlights both editorial picks, as well as the top-selling + streamed Music, Apps, Games, TV shows, Movies, Books and Podcasts of the year.
You can check the full charts (and playlist) of Apple Music's Best Of The Year through here.Music Business Worldwide