As live music events continue to rebound from the COVID-19 pandemic, Apple Music has expanded its curation efforts into the live music space.
The music streaming service has introduced new concert discovery features on Apple Maps and Apple Music, according to an announcement on Tuesday (May 16).
With these new features, Apple Music aims to enhance the live music experience for fans and connect them with their favorite artists.
The company says that its 'global team of expert curators' has created over 40 new 'Guides,' each handpicking venues to experience live music in cities worldwide. 
These Guides are accessible on Maps and allow fans to browse upcoming shows directly from the app through Shazam's concert discovery module.
The music recognition app launched the new feature in March 2022, four years after it was acquired by Apple.
Shazam's concert discovery feature provides concert information and tickets on sale for upcoming shows nearby. This feature uses concert information from Bandsintown, an event recommendation platform, which has 77 million registered fans and 570,000 registered artists.
Apple Music's Guides are now available at apple.co/MusicVenues and featured cities include Chicago, Detroit, Los Angeles, Nashville, New York City, and San Francisco in North America; Berlin, London, Paris, and Vienna in Europe; Tokyo, Melbourne, and Sydney in the Asia-Pacific region; and Mexico City in Latin America.
---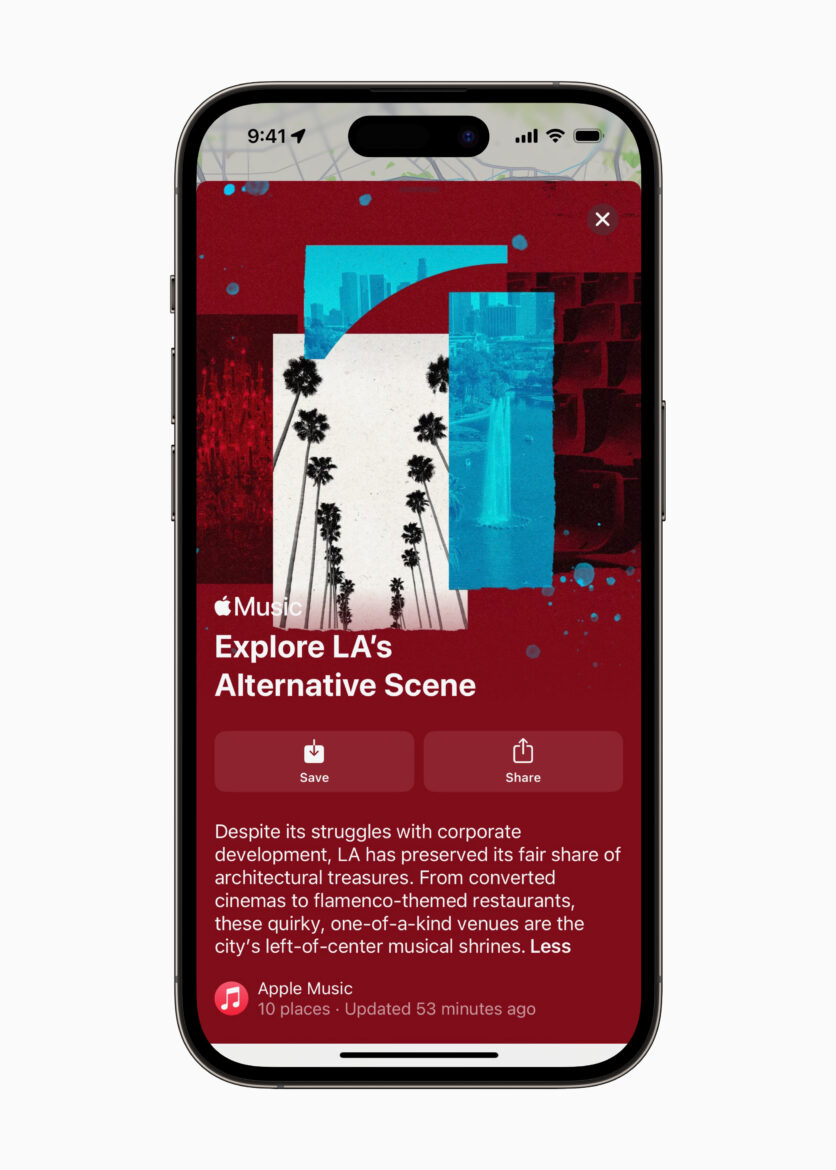 ---
In addition, Apple Music also launched a new 'Set Lists' space, which provides a selection of major tours, allowing fans to listen to set lists from concerts and learn about the productions. 
Available now at apple.co/setlists, the feature enables fans to browse artists' upcoming shows in their area by launching Shazam's concert discovery module, which also leverages concert information from Bandsintown.
The new features mark Apple's latest move in the live music space.
Apple Music revealed last week that its 'Apple Music Live performance series' would be returning for its second season starting May 10.
Season Two kicked off with an exclusive performance by superstar Ed Sheeran at the Eventim Apollo in London to showcase his new album, – (pronounced "subtract"), in full for the first time alongside a 12-piece band including Aaron Dessner of The National.
---
The introduction of these new features heightens Apple Music's competition with Spotify.
The latter launched virtual concert listings in September 2020 in partnership with Songkick, the concert discovery app acquired by Warner Music Group in 2017.
Two years later, Spotify started testing concert ticket sales directly to fans via a new 'Spotify Tickets' site.
The competition between Spotify and Apple Music in the live events space highlights the growing significance of the live music industry post-pandemic. 
Events giant Live Nation recently reported a 73% year-over-year jump in first quarter revenue to USD $3.1 billion, while Ticketmaster saw its revenue surge 43% YoY to $677.7 million, as ticket sales hit 145 million.
Music Business Worldwide