When Andy Macdonald launched Go! Discs in 1983, he couldn't have possibly known the impact his signings would subsequently have on British culture and around the world.
One of the most successful UK independent music entrepreneurs of the modern era, Macdonald attracted a raft of big names to the Go! Discs stable including The Housemartins (and, later, The Beautiful South), Billy Bragg and The La's, plus Paul Weller for his first three solo albums – including both Wild Wood (1993) and Stanley Road (1995).
A subsidiary of Go! Discs, Go! Beat, launched in 1992. To head up A&R at the sub-label, Macdonald hired a young Ferdy Unger- Hamilton (now President of Columbia Records UK), who signed the likes of Gabrielle and Portishead. Go! Beat also provided the home for Norman Cook's first crack at becoming a 'someone' in electronic music with Beats International.
In 1995, Go! Discs became the label partner of a hugely ambitious charity project to raise funds for the then little-known War Child.
The Help Album, featuring the likes of Oasis, Radiohead, Paul McCartney, Blur, the Stone Roses and the Manic Street Preachers, was recorded, mixed and released all within the same week. It generated over £1 million for War Child.
Having sold Go! Discs to PolyGram in 1996, Macdonald resigned from the label to start another venture, Independiente, where he would enjoy the biggest successes of his career.
One of his first signings at Independiente, Travis, achieved global recognition and success with the 1999 release The Man Who, which reached No.1 on the UK Chart and sold over 3.5 million records worldwide. Additionally, it was named Best Album of 2000 at the BRIT Awards.
Travis' 2001 follow-up, The Invisible Band, also reached No.1 on the UK Chart, with the radio hits Sing and Flowers in the Window. Independiente enjoyed further No.1 chart success with Embrace via their two albums, Out Of Nothing (2004) and This New Day (2006).
Other signings to Independiente included Martina Topley-Bird, Howling Bells and So Solid Crew, with whom the label scored a groundbreaking No.1 UK hit in 2001 with 21 Seconds.
Fran Healy, frontman and lead songwriter in Travis, recalls being signed by Macdonald: "I was standing at the bar in Water Rats at Kings Cross on July 22nd, 1996 when the guy beside me turned and said, 'Are you Fran Healy?'
"'Yes', I said. 'Well I really love your band and your songwriting and I would love for you to come and be on my record label.' I was like, 'Uhhh… okay?'
"We signed to a yet-to-be established record label – Independiente – a couple of months later. Andy threw everything behind our first record. It barely left the ground. But rather than drop it, he doubled down. He had balls. The biggest platinum plated balls I've ever known. They would clink together every time we sold a unit.
"The most important thing to me was that [Andy Macdonald] listened to and trusted the band… even when his own instinct disagreed, he let us do our thing and I am forever grateful to him for this and for the confidence he instilled in us."

Fran Healy, Travis
"The weeks around Christmas 1999, when we were selling 200,000 per week, were particularly uncomfortable for Andy as the clinking was constant, resembling an old-school alarm clock. I think the most important thing to me was that he listened to and trusted the band… even when his own instinct disagreed, he let us do our thing and I am forever grateful to him for this and for the confidence he instilled in us."
Chris Wright, founder of Chrysalis and an early mentor of Macdonald, adds: "Andy was a very fresh faced 22-year-old when he walked into the Chrysalis office asking for a label deal for his new company, Go! Discs, and the first group he had signed, The Housemartins. We had a lot of success together, and he has had a lot of success without us, too."
Here, over sausage sandwiches in Electric House, Macdonald tells Music Business Worldwide about some of his career highlights – and his philosophy regarding the art of A&R…
---
You grew up in South Yorkshire, where you played in local orchestras when you were younger. How did you get from there to your first gig at Stiff Records?
At 18, I went to a college down on the south coast for four years, then went to Europe for a year, before moving back up to Sheffield and buying a house. The life plan was to be a barrister – I'd studied law and I was going to do the next stage. When I sold that house, around 23, I made three grand.
Once every fortnight [at that time] I would work on tracks at a basement studio near Wakefield. We sent some tapes, made with my friend Neil Ferguson, to labels in London and, surprisingly, I got invitations down to see Virgin, CBS and Stiff. I was almost offered a record deal at Stiff, which was a proper independent, above a taxi rank in W9. With the music I'd sent, there was a press release I put together, a little one- act play, and they liked that. So I was given a job there as a press officer in 1982, which I did for 11 months.
[Towards the end of that tenure] I had some friends in a band in Sheffield called CLOCK DVA who'd split, and my good friend Paul Widger, the guitarist, asked if I could put a record out [by his new band, The Box]. From the £3,000 I made on the house, I had £1,500 to put a record together – everything from recording it to pressing it up – and £1,500 to live on.
It was a big gamble, really. Stiff had just moved up to Camden and I nipped in there to use their franking machine to send out about 70 or 80 of these 12-inch vinyls. I was caught by the head of finance! Anyway, the record came out and sold a couple of thousand copies, but it made enough money to fund an album with the same group, which we then licensed to Germany and Benelux, and we did okay. And then I came across Billy Bragg and The Housemartins.
---
How did you find Billy?
My sister was a journalist, and she just did a photo session with Billy. She hadn't heard any music, but she just thought he was so switched on and convincing. Pete Jenner had just left Charisma and was starting to manage Billy. They'd put out 750 copies of his [debut] record, nothing was in the shops really. My sister said to him, 'My brother's got a record label, you should send him a copy.'
The following morning, the 12-inch of Life's A Riot dropped on the mat. I listened to it six times in a row: he's such a brilliant lyricist. It was an insanely good record. Billy's advance with us was £500 and a copy of Motown Chartbusters Volume 3, and I remember he bought a 60 watt Roland amp.
Billy did really well, we signed The Housemartins, and then we were talking to a few people about how we could get international distribution and a bit of funding. We got on with Chrysalis, and we did four years with them.
---
When did The La's come into the picture?
They were next: Rough Trade used to put out a publication called The Catalogue, which was basically their fanzine. Every month it came out they'd ask someone to review a load of demos. I did it and had 17 tapes to listen to.
I got about seven or eight into it and there was this demo from The La's – it had There She Goes on it, Doledrum, Son Of A Gun. I was sitting there thinking, I can't advertise this to the rest of the industry, so I had to mark them down! After that, I went up to see them at the Everyman Theatre in Liverpool, which was unbelievably brilliant. Lee [Mavers] is a really exceptional songwriter.
---
What does A&R mean to you?
A&R is a funny thing. I've a huge amount of respect for people who can piece together a writing team with a particular artist, then bring in the producer who's going to perfect it, pull those little [hit-making] conglomerates together. That's not really what I do – I look for pure artists who are driven to express something that they feel deeply, and I try to create an environment where they can really do that.
As a songwriter, the moment you get a commercial reward, you start writing to someone else's pace; it gets a little bit out of shape. I think if you want your artists to make really lasting work, you've got to allow them to (a) empty all that emotion out into their work, and then (b) live life again, to gain more experience and [feel] the emotions that come from that. Essentially, music is an emotional language that connects people, and we all do well to remember that.
---
How do you gain the trust of an artist?
You have to listen a lot. It's a huge act of trust for any artist to say, 'I'm going to let you be involved in this.' You have to earn that respect. All of the artists I worked with in the early days [of Go! Discs], I really loved them and respected them. You can't fake that if you're going to do [A&R] properly; you've got to be as close as you can to 100%.
The things that tell you that you're at that level are that you go to bed thinking about the songs, what the career moves will be, where the dangers lie. They become obsessions, really. But you also mustn't clutter the pathway – there are thousands of decisions in a career, and it's about recognising where the important ones are.
"All of the artists I worked with in the early days [of Go! Discs], I really loved them and respected them. You can't fake that if you're going to do [A&R] properly; you've got to be as close as you can to 100%."
I used to roll a joint occasionally and have a bit of a realisation. The traditional cliché about the music business was that the record labels are the kingmakers, they can try a bit of that, a bit of this, sprinkle some cash on things and there you go – there's fame. But I think it's different: the elevated position is not the record companies, it's the artist. Because what artists are involved in is a really specific and unique talent: a lot of songwriters experience things at a more acute level, the beauty of the world, or they feel pain at a deeper level.
I met my wife at the Wild Wood launch party down in Mayfair, and we listened to that record, separately, for another year, before we saw each other again. It bound us together. You've got to understand that power and respect it. You've got to work to understand the artist's world, and then tread carefully.
---
Any other key A&R beliefs?
When you're in a position where an artist believes you, where they trust you, don't hold back. If there's a robust, honest conversation that you think can make something better, then have it. But the artist should always get the final say.
As an A&R person, you're the gatekeeper for allowing some beautiful stuff to come through that might still be there in 10, 50 or 100 years. And not everyone gets it right every time. But if you're only doing it for something as perverse and humdrum as making a commercial success… who gives a fuck? Seriously.
---
How did Go! Beat happen?
It was a label identity that Norman Cook (pictured) came up with when The Housemartins split. Some of them went and formed The Beautiful South, and Norman went off and did Beats International, for which he wanted a slightly different label identity. Go! Beat came from there. We had a big hit with Dub Be Good To Me [1990], but then [Cook] drifted away, and to be honest we probably didn't have our eye on the ball when he was building up his early stuff for Fatboy Slim.
Then we heard there was this really bright A&R kid – and I use the word 'kid' legitimately, because he was 18 at the time – in Ferdy [Unger-Hamilton]. He's brilliant, very clever, and has such a strong empathy with music and musicians; he writes himself, so he gets it. He parted company with his previous employers [Chrysalis] and we really got on well with him.
Ferdy came across and spent about a year doing a lot of early UK garage, which got [Go! Beat] a lot of really good reviews and credibility. We suggested he go and scan the white label charts to find the track that was killing it [in that world] and had the potential to be a hit. He called me on a Sunday morning at home about three or four months later: 'Mac, Mac – I've got it!' So we came in on the Monday morning and he played me Dreams by Gabrielle, which went to No.1 and launched a great career.
Ferdy's got a really wide appreciation now, but at that stage of his career he was particularly knowledgeable about dance music and hip-hop – the biggest authority in our little world. We'd be playing Public Enemy, Arrested Development, N.W.A… and one day we said, '90% of what we play here is hip-hop. Where's the inspiration [from this] landing with UK producers and artists?' Ferdy went off and spoke to a dozen or so people, one of whom was Cameron McVey, Neneh Cherry's husband, and he mentioned this kid from Bristol called Geoff Barrow.
Ferdy got in touch and there was a demo tape with seven songs – four with Beth [Rowland]'s voice on, and three with another singer. Ferdy used to go up and down the motorway to Bristol and keep [Geoff and Beth] in good shape and give them good advice. And almost nine months later, [Portishead's] Dummy came in. And we sat in the office going, 'Fuck me. This is a landmark record.'
---
How did Go! Discs end?
We had sold PolyGram/Universal 49%, so we still had 51% ownership. Everything in the Articles of Association gave us the decision-making power.
They had to set a price to buy our 51%; we had a final right to buy their 49% at that [same] rate per share, plus an extra 15%. They played a blinder – we were a few million short [of being able to do a buyback]. But we had a load of cash, and set up Independiente a week later.
---
Was it sad seeing the label go like that? Or did it make you more determined to succeed?
Both. It's hard because you've got a lot of friends, work you're really proud of [tied up in Go! Discs]. But negotiations, if they take a good turn, they can really bond a relationship, and if they don't, it goes the other way.
We got Universal's financial backing and some really good advice, but I guess we were kind of dancing with the devil. Obie was quite a tough boss, but I came out of every meeting with him going, I've learned something.
He made you a better exec, I suppose – Roger Ames was the same. Everyone respected Roger for his business knowledge as well as his music knowledge. He's a proper leader of people. I learned a load from him.
---
So you start Independiente. What's the first big moment?
I had Travis up my sleeve. They were in a band before they became Travis, with a different line-up. Fran is such a lovely, delicious, wide-eyed personality.
Travis's first album [Good Feeling, 1997] got some good critical acclaim, but I still think some of those songs are under-valued. And then they came with The Man Who, and it just took off in a big way. It's an amazing record.
It went to No.1 three times, 52 weeks apart – you also have to tip your hat to the management, Ian [McAndrew] and Colin [Lester], who were brilliant, always playing to win.
When you've got an artist playing live, the best place to be is in the first two or three rows because you can get a sense of the level of passion people have. Travis really had that going on.
I remember saying to them, [your career] is like a dam: you've got to keep chipping away. Every time you do an interview, play a gig or put a song out, you're chipping away. And eventually, you're going to find a keystone, the whole thing will go bang, and you'll get swept away. And that's what happened!
---
How did So Solid Crew come about?
They were on Shabs' label, Relentless, and they had They Don't Know out. I remember that track getting played and mentioned – Greg in our office was pushing it – but we were just winding up for Christmas. [During that break] I clicked on MTV Base at home and saw the video, and I just thought, fuck me, this looks amazing.
We worked out a deal with Relentless in which we helped fund all the marketing, paid for the video, and acquired the rights to adopt that single [21 Seconds] for our album. My MD at the time, Mark Richardson – the best visual person working in music I've ever come across – chatted to So Solid and found the right people who could [include] all their ideas in a video.
There was so much talent in that group; producers, writers, lyricists, rappers. If it hadn't been for councils not letting them play live and all the other stuff they faced, on pure talent, they were as good as it gets. You hear so many records around now and you think, 'Without [So Solid] doing what they did…'
---
What lessons can we learn from the scaremongering that surrounded and restricted So Solid's career at that time?
Some records in this business get a disproportionate amount of focus and attention, because record companies tend to underestimate the public taste, generally. This home counties, narrow idea that some – not all – record companies might have, that it's got to be very safe, good looking kids, singing old hits. I mean, there's a place for that. And it's… in the toilet [laughs].
"Some records in this business get a disproportionate amount of focus and attention, because record companies tend to underestimate the public taste, generally."
It's a bit better now than it was then, I suppose. Partly because artists can own their music and circumvent all of that. It's why I think companies like Kobalt are fantastic.
---
Doesn't the rise of independent artists endanger the art of the record label A&R?
For every artist, no matter how self-sufficient, it's really good to have a sounding board – it's about tiny little observations. Fran would always say, 'That's the grandfather song, and that's the grandmother song; after that comes the mum song and the dad Song.' Describing songs as little families, living entities, which of course they are; it's an intellectual birth or emotional birth, rather than a flesh and blood birth.
It's an incredibly precious thing they're sharing with the rest of the world. And no-one ever knows 100% of anything, at all, so even if you're a really self-sufficient artist, if you're open to that process [of feedback] – be that from a band member, a partner, a publisher, a manager or a label A&R guy – you need a trusted person, a lieutenant.
I hear quite a lot of tracks that come along now that are really good, but I think, 'If only there was a little bit more funding there to build a string section or whatever…' A lot of stuff is 95% realised to my ears. Some music needs that immediacy, needs to be thrown down like a Jackson Pollock painting. But other music needs to be crafted.
---
Why did you feel emotionally ready to sell Independiente to Concord earlier this year?
I really liked the people, the price was good, and it cleared the decks for me. Working catalog is really noble, but at heart I'm an A&R guy: the most exciting thing for me is walking into the Everyman Theatre and seeing The La's playing with no stage and everyone smoking a doobie; or Paul [Weller] calling up and saying, 'Come down to the studio, I'm ready for you to hear it now.'
I'm currently doing all the business strategy and marketing for my wife's fashion label, which is really good, another world. And I shouldn't say too much, but if you're going to come back to the [music business] after a while, you've got to be prepared to do it with every bit as much passion in your DNA as you had before.
---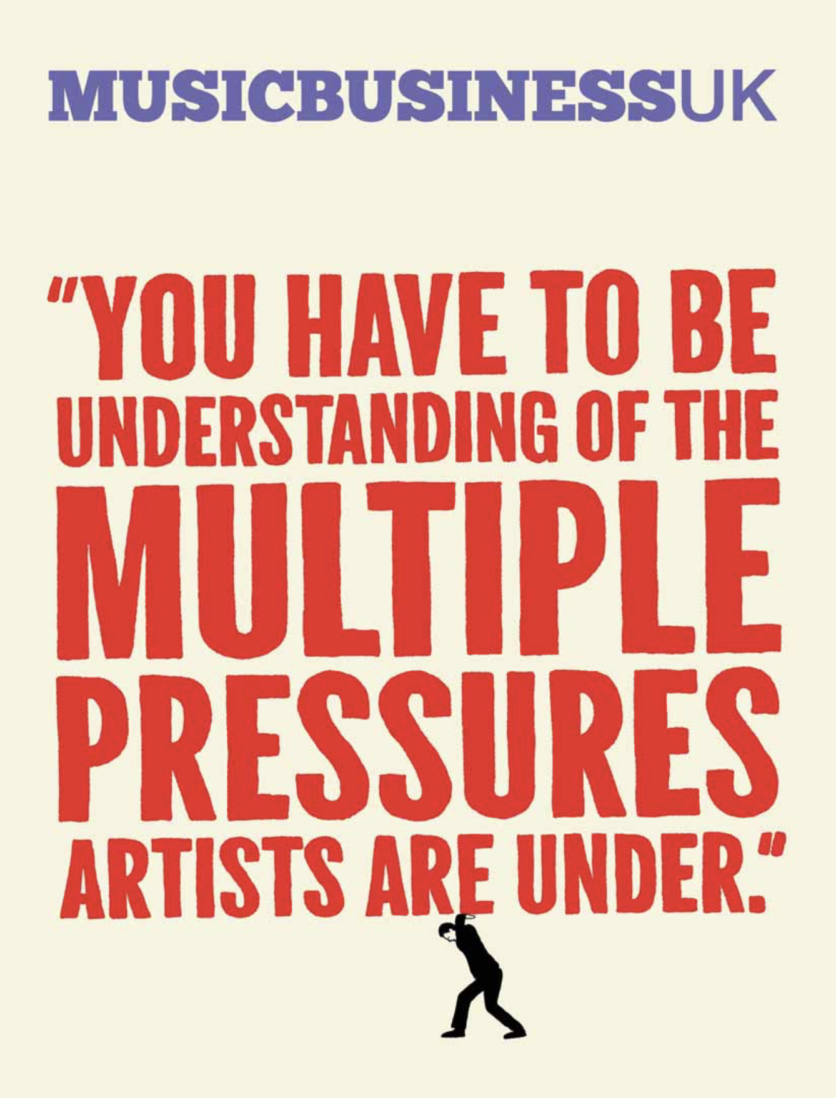 This article originally appeared in the latest (Q4 2019) issue of MBW's premium quarterly publication, Music Business UK (pictured), which is out now.

MBUK is available via an annual subscription through here.
All physical subscribers will receive a complimentary digital edition with each issue.Music Business Worldwide