MBW's Stat Of The Week is a series in which we highlight a single data point that deserves the attention of the global music industry. Stat Of the Week is supported by Cinq Music Group, a technology-driven record label, distribution, and rights management company.
---
YouTube's ads business is a money-making machine.
According to stats published by the video platform's (and Google's) parent company Alphabet last week, YouTube made $8.63 billion from advertising in Q4 2021 (ended December).
That figure was up 25% compared to Q4 2020, when the platform generated revenues of $6.89 billion from ads.
Interestingly, it was also a comfortably bigger quarterly revenue figure than that achieved by Netflix in the same period ($7.71 billion).
Breaking down YouTube's $8.63 billion Q4 revenues further reveals that the platform generated an average of $2.87 billion per month from advertising in the final three months of 2021 – that's $93.8 million per day.
Having generated $20.21 billion from ads in the first nine months of 2021 and $8.63 billion in Q4, YouTube's total ads business across the 12 months of 2021 raked in a whopping $28.84 billion.
It's worth noting that this $28.84 billion total ad revenue figure does not include revenues derived during the year from global subscribers to the YouTube Music and YouTube Premium services.
It's also nearly double the equivalent figure ($15.15bn) that YouTube generated from ads as recently as 2019.
---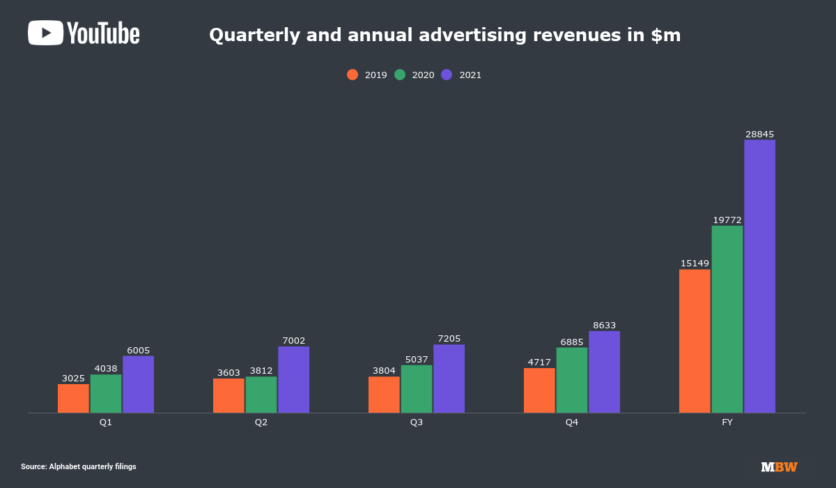 ---
YouTube announced in September that it reached 50 million subscribers to YouTube Music and YouTube Premium, including trialists. (YouTube Music is available as a standalone subscription platform, or bundled into a YouTube Premium subscription.)
In June 2021, YouTube revealed that it paid more than $4 billion to the music industry in the prior 12 months.
---
In November, MBW forecast that YouTube's annual ads business would be bigger than the trade revenues of the entire global recorded music industry in 2021.
That now looks like a forgone conclusion: In 2020, according to IFPI, the global recorded music industry generated $21.6 billion in total revenues.
In order to eclipse YouTube's $28.84 billion in 2021 annual ad revenues, the worldwide record business would need to have seen annual revenue growth of 33.3% or more last year.
Two of the record industry's biggest companies – who both had stellar annual results in calendar 2021 – indicate that's in the realms of possibility, but might be a bridge too far.
Sony Music Group's recorded music operation saw revenues grow 33.0% year-on-year in calendar 2021, according to MBW's calculations. Warner Music Group's recorded music division, meanwhile, saw its annual revenues grow 20.6% YoY in the same period.
The IFPI is expected to confirm the global recorded music industry's 2021 annual trade turnover towards the end of Q1 2022.
---
Speaking on Alphabet's earnings call last week, Google/Alphabet Chief Financial Officer Ruth Porat noted that YouTube's advertising revenues of $8.6 billion in Q4 2021 reflected "strength in both direct response and brand advertising".
She added that "the deceleration in the growth rate versus the third quarter of 2021 was driven primarily by lapping a strong recovery in brand in the fourth quarter of 2020".
YouTube's latest ad revenues follows the recent publication of YouTube CEO Susan Wojcicki open letter to the platform's creators, outlining its "priorities for 2022".
In the letter, Wojcicki wrote that the number of YouTube channels around the world making more than $10,000 a year was up 40% year over year.
However, she didn't specify how many YouTube channels were earning that sum annually.
---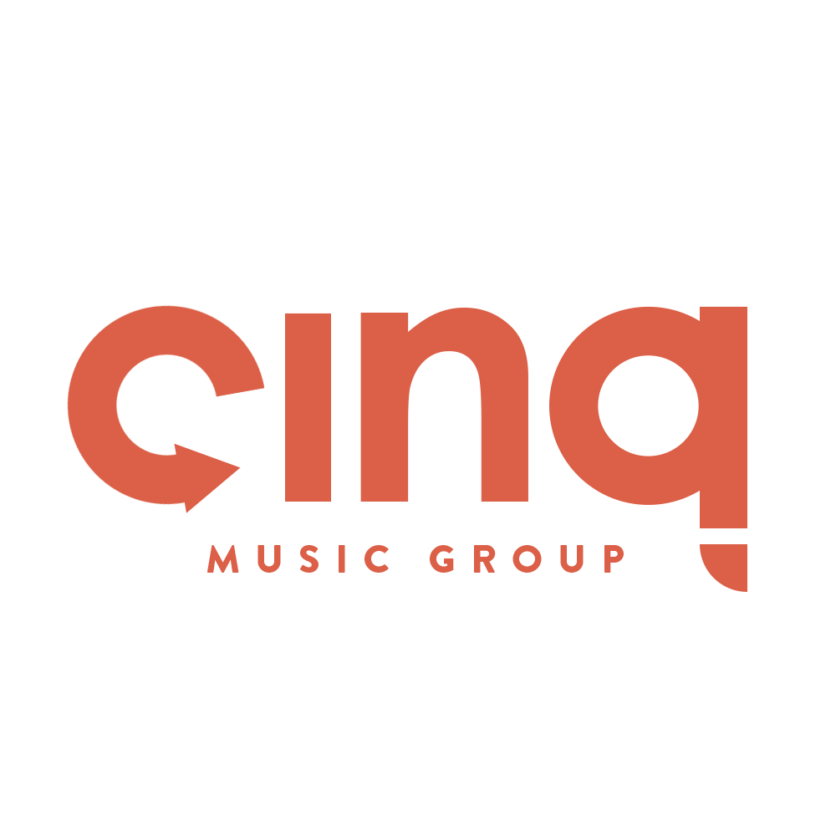 Cinq Music Group's repertoire has won Grammy awards, dozens of Gold and Platinum RIAA certifications, and numerous No.1 chart positions on a variety of Billboard charts. Its repertoire includes heavyweights such as Bad Bunny, Janet Jackson, Daddy Yankee, T.I., Sean Kingston, Anuel, and hundreds more.Music Business Worldwide