It should be a good news day for the global music industry.
The recorded music business in the US, the world's biggest entertainment market, grew in value terms by 0.9% last year, according to new stats from the RIAA.
Yet the industry discussion in the wake of these positive figures has begun to focus on what might have been. Particularly, that is, when it comes to on-demand ad-funded streaming.
The new RIAA data shows that the free tiers of YouTube, SoundCloud and Spotify etc. generated $385.1m in the US in 2015.
Despite demonstrating 30.6% year-on-year growth, this figure has upset rights-holders.
"Comparisons to audio-only subscription services are apples to oranges."

YouTube statement
One reason for that upset: ad-funded's retail worth (although clearly not its wholesale worth) was once again less than that of vinyl albums, which generated $416.2m and actually grew faster than ad-funded streaming, up 32.2%.
In fact, the ad-funded figure was less than one third of the money – $1.22bn – generated by premium services like Spotify Premium, Apple Music and TIDAL (not to mention Google's own Play Music).
Plus, ad-funded was just 16% of the total streaming pie, and – gulp – 5.5% of the US market's total retail revenue of $7.02bn.
That's despite YouTube claiming more than 50% of all music streams in the US last year.
RIAA chief Cary Sherman zoned in on this disappointing performance from YouTube and others following publication of the revenue figures.
"YouTube boasting about its payments to the music industry is like bernie Madoff boasting about paying dividends to his investors."

Major label source
"While today's data is encouraging, the challenges facing us are significant," he wrote in a blog post.
"In 2015, fans listened to hundreds of billions of audio and video music streams through on-demand ad-supported digital services like YouTube, but revenues from such services have been meager — far less than other kinds of music services. And the problem is getting worse."
Sherman then presented the below 'value grab' graph, which he says demonstrates "the alarming disparity between the growth in the number of ad-supported streams compared to the growth in revenues generated from those streams".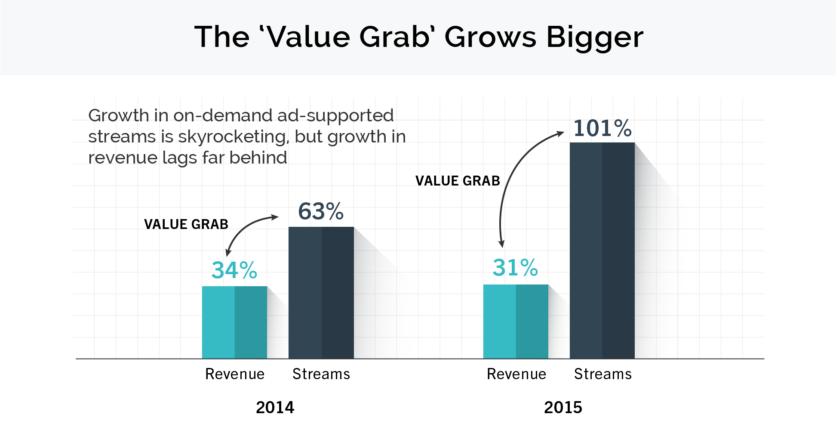 Sherman added: "This is why we, and so many of our music community brethren, feel that some technology giants have been enriching themselves at the expense of the people who actually create the music.
"These unjustifiable inequities (really, special-interest favors) include: the exemption AM/FM broadcasters enjoy from having to pay artists and labels for the music they play, satellite radio's unfair and inexplicable below-market rate standard, and the hopelessly outdated 'notice and takedown' provisions of the Digital Millennium Copyright Act (DMCA), which many services have distorted to rake in billions of dollars of revenue on the backs of artists, songwriters and labels."
If you missed it, that was a combined swipe at traditional radio, the likes of Sirius XM and – most tellingly – YouTube, the world's biggest and fastest-growing music streaming service.
"We feel that some technology giants have been enriching themselves at the expense of the people who actually create the music."

Cary Sherman, RIAA
YouTube hasn't taken this lying down, issuing the following statement in response.
"To date, Google has paid out over $3 billion to the music industry – and that number is growing year on year.
"This revenue is generated despite the fact that YouTube goes way beyond music to include popular categories such as news, gaming, how-to, sports and entertainment.
"And with the recent launch of the YouTube Music app, we now have a dedicated music experience that will deliver even more revenue to both artists and the music industry more broadly.
"Past comparisons to other audio-only, subscription music services are apples to oranges."
Which would be bang on, if orange farmers were seeing their product gobbled up by over a billion fruit lovers every month who weren't paying a thing for the privilege, while apple farmers struggled to grow their business to anything like its full potential simply for trying to charge a fair market rate while everyone around the world was telling them: 'Yeah, I'm sure those apples are lovely, but, mate, these oranges are completely free.'
What we've learned here: if you're going to embark on a circuitous fruit-based music industry metaphor, you're going to struggle to deliver the pay-off your efforts deserve.
Which brings us back to ad-funded streaming…
---
We were given a deeper insight into how YouTube views itself in November last year via a blog piece in which it announced that $3bn figure. It arrived five months after Spotify confirmed the exact same lifetime payout sum.
"[YouTube] has also provided an incredible source of promotion for artists, helping fuel ticket sales, move merchandise, and boost album and song downloads," it read.
"Just this month, Adele's 'Hello' became the fastest rising video of the year on YouTube, while also breaking the record for first week download sales."
So there you have it: YouTube contests it's both a vital promotional vehicle for the music business and a heavyweight revenue generator. That's certainly a strong argument.
Yet when you break down the $3bn revenue sum, it's perhaps less monumental than it first appears.
For starters, it encompasses Google – the whole of Google, including its Google Play service – going back to the point the company was born in 1998.
Also, the figure is something of a red herring: the reason labels are getting increasingly angry with YouTube is actually less to do with the amount of cash it's paying out (although they're not happy about it), and more to do with how that compares to the huge amount of consumption taking place on the platform (around 172bn streams last year, according to Nielsen).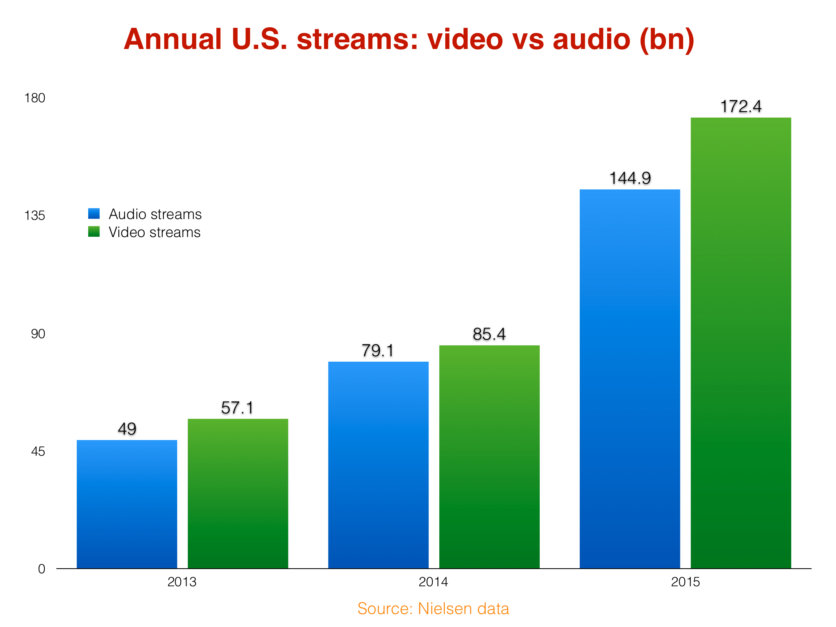 YouTube, argue the labels, is not only paying them far less than other services despite providing billions more plays, but actually pinching huge potential consumption away from the likes of Spotify.
Plus, while YouTube is still permitted to host copyright-infringing material from users without facing any legal consequences (thanks to DCMA), the argument that Spotify should somehow restrict its free tier is a much more difficult one for the majors to win.
As for the promotional benefits of YouTube?
Well, it has more than a billion users and music's by far the most popular thing it hosts – so there's no denying the immense power of the platform to help break artists.
"How would google feel iF we made their ai available without their conSent, but told them it was great publicity for their company?"

Label source
But as one label source told MBW last night: "We have no say in whether we want these 'promotional benefits' or not.
"How would Google feel if we made their algorithms or AI available without their consent, but told them that people would see how great they are and it would be great publicity for the company?"
Interesting point.
Meanwhile, YouTube's own valuation continues to grow exponentially, tied to the huge amount of music usage taking place on its platform – a valuation which, by the way, hit $40bn two years ago and has no doubt climbed significantly since.
A  senior major label source reacting to YouTube's latest statement pulled no punches, telling MBW: "YouTube boasting about its payments to the music industry is like Bernie Madoff boasting about paying dividends to his investors."
Yikes.
With this level of bad blood, can a bridge now ever be built between YouTube and the major rights-holders?
That may rest on two factors: (i) Whether a change in safe harbour laws is achieved in Europe and the US, forcing YouTube to take more direct responsibility for illegal content on its platform; and (ii) The success of subscription service YouTube Red.
Killer fact: YouTube only needs to convert less than 3% of its monthly audience into paying Red customers to have more subscribers than music streaming's market leader, Spotify.
Not that we're comparing the two, of course…Music Business Worldwide