The MBW Review gives our take on some of the music biz's biggest recent goings-on. This time, we examine Universal Music Group's financial health in the wake of its latest quarterly results. The MBW Review is supported by FUGA.
---
Sir Lucian Grainge must be in Vincent Bolloré's good books.
After signing a new five-year deal with Vivendi last summer, the UMG boss guided his company to record annual revenues in 2015.
According to MBW's latest calculations, he's about to do it again – even more emphatically.
Universal Music Group is currently more profitable than at any point post-Spotify's launch in 2008 – and is on course to post its biggest yearly sales since Vivendi acquired it a decade ago.
Care to guess why?
---

As we revealed yesterday, UMG (including recorded music plus publishing, merchandising and more) posted total revenues of €3.6bn in the first nine months of 2016.
That was up 3.8% year-on-year, with growth driven by streaming revenues – which have already exceeded $1bn at the major so far this year.
Yet it's only when you dig into Universal's performance over the past decade that you really start to see how streaming is transforming its business.
In Q3 this year – that's the three months to end of September – UMG posted €1.31bn in revenues, alongside an EBITA (Earnings Before Interest, Taxes, and Amortization) of €176m.
Both figures represent an all-time high under Vivendi ownership.
---
That €1.31bn revenue tally is actually 34% up on the equivalent period of 2011 – the year Grainge took over as global Chairman & CEO of UMG.
The EBITA stat – the best indication we have of UMG's profitability from Vivendi – is arguably even more revelatory.
Q3 is effectively the back-end of summer; traditionally a quiet period for new blockbuster releases, it leaves Universal largely reliant on catalogue to tick the business over.
UMG's latest Q3 results strongly suggest that streaming is allowing the company to reduce expenditure while growing revenues and profitability – and focusing on better monetization of markets such as China, Russia, Brazil and Africa.
Indeed, Vivendi told investors yesterday that UMG's favorable performance in the first nine months of 2016 "reflected the benefit of both revenue growth and overhead cost savings… as well as a timing-related decline in expenses".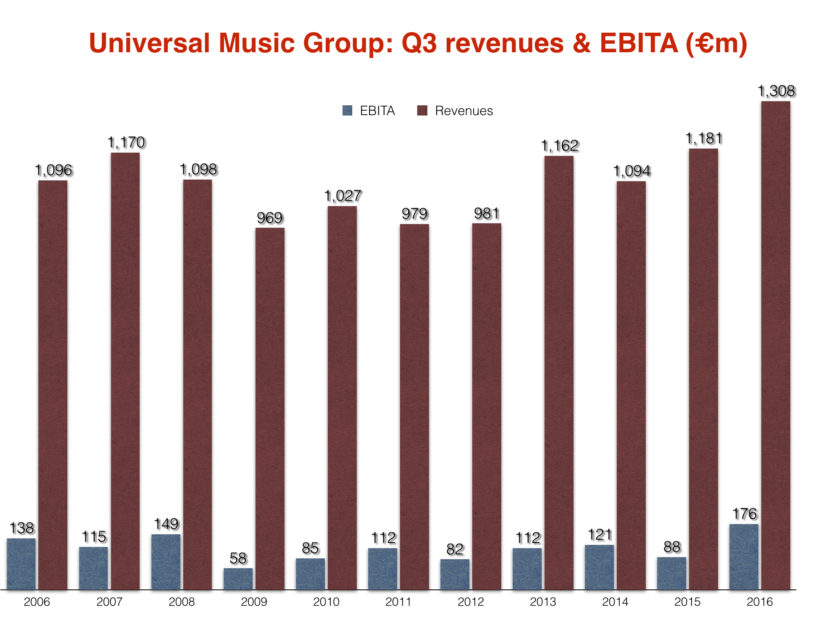 ---
This view is further compounded when you look at the first nine months of 2016 in more detail.
Even when €41m of restructuring costs are factored in, Universal ended up with a Jan-Sept EBITA of €353m – its biggest since 2008. (Aka: the year Spotify launched.)
Revenue-wise, UMG's €3.6bn haul in the first nine months of 2016 was, once again, the biggest in its history under Vivendi.
---
Crucially, UMG posted an EBITA profit margin (vs. total revenues) in Q1-Q3 this year of 9.74%.
Vivendi will no doubt still sense room for improvement there, but the figure still compares favourably to the equivalent stat in 2015 (7.4%), 2014 (8.8%), 2013 (7.5%), 2012 (8.2%) and 2011 (8.6%).
In other words, streaming is helping Universal make more money – and keep more money – than at any point since Lucian Grainge took the top job.
You could certainly forgive Grainge for enjoying a slightly smugger-than-usual Yuletide  should the Q4 battleground go his way this year.
That said, he might want to remember to send Christmas cards to Daniel Ek and his old friend Jimmy Iovine before he clocks off…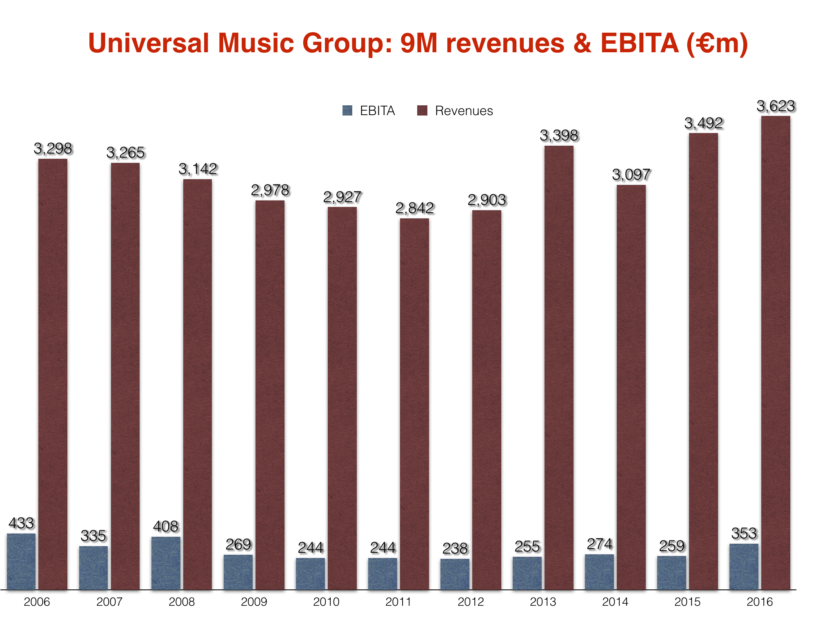 ---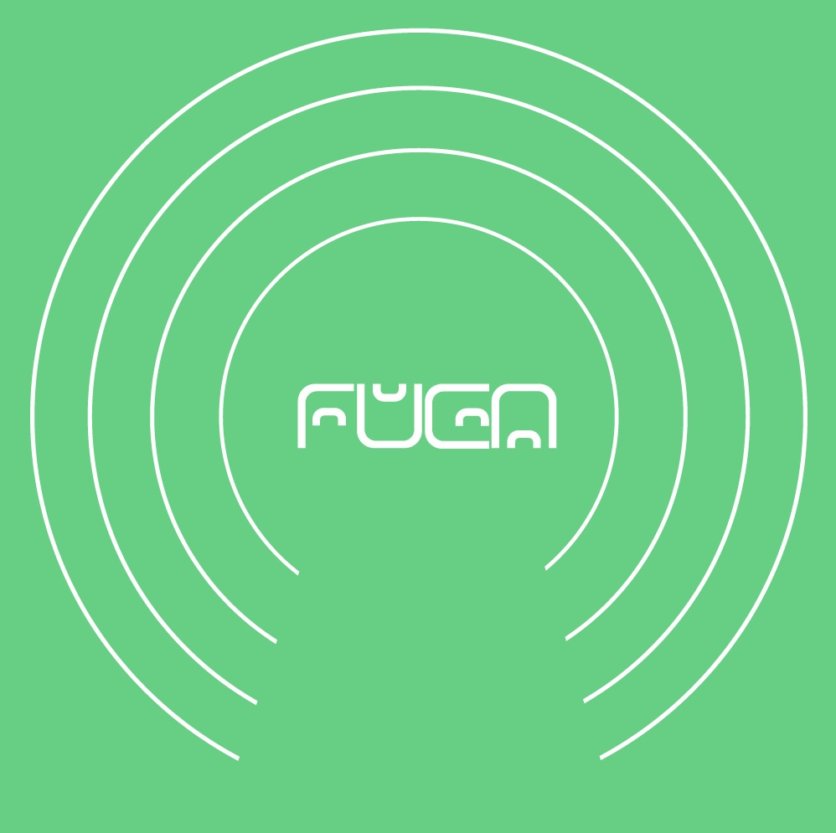 The MBW Review is supported by FUGA, the high-end technology partner for content owners and distributors. FUGA is the number one choice for some of the largest labels, management companies and distributors worldwide. With a broad array of services, its adaptable and flexible platform has been built, in conjunction with leading music partners, to provide seamless integration and meet rapidly evolving industry requirements. Learn more at www.fuga.comMusic Business Worldwide