It's been three years since Phil Christie stepped up to the position of President of Warner Records in the UK.
Since then, the London-based exec and his team have racked up some sparkling achievements – not least the global success of domestic signing Dua Lipa, who has won Grammy and BRIT Awards, while accumulating multiple billions of streams worldwide.
Warner Records is also the record label partner of Liam Gallagher, whose head-turning comeback with 2017's No.1 album, As You Were, was recently crystallised in the WMG-backed biopic, As It Was.
These are optimistic times at Warner Records. Following a recent rebrand from the company's former name (Warner Bros. Records), the label is being led in the US by two heavyweights of the Stateside industry, Chairman/ COO Tom Corson and Chairman/ CEO Aaron Bay-Schuck.
Christie and his UK team are focusing on breaking developing domestic prospects like Grif, J Rick and JC Stewart, in addition to being the best partner possible for established talent like Foals, Michael Bublé, MIST and Royal Blood. Meanwhile, Liam Gallagher is back with a new album (Why Me? Why Not.), while Dua Lipa is understood to be busy in the studio working on new material.
Alongside the global successes which have taken place under his watch as President, Christie tells Music Business Worldwide he's learned a lot about the contribution that a UK-based major label can make to an artist's career – especially in an ever-changing global marketplace in which US artists seem to be expanding their domination daily.
Christie came into the world of major labels with his eyes open to evolution. Before initially joining Warner Bros Records / Parlophone as Head of A&R in 2014, he was UK A&R Manager at Warner Chappell Music, where he signed the likes of London Grammar, Michael Kiwanuka and Royal Blood. (To this day, Christie is obviously drawn to artists whose idiosyncrasies are apparent in their songwriting.)
Here, Christie outlines the factors which he believes makes a major label the most valuable partner possible for artists in 2019 – and how Warner Records UK is meeting the challenge of making its mark in a hugely competitive, streaming-dominated global landscape…
---
1) International muscle
The UK population is a fifth of the size of that in the United States, and less than 5% of the 1.4bn-plus populous found in both China and India. For Christie, British artists won't get a better chance to break through globally than with a major label – so long as, he says, that label is plugged in to a collaborative global system.
"The basic logistics of what a major label can provide globally are obvious, but nothing new," he comments. "However, what has become essential more recently, particularly for UK artists, is that if you are just reliant on [your local market's] streaming consumption, you're only going to punch as hard as the size of your territory – which, in the UK's case, is around 65m people.
"UK artists are now benchmarked by 'gatekeepers' in terms of sheer streaming mass."
"Previously there was cultural cachet for an artist in breaking first in the UK, which you could then export elsewhere. A touch of that still exists, but you're now in a streaming marketplace, where you're immediately benchmarked by 'gatekeepers' in terms of sheer body mass – how many streams has this artist got vs. that artist. And to achieve the kind of numbers we have on Dua, you have to attract international success.
"So for a new artist, how do you get simultaneous international success and a co-ordinated international campaign? The only place I see that happening today is at great major labels. That requires a fantastic international marketing team, and I think we have the best in the business at Warner Music Group, but it also requires an understanding between the international label heads that we're going to pull together to break each other's acts."
He adds: "There's much more synchronicity between Warner Records in the US, between Tom [Corson] and Aaron [BaySchuck] and [the UK company], than there has been in the past. Our relationship is super-tight – artists on the label feel that, and artists we're pursuing feel that.
"But it isn't just about the UK/US relationship here; so many of the other [international Warner HQs] are repertoire centres for music that reacts. I have relationships with my international contemporaries that's probably way closer than previous generations [of label UK bosses], because not only can [international MDs] make a meaningful difference to artists we've got signed here, but they might also deliver a hit record on any given day."
---
2) 'Forensic' A&R
Says Christie: "It's getting increasingly challenging to cut through on an international level, and to become a global British superstar. So let's focus on the things [the British industry] can over-index in, through best-in-the-world service. I would argue that in the UK, certainly at Warner Records, there is a hunger and appreciation for artists that do something different, musically.
"There's less of that cookie-cutter approach to songs here, it's much more about artistry, which in turn lends itself to an A&R-heavy marketplace.Doubling down on forensic, full-contact A&R gives our artists the best chance of overcoming the increasingly uneven playing field of the global streaming market [where the biggest territories have the advantage]."
"Forensic A&R gives our artists the best chance of overcoming an uneven playing field."
He continues: "A shining example of what I'm talking about is the job Joe [Kentish] (pictured inset, with Dua Lipa and Christie) has done with Dua. He navigated a UK pop act into international territories very early on, and put her into important writing rooms and at the top of the list for big incoming songs. But it was all done in a way that didn't dilute, and only enhanced, her musical message; it was all totally in tandem with Dua and her vision for where she wants to take her music.
"It's been a really sympathetic, supportive and ambitious job, and the results speak for themselves. Dua's had single global hits, with nearly four million albums sales, plus tickets and branding deals – the full gamut of someone moving culture. And you'll feel the quality of the A&R job on the second album campaign when we get going, too; it's world class.
"There's something about the UK where we're able to strike a balance between the importance of an individual song – which is largely how the US market works, where so much is song-based – while still placing real value on the artistry, the story of the artist and the character of the artist. That's the Dua campaign, where there's real engagement [from the audience] with the artist she is, the personality she has and the story she's representing, as well as the music itself."
---
3) Fresh creative ideas
Christie is well aware of the dog-eat-dog mentality which exists in some A&R departments, but, he says, he believes the best results come from a label A&R team which displays real unity.
"It's been very important to me over the past three years at Warner Records to establish a very collaborative A&R department," he says.
"It's not a kill or be killed culture internally here – the opposite. We're super-aggressive and ambitious when it comes to signings, but as a team we're a collective, and that's deliberate. If different people here keep finding opportunities for songs, or have an opinion which can positively impact on someone [else's] campaign, we really encourage that. We've deliberately created that collaborative environment, not only in the A&R department but across the board.
"Frankly, it's bad management to leave people to their own devices, to say to your team, 'Crack on until you start getting it right.' There's always going to be trial and error in this business, songs are very unpredictable things. So why would you leave your team to develop by trial and error as well? You have to put your arm round them and coach them through situations. This is such a complex and emotional business that we all have to impart and share the knowledge we obtain through experience."
---
4) Playing the market
According to Christie, the smartest release strategy for artists today tends to be one of hyper-productivity – something diametrically opposed to the way things used to be.
"You need to put out more music across an initial period today, from the moment you sign an artist through to them having hits, delivering an album, or both. Today's market demands more content, and audiences demand more music.
"You need to stay front-of-mind – constantly engaging with your audience. That benefits an artist's emotional connection with the audience, but it also has a positive effect on the basic [streaming] algorithms too: more songs mean more monthly listeners. Algorithms aren't the reason any of us got into music, but it would be wrong to deny that they play an important role.
"Algorithms aren't the reason any of us got into music, but they play an important role."
"If you've got an artist that's just going to deliver 12 songs [for a debut album] in 2019, and that's it, you're going to struggle to break them – unless you get incredibly lucky. You're given more options from an artist who is constantly making music. It's all about riding the crest of the wave; when to keep [promoting] the song you've already got out and when to switch it up. Working that out is a constant business of reading the data, and not cutting a song of before its potential. But it's also about not sticking with something too long, thrashing away at it because of your own preconceptions of what a hit is. Today, you get songs into market, monitor the consumption – and let the audience tell you what's a hit."
Christie cites Warner Records' work on a new developing artist at the company, JC Stewart. "He definitely fits with the idea of constantly creating, and his songwriting is just getting better and better," says Christie.
"By the end of this year we'll have six or seven songs in the marketplace from [Stewart]. But we're only really looking at the top of next year to think about putting ourselves into contention to have a hit; that's when we'll [engage] 'traditional' media, radio, and activate some of the songs in the traditional space. And, in the meantime, if [a song] pops before the end of the year, we'll react to that and get behind it.
"This year, [Stewart] will go from 8,000 Instagram followers to 100,000, with a million monthly listeners on Spotify. He's just sold out four Islington [Academy nights] and will be doing a Scala in May. I've had artists in the past where that would represent the end of the campaign, but the modern world means you're hitting those metrics just as you're getting going."
---
5) Expert data reading
"The artist development period has definitely got longer, but I like that, because it's the most exciting bit. We as a label can add so much value at that point; [early stage A&R] has got more important, more scientific and longer. A few years ago, in the physical market especially, you only ever quantified your success when your album was out; then you could sense how you'd done in the previous two years. That seems very outdated now, when we know exactly how we're doing every day on every artist.
"In spite of a fragmented market, we have a huge amount of insight and data and the ability to be completely flexible. You just have to keep your spend in check so you don't blow your [budget] on a new artist too early; you want to have money coming in from streaming, as you're spending money on a developing artist so your P&L is robust. Of course, it does still happen that you run out of financial road with an artist, but the goal today is for every artist on the label to be constantly building towards a profitable situation."
---
6) Going the extra mile for artists the label truly believes in
"You make a commitment to every artist you sign," says Christie.
"It's no longer good enough to say, 'Here's an advance, now bugger of and come back when the record's done.' It's a total false economy to be signing stuff you're not sure about; you've got to be in the trenches with these artists, working together to deliver something that cuts through and stands out.
"If you don't think an artist has the talent to do that, or a label doesn't have the energy or means to help them, you're putting both yourself and the artist in for a shit time – and that doesn't serve anyone right. You've got to be honest."
Adds Christie: "We're lucky to have Max [Lousada] running this company [as Warner's global Recorded Music CEO], because he believes in A&R Presidents, he was one himself, and it makes a massive difference. Max is both A&R-focused and significantly younger than people typically in his position [of CEO of a major record company].
"Both of those factors are hugely important: music is a young person's game, and it's becoming a younger person's game. Max has the authority to speak about the future of the music business because he has a lot of road ahead of him as a CEO. You also can't deny his track record in A&R, or the growth of the Warner company."
---
7) Never standing still
"Over the past three years, I've made it part of my MO to constantly question what we're doing and why we're doing it, and whether we're getting it right," says Christie.
"When you feel like you've mastered something, you get complacent. The market is moving incredibly fast out there, and there's no accounting for where youth focus is going to go over the next decade.
"We're still a bit of a trad industry in some ways, so we have to pedal double time to stay in front of where audiences are going. For a [modern label President], the job of refining your operation never ends, because, thankfully for all of us, the music industry is constantly evolving. The label we were three years ago already seems archaic compared to where we are now. And that wasn't because we were a bad label three years ago – far from it – but the rate of change in this business is exponential."
---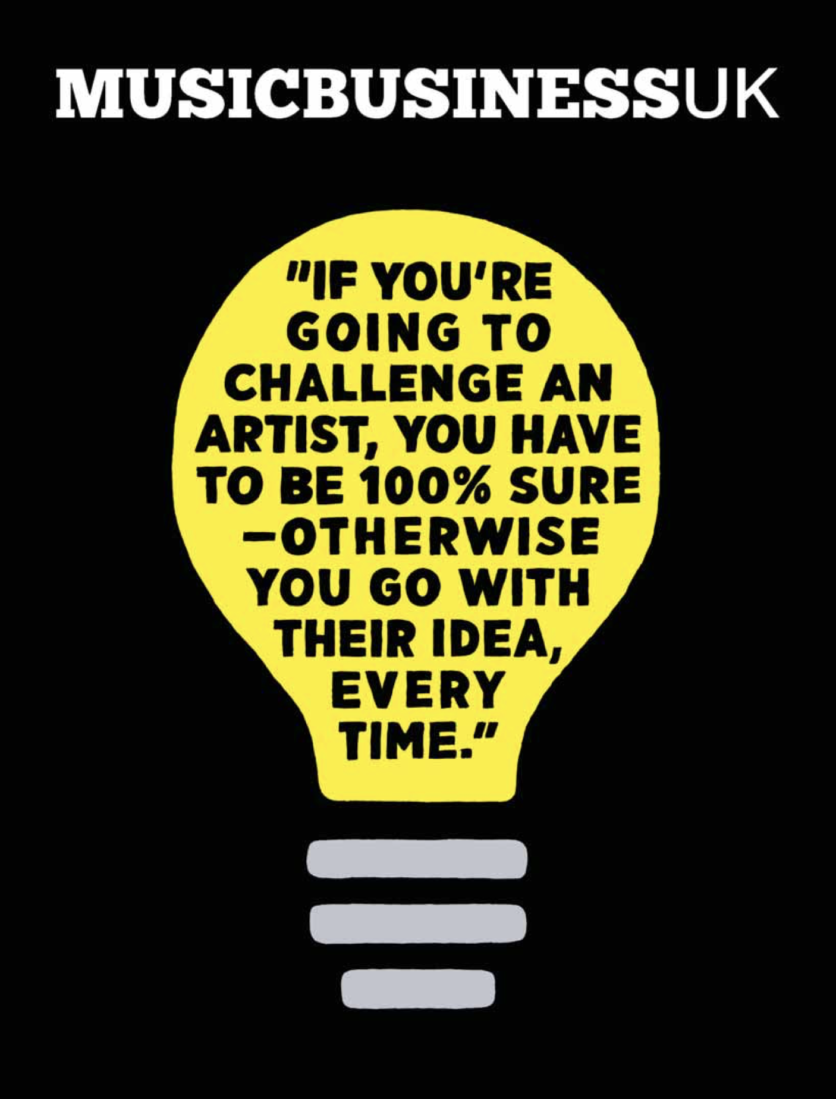 This article originally appeared in the latest (Q3 2019) issue of MBW's premium quarterly publication, Music Business UK (pictured), which is out now.

MBUK is available via an annual subscription through here.
All physical subscribers will receive a complimentary digital edition with each issue.Music Business Worldwide