The MBW Review is where we turn our microscope towards some of the music biz's biggest recent goings-on. This time, we chew over new numbers revealed in the United States by the National Music Publishers' Association (NMPA). The MBW Review is supported by Instrumental.
---
Music publishers in the United States banked $3.72bn in revenues in 2019 – up 11.6% year-on-year, and the equivalent of just over $10m a day.
The figure was revealed yesterday (June 10) by the CEO of the National Music Publishers' Association (NMPA), David Israelite, at the org's online Annual Meeting. The revenue number reveals the cumulative performance of the NMPA's members, which include all three major publishers, plus the publishing operations of the likes of BMG, Kobalt, ABKCO, Big Deal, Big Machine, Concord, Disney Music Group (DMG), Downtown, peermusic, Reservoir, Round Hill and Wixen.
The $3.72bn banked by publishers in the United States last year was up by $385m on the $3.34bn they pulled in during the previous year (2018), according to NMPA figures, which in turn was up $378m YoY.
Another fun stat: 2019's $3.72bn figure was up by more than $1.5bn – in annual revenue, remember – on the $2.15bn that the NMPA reported five years prior, for 2014.
---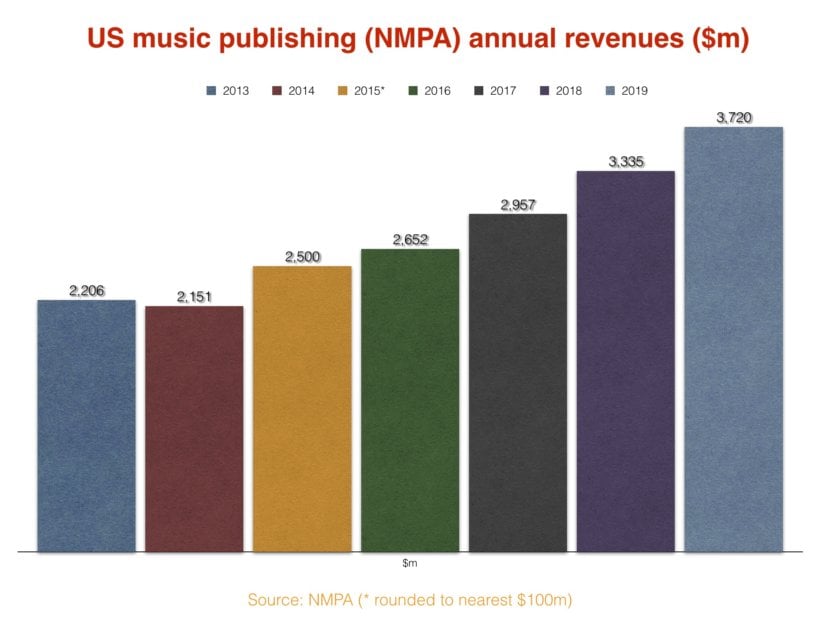 ---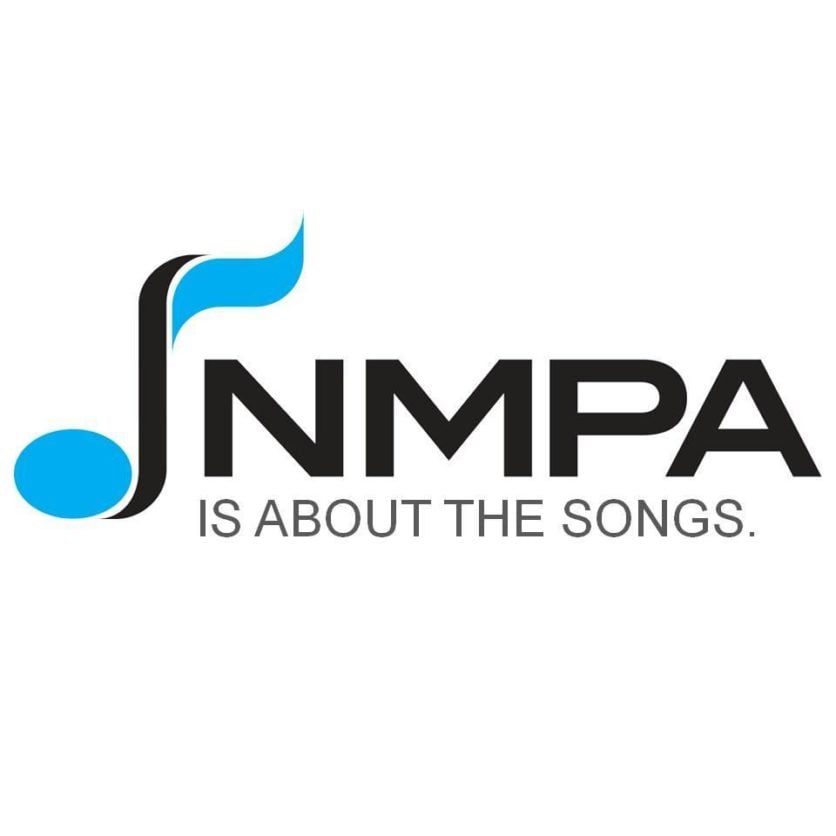 MBW has spent today digging back over other recent annual data from the NMPA – as well as the US record business, via the RIAA – with some interesting results emerging.
According to the RIAA, record labels in the United States pulled in $7.3bn in wholesale revenues last year. (The RIAA's wholesale revenue stats, rather than its retail revenue stats, are the closest equivalent to the NMPA's numbers.)
Obviously the RIAA's $7.3bn figure was nearly double the NMPA's $3.72bn haul last year. And the YoY rise in reported 2019 US record label wholesale revenues (+$700m) in 2019 was also nearly double that seen by publishers (+$378m).
However, in percentage terms, publishers actually grew slightly faster than labels: Wholesale US record company revenues ($7.3bn) in 2019 were up by approximately 10.6% YoY, while those publishing revenues ($3.72bn), as previously mentioned, were up 11.6%.
---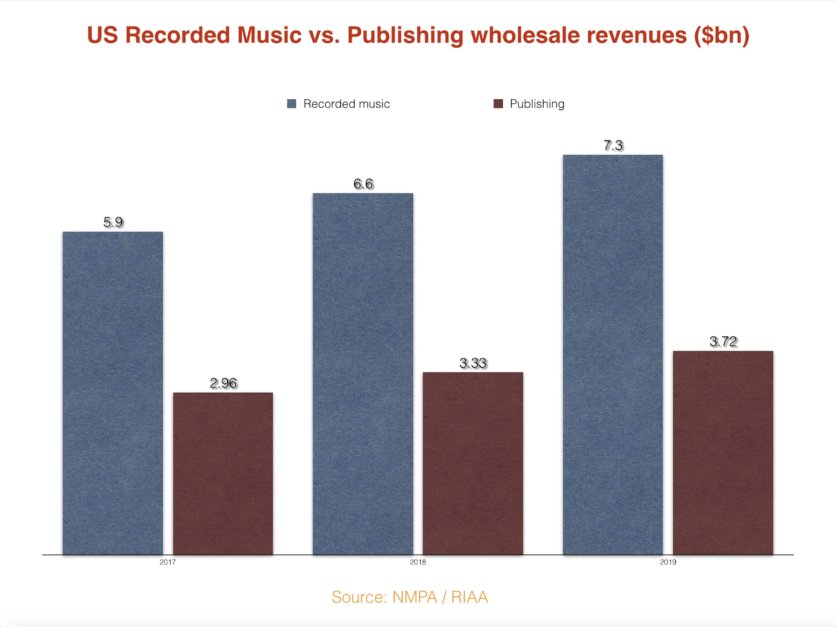 ---
Israelite offered some important context to the 2019 publishing figures while giving an address to members as part of the NMPA's AGM yesterday.
He broke down the composition of the $3.72bn headline figure, showing that 52.3% (approximately $1.4bn) came from performance royalties, with 18.5% (approx. $497m) coming from mechanical.
Sync, the usage of music across movies, TV, video games, advertising and other media, provided 22.7% of US publishers' money last year (approx $610m).
As Israelite noted, these figures (see below) represented a slight shrinking, percentage-wise, for performance royalties vs. mechanical and sync compared with 2018.
Said Israelite: "For the first time since the bottoming out [of the publishing market] we've seen mechanical and synchronization revenue growing faster than performance. Why is that? The explanation can be found in the fact that streaming continues to grow at a very fast pace, and more and more of the streaming revenue is being categorized as mechanical because of [our] recent successes [with] the CRB [Copyright Royalty Board] and how [streaming payouts are] divided."
He added: "Sync is continuing to benefit from a lot of the landmark deals the NMPA and publishers have done, which means a lot of the mass synchronization revenue is really starting to pay off."
Interesting data point: The NMPA says that approximately $610m was generated by US publishers from sync last year; the RIAA's annual report suggests that labels pulled in $276.3m from the same field.
---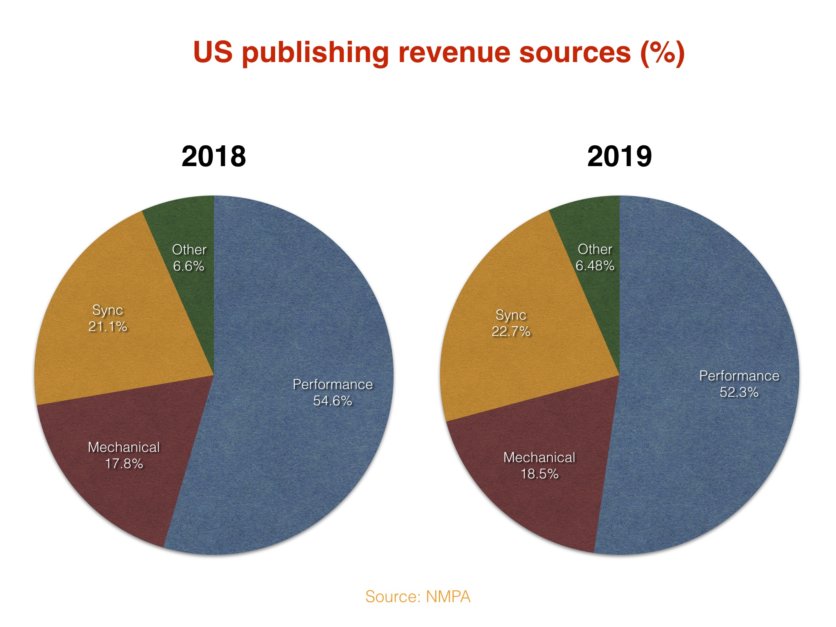 ---
Israelite revealed that, in the NMPA's FY 2020, which hasn't yet ended, the org has already distributed $75.3m back to its members from its work "protecting copyrights and ensuring that the economy works for all publishers". In other words, suing the living heck out of those who wilfully and repeatedly commit copyright infringement.
Speaking of which, a big chunk of that $75.3m figure would have come from the NMPA's settlement with luxury fitness brand Peloton, agreed in February. 
Israelite was positive on Peloton yesterday: he not only invited execs from the fitness company to speak at the NMPA annual meeting, but also espoused his own excitement over "new revenue sources" boosting the publishing sector, including home fitness (while warning against the negative impact the COVID-19 lockdown will have on the publishing business more generally in 2020).
Over last 16 years, said Israelite, that NMPA's actions had returned back to the industry $775.69m in total. "And that's all because of the fact you have entrusted us to protect your songs and your copyrights."
---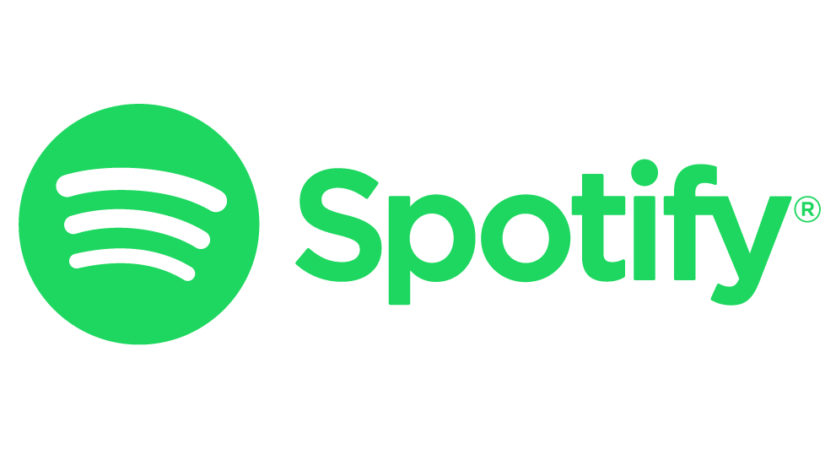 However, Israelite was also at pains to suggest why 2019's monetary haul for US publishers should, in his view, have been even bigger.
He addressed, with some exasperation, the infamous legal appeal lodged by Spotify, Amazon, Google and others against a Copyright Royalty Board-mandated pay rise for songwriters on streaming services in the US.
Israrelite explained that we are now two and a half years into the five-year period in which rates for songwriters, under the CRB ruling, should be significantly improving for songwriters and NMPA members in the States.
"It's important, especially for songwriters, to remember that whatever token gestures are given to you by Spotify and Amazon, they are in court trying to cut what they pay songwriters by a third; the very songwriters that make their businesses possible."

David Israelite, NMPA (pictured, main)
"It was a massive victory when we were able to get the rate increase from the baseline of 10.5% to 15.1% which represented more than a 44% increase in your mechanical rates," he said, explaining that the NMPA was now playing a waiting game, following the submission of oral arguments from all sides to the US Court of Appeals earlier this year.
Added Israelite: "It's important especially for songwriters to remember that whatever token gestures are given to you by Spotify and Amazon, they are in court trying to cut what they pay songwriters by a third; the very songwriters that make their businesses possible."
---

The MBW Review is supported by Instrumental, which powers online scouting for A&R and talent teams within the music industry. Their leading scouting platform applies AI processes to Spotify and social data to unearth the fastest growing artists and tracks each day. Get in touch with the Instrumental team to find out how they can help power your scouting efforts.
Music Business Worldwide