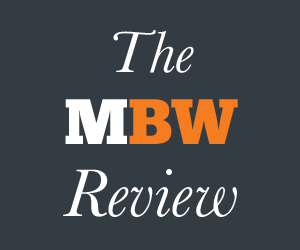 The MBW Review offers our take on some of the music biz's biggest recent goings-on. This time, MBW reveals and analyzes some of the defining trends taking hold of the world's biggest recorded music market, the USA, right now. The MBW Review is supported by Instrumental.
---
The annual RIAA numbers regarding the health of the US record industry are out – and, as ever, there's plenty of interesting data to get our teeth into.
The headline: the US recorded music market grew 13% on a retail basis in 2019 to $11.11bn, with streaming responsible for nearly 80% of this monetary haul. (You can read the full report through here.)
But, beyond this, what were the most meaningful trends for record labels and artists from the RIAA numbers, and what do they tell us about the future direction of the music business?
Below, MBW drills into five key commercial patterns beginning to form in the USA, the world's biggest music market. You'll find data deserving of high-fives from record industry bosses – as well as numbers that might solicit rather more caution…
---
1. Music's paid streaming subscription numbers have caught up with Netflix
Everyone loves a soundbite, especially when it's about how great they're doing. So here's a sweet one for the RIAA: Last year, the US record business almost certainly overtook Netflix in terms of the total number of people paying for a streaming account.
What's with the 'almost certainly' qualifier?
At the close of 2019, the number of Netflix's paying subscribers in the US hit 61.04m, according to a Q4 investor update issued by the company last month.
According to the RIAA, the average number of 'Paid Music Subscribers' in the States across the 12 months of last year stood at 60.4m – indicating that the record industry's actual year-end number would have been comfortably north of Netflix's tally. (Music's paying subscribers shelled out their money on services including Spotify Premium, Apple Music, Amazon Music Unlimited and YouTube Music.)
This is a positive story for the record labels: In 2018, Netflix ended Q4 with 58.49m paying streaming subscribers, with the US record industry's annual average significantly behind on 46.9m.
A milestone worthy of celebration for the record industry and its streaming partners, then… but perhaps not too loudly.
Those 61m US-based Netflix subscribers contributed $9.24bn to the firm's revenues in 2019; in the same timeframe, music's entire streaming market in the States – including 'Paid Subscribers', advertising revenue and more – generated rather less, at $8.83bn.
(Footnote: the chart below refers to the RIAA-defined 'Paid Subscription' services only, including those delivered via telco bundles. 'Paid Subscription' refers to standard premium accounts, but does not include 'limited-tier' accounts, which cover limited catalog subscriptions and subscriptions locked to one device. Also, the 'Music: Average paying subs' number below refers to individual paying subscribers – the RIAA does not include non-paying Family Plan members in this data.)
---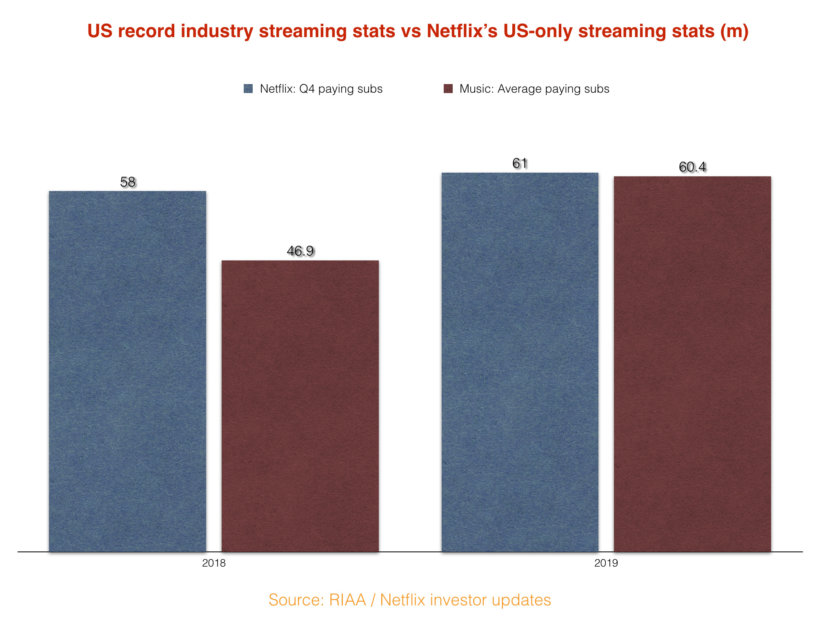 ---
2. U.S music streaming revenue growth was actually bigger in 2019 than it was in 2018 – even though it doesn't first appear that way
Overall streaming revenue hit $8.83bn in the US in 2019, according to the RIAA figures. That number was up $1.46bn on the prior year ($7.37bn), but this annual leap wasn't quite as big as that seen in 2018, when streaming revenues grew $1.70bn.
However, the idea that 'the US streaming music industry saw a slowdown in revenue growth last year' is a major over-simplification.
The RIAA's overall streaming revenue number includes four types of income: (i) 'Paid Subscriptions' (premium accounts); (ii) Advertising revenues; (iii) 'Limited Tier' subscriptions (including limited catalog services and single-device subscriptions); and (iv) SoundExchange distributions – i.e. the money collected from digital radio services by SoundExchange.
As MBW has previously reported, total SoundExchange payouts fell $44.6m year-on-year in 2019, but this drop was actually due to a one-time legal settlement of $150m received in 2018. Without this settlement, on a like-for-like basis, SoundExchange's distributions to labels and artists actually grew 13.1% last year.
Had SoundExchange's one-time $150m windfall also been removed from the RIAA number for 2018, then 2019's streaming revenue growth in the United States would have been larger than that seen in the prior year (+$1.61bn in 2019 vs. +$1.55bn in 2018.)
In fact, revenues from the most important category for labels – 'Paid Subscriptions' – rose $1.28bn in 2019 compared to the prior year (hitting $5.93bn); in 2018, this money grew by a smaller amount ($1.16bn) annually.
The same is true for advertising from streaming services (across all types of ad-supported platforms), which grew by $148m in 2019 (to $1.16bn) versus $91m in 2018.
The one category that let the side down? 'Limited tier' subscriptions – including Amazon Music accounts tied to a single Echo device. Revenue from these platforms grew by $82m in 2019 – significantly down on the $155m growth seen in 2018.
---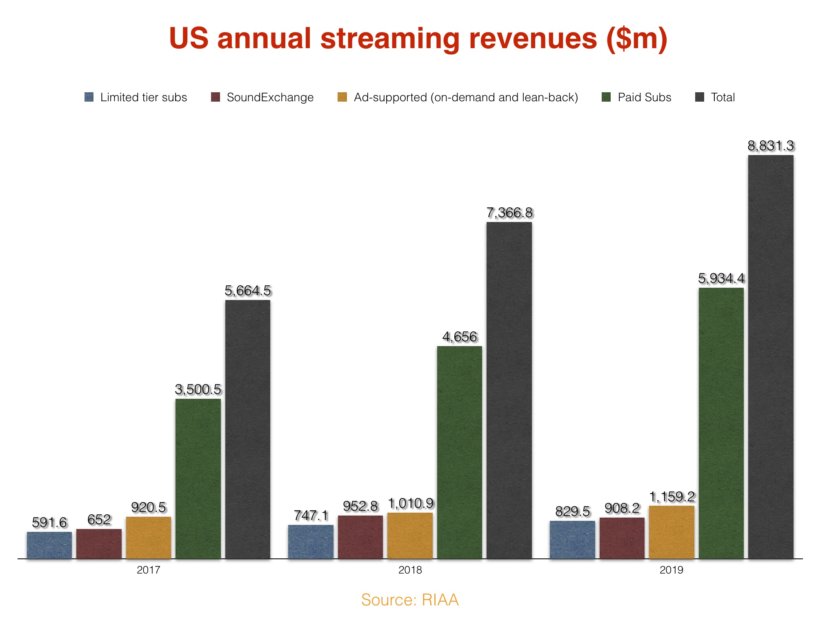 ---
3. Retailers – including streaming services – are keeping more money, and paying less of a percentage to labels and artists
This is perhaps the biggest story amongst MBW's observations here.
Every year, to a single decimal place, the RIAA reveals a total revenue figure for the US recorded music market both in terms of retail (i.e. the money spent by consumers at tills, online and on streaming platforms) and in terms of wholesale (i.e. the amount of money that works its way back to record labels and artists).
In 2019, the U.S industry made $11.1bn at retail, with a wholesale figure of $7.3bn. These two numbers represented a wholesale share of total revenues in 2019 of 65.77% – meaning that music 'retailers' (including the likes of Spotify and Apple) kept 34.23% of the money.
This 65.77% figure was down 1.58 points on the same number from 2018 (67.35%), and 5.87 points on the same number from 2015 (71.64%).
Why this matters: 5.87% of the US recorded music retail market in 2019 was worth $652m – an annual amount that, four years previously, would have been received by labels, but is now retained by retailers and streaming services.
A big reason for the steady decline? Recent renegotiations between record companies and streaming services such as Spotify, with the former group agreeing to accept smaller margins from the latter group, as global revenue from streaming grows.
How low will the labels go in future?
---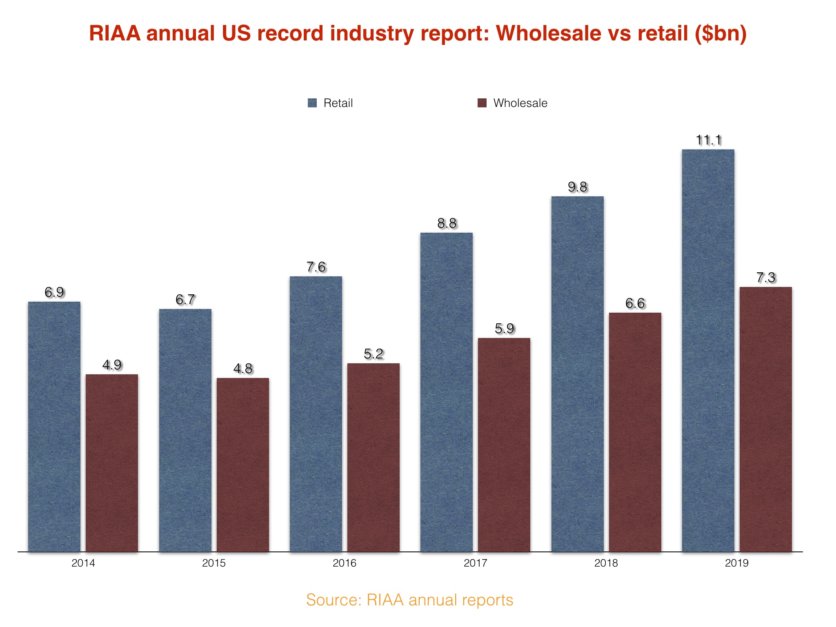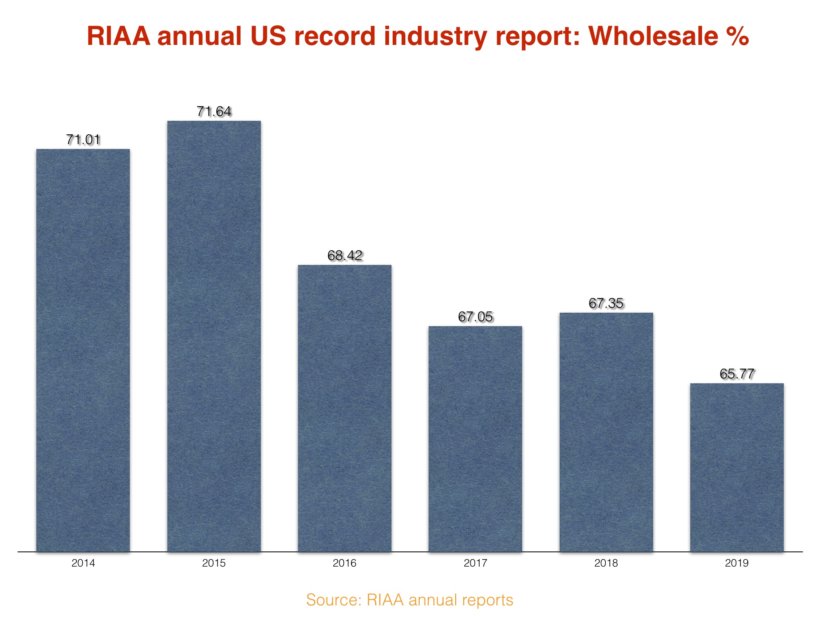 ---
4. Vinyl could be about to generate more money than the CD
Brace yourselves for an historic year for physical music in 2020.
According to RIAA figures, the retail dollar value of vinyl shipments in the United States last year grew by 18.7%, or $78.4m, to $497.6m.
CD sales, meanwhile, dropped 12%, down $83.9m to $614.5m.
Get this: if vinyl's retail haul grows by the same margin this year (+$78.4m) and CD falls by the same margin this year (-$83.9m), vinyl will be a more lucrative format than CD in the United States in 2020.
Overall, a softening in the decline of CD revenues in 2019 (which decreased by a devastating 33.9% in 2018), meant that physical music's U.S-based performance saw a very mild decline of just 0.6% last year, down to $1.15bn.
---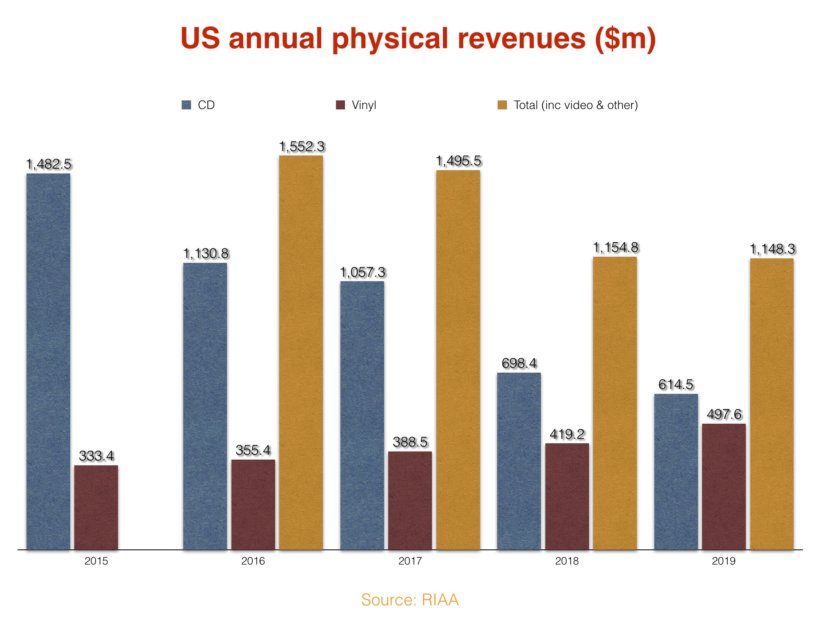 ---
5. Sync revenues decline: bump in the road or broader negative trend?
A simple graph below asks a big question for the record labels: What's going on with the U.S music sync market?
This money, paid to labels and artists for the use of their music in movies, TV shows, advertising and video games, soared upwards in 2018, bouncing $53.4m in a single year.
Yet in 2019, the U.S recorded music sync industry fell annually for the first time since 2013, according to historical RIAA figures, dipping 3.2% to $276.3m.
2019's haul was still streets ahead of the yearly sync revenues seen in 2018 ($232.1m), indicating that the labels can put last year's decline down to experience; they are, ultimately, still sustaining a much bigger sync marketplace than they were relatively recently.
Another decline in 2020, however, may set a worrying trend in motion…
---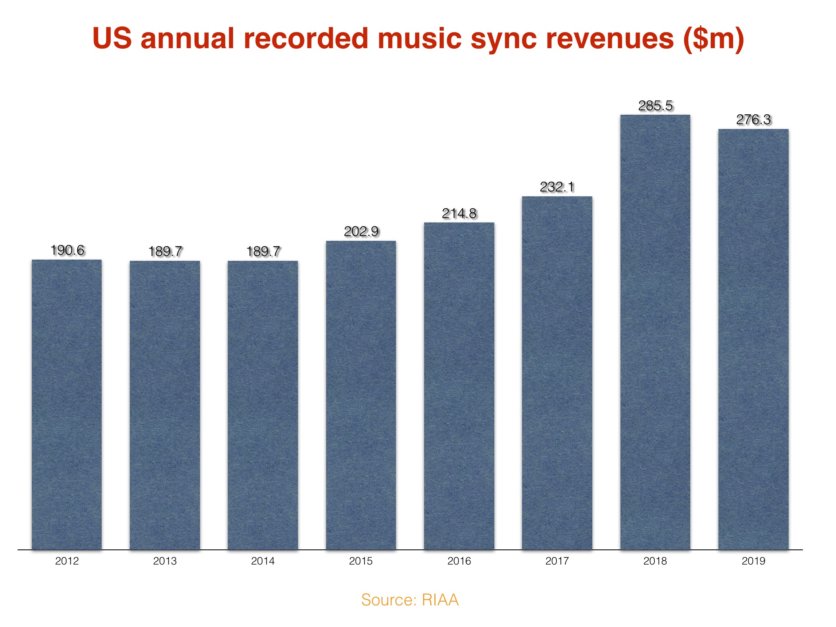 ---
[Pictured: Post Malone who, according to BuzzAngle's annual report, was the biggest streaming artist in the United States last year.]
---

The MBW Review is supported by Instrumental, which powers online scouting for A&R and talent teams within the music industry. Their leading scouting platform applies AI processes to Spotify and social data to unearth the fastest growing artists and tracks each day. Get in touch with the Instrumental team to find out how they can help power your scouting efforts.Music Business Worldwide