Universal Music Group's recorded music revenues from streaming jumped up 32.1% – or 25.5% at constant currency – in the first half of 2019.
According to new H1 financial results from UMG parent Vivendi issued today (July 25), Universal generated €1.57bn ($1.77bn) from streaming in the six month period to end of June this year.
The firm's overall recorded music revenues hit a record €2.596bn ($2.93bn), up 22.4% (or 16.9% at constant currency).
Overall half-year revenues at UMG's wider company – including recorded music, plus publishing, merchandise and more – reached €3.26bn ($3.68bn). That was another all-time record, up 24.0% year-on-year, and 18.6% at constant currency.
---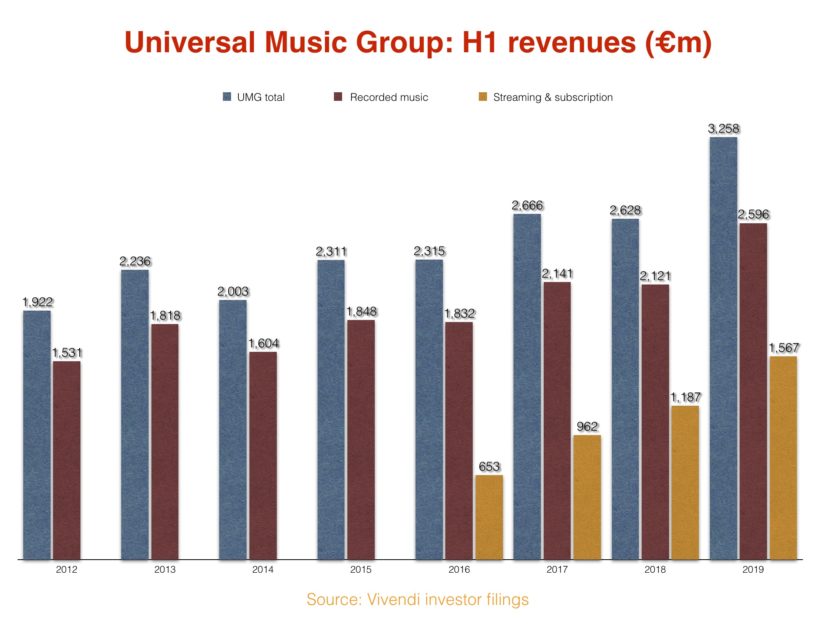 ---
Universal's biggest money-generating artist projects in the six months (on its recorded music side) were, in order: (i) Billie Eilish; (ii) Ariana Grande (pictured); (iii) the A Star Is Born OST; (iv) King & Prince; and (v) back number.
Importantly, UMG's overall H1 EBITA climbed 43.6% at constant currency to €481m ($543m) – improving the firm's EBITA profit margin from 12.4% in H1 2018 to 14.8% in H1 2019.
Also worth noting: UMG's merchandise operation nearly doubled in size year-on-year, with H1 revenues in the category growing from €107m ($130m) in the first half of 2018 to €202m ($228m) in the equivalent period of this year. Universal's merch arm, Bravado, fully acquired its Los Angeles-based competitor Epic Rights for an undisclosed sum in Q1 this year – a move which appears to be paying off handsomely.
Across the first six months of 2019, streaming made up 60.4% of Universal's recorded music revenues.
Half-year physical sales at the company grew 18.8% year-on-year (15.0% at constant currency) to €438m ($496m), making up 16.9% of total recorded music revenues.
---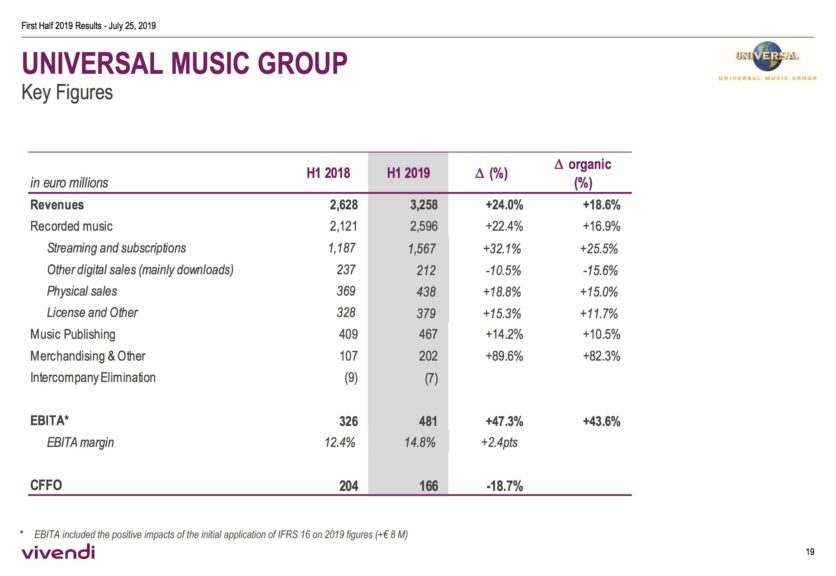 ---
Vivendi also drilled down into UMG's second quarter of 2019 (the three months to end of March) in its half-year announcement today, and there was a significant milestone surpassed.
The firm noted that Universal labels had turned over €830m from streaming in Q2 this year.
That, at the appropriate exchange rate, translates to $937m – meaning that Universal's recorded music operation is now comfortably generating more than $10m (approximately $10.4m) from streaming every single day.
---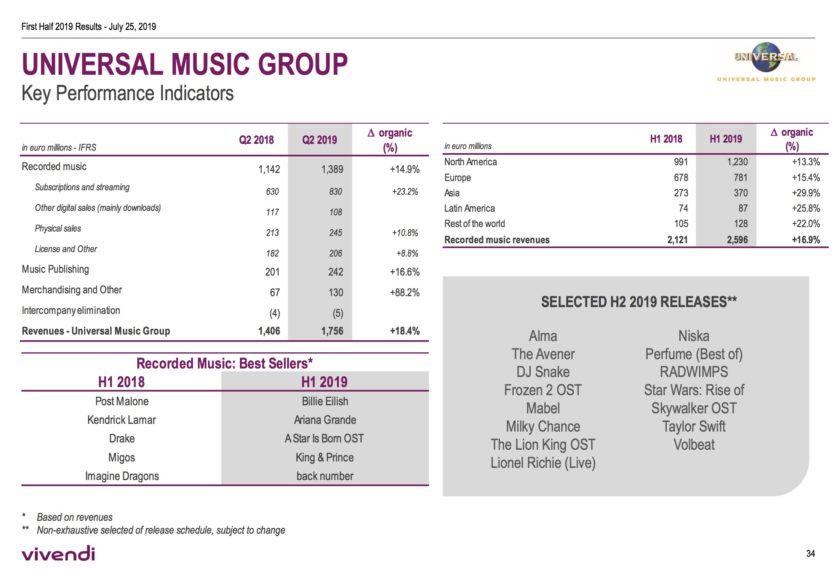 ---
In a note to its investors today regarding the potential sale of up to 50% of UMG, Vivendi confirmed that it had "selected the advisory banks as part of the plan to open up the UMG share capital".Music Business Worldwide