The end of October – specifically, Thursday, October 26 – promises to be a big one for the global music business.
For example: it will be the day (barring some potential calendar shifts) that shareholders in the UK-listed Hipgnosis Songs Fund (HSF), will vote on two important matters: (a) Whether to keep HSF continuing to exist in its present form (i.e. a 'continuation vote'); and (b) Whether to accept a $440 million offer – from fellow Hipgnosis fund, Hipgnosis Songs Capital – to buy a portion of HSF's copyright portfolio.
Meanwhile, October 26 will also see Universal Music Group present its latest quarterly numbers (Q3 2023) to shareholders.
UMG then plans to issue its stockholders with a EUR €0.24 per share dividend the following day – Friday, October 27.
Those same UMG stockholders will likely be enjoying the current state of Universal's share price on the Amsterdam Euronext.
Yesterday (October 10), UMG's stock price reached EUR €25.53, before closing the day at EUR €25.35.
This was the largest closing daily share price that UMG had achieved on the Euronext for more than a year.
In fact, it was actually the highest closing stock price the company had seen since way back in December 2021, according to Euronext data.
In other words: Universal's closing share price yesterday (October 10) was larger than it has been at any previous point in 2023… and larger than it was at any point in 2022.
Driving the point home: UMG's EUR €25.35 share price yesterday was up close to 50% (+47%) on the EUR €17.25 share price the company ended the trading day with exactly a year ago (October 11, 2022).
(At the close of today – October 11, 2023 – UMG's share price on the Euronext held almost all of its value from yesterday, at EUR €25.33.)
---

---
---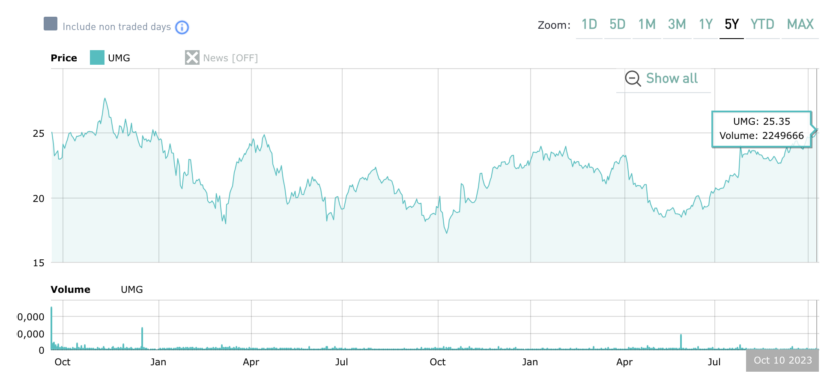 ---
What does that all mean for UMG's market cap?
In valuation terms, UMG's current EUR €25.33 share price equates to a company-wide market cap valuation of EUR €46.14 billion, according to Euronext data.
In turn, that EUR €46.14 billion current UMG market cap equates – at current exchange rates – to a whopping USD $48.97 billion.
How does this figure compare to Universal's historic (and historically lucrative) opening price on the Euronext when UMG floated in September 2021?
Well, UMG's market cap that famous morning (Sept 21, 2021) rose to EUR €46.37 billion – very close to where it sits (EUR €46.14bn) as you read this article.
Positive noises from the analyst community
As MBW recently reported, JP Morgan responded positively to Universal's announcement, alongside Deezer, that the French DSP would be launching an 'artist-centric' royalty model alongside UMG in France this month (October).
On September 7, Daniel Kerven at JP Morgan, who has long followed UMG's stock, increased his price target for UMG's share price – up from EUR €31 to EUR €33.
UMG's current share price remains around €7.65 short of this target.
---
More recently, analysts including Richard Eary from UBS (UMG price target: EUR €29.00) and Barclays' Julien Roch have maintained a 'Buy' rating on UMG's stock.
On October 6, Guggenheim Partners' Michael Morris and team maintained their 'Buy' rating on UMG's stock, raising their price target to EUR €27 from EUR €25.
Guggenheim highlighted "key strategic and financial opportunities" for UMG, including its "recently signed artist-centric agreement with Deezer" as well as an "anticipated [new] TikTok deal".
Guggenheim expects UMG's Q3 recorded music subscription streaming revenue growth to stand at 13.3% YoY.Music Business Worldwide