Universal Music Group, as predicted, had a huge 2018.
As revealed in new numbers from parent Vivendi today (February 14), UMG's total annual revenues – across records, publishing, merch and more – hit €6.023bn ($7.15bn) last year.
The company's full-year 2018 EBITA (earnings before interest, taxes, and amortization) landed at €902m ($1.07bn), up 22.1% year-on-year at constant currency. EBITA is the best indicator of profitability within Universal's numbers.
Drilling down into recorded music, Universal's labels turned over €4.828bn ($5.73bn) last year, up 9.8% at constant currency.
Within this figure, some €2.596bn ($3.08bn) was generated by streaming, which was itself up 37.3%.
Physical sales fell 16.1% at constant currency to €949m ($1.13bn), while licensing revenues rose 10.7% to €804m ($954m).
---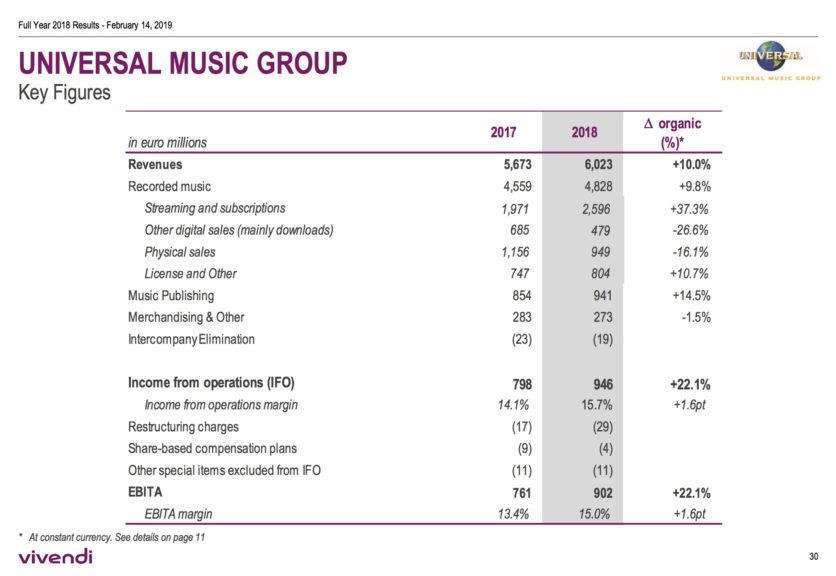 ---
Vivendi told shareholders that it is busy working on the prospective sale of up to 50% of UMG to a buyer (or buyers).
It said that it launched due diligence of suitors at the start of 2019, with a floor price to be set soon.
Meetings have been held with pre-selected banks, said Vivendi, with the final selection of financial advisors that will "assist in finding the best partners for UMG" should be completed in the coming weeks
Universal's biggest recorded music artists/projects in the year, by revenue and in order, were: Drake, Post Malone, the A Star Is Born OST, The Beatles and XXXTentacion.
---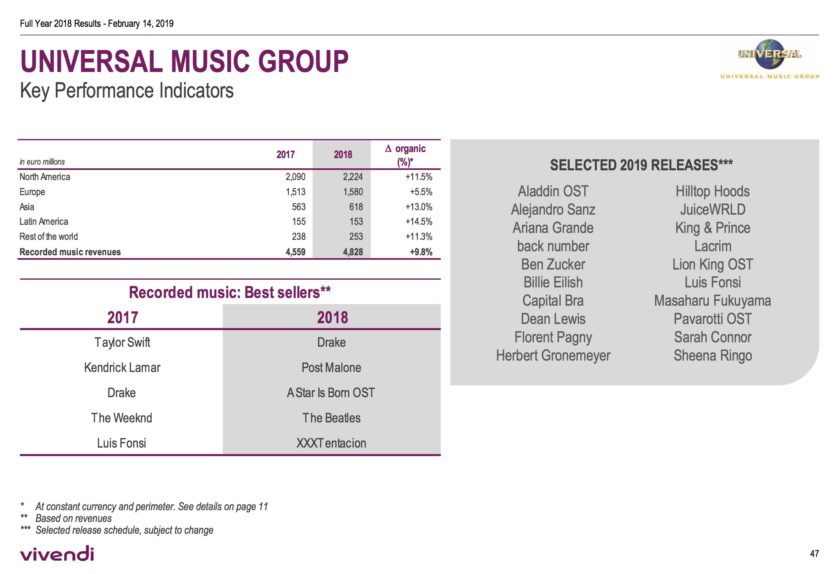 Music Business Worldwide