If you want to get an idea of just how lucrative streaming platforms have become for the major labels today, check this out.
Earlier this week, MBW analyzed two sets of very important financial results: Sony Music Entertainment and Universal Music Group.
We converted both fiscal reports into US dollars, based on the prevailing average exchange rates in the first half of 2018.
Here's what we found: in terms of recorded music only, from Jan-June this year, Universal turned over $1.44bn from music streaming, up 34.3% year-on-year at constant currency.
Sony Music, meanwhile, generated $943.7m from streaming in the same six month period, up 39.1% on H1 2017 at the dollar level.
Combined? The world's two biggest music rights companies saw $2.38bn coming their way in the first half of 2018 from Spotify, Apple Music, YouTube, Amazon Music, Pandora et al.
That was up by approximately $635m on the equivalent joint tally in the first half of 2017.
Here's where things really get fun.
This $2.38bn combined haul in H1 2018 was worth approximately $92m a week,  $13m a day and $550,000 an hour for the two combined companies.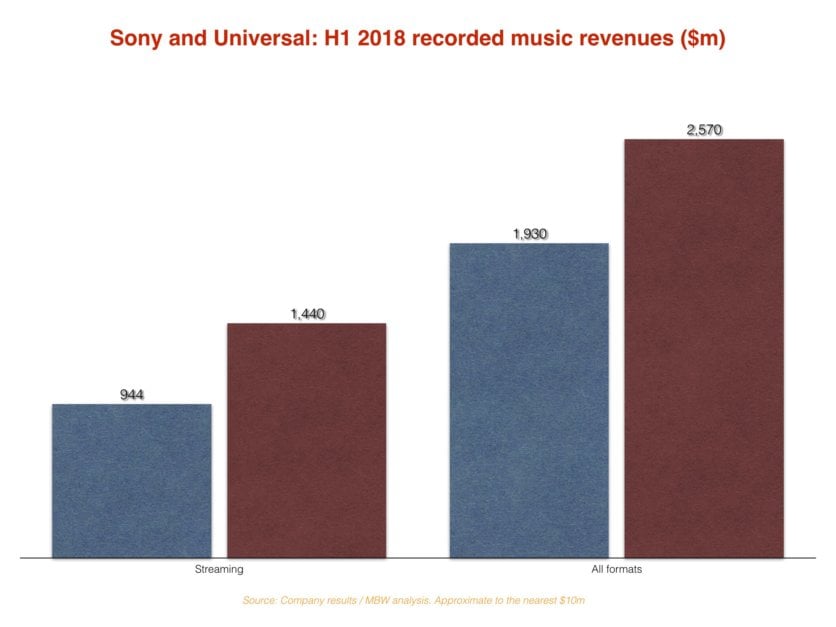 ---
In terms of their overall combined recorded music revenues (across all formats, streaming included), UMG and Sony turned over $4.5bn in H1 2018.
Go on then.
That was worth approximately $173m a week, $25m a day and… oh wow… just over a million dollars every hour.
No wonder Vivendi is stating that it will only sell a chunk of Universal to a buyer if it can "extract the highest value".
The biggest-selling artist at Universal in the first six months of this year was Post Malone (pictured).
It's worth noting, however, that UMG's H1 results only included two days of sales for Drake's record-breaking 25-song set Scorpion, which arrived on June 29.
The rest of that particular little cash bonanza will be reflected in the firm's earnings next quarter.
The blockbuster end of the music business is still, very much, on the up and up.Music Business Worldwide