"As a company, you need to have a purpose and you need to know where you're going," says PRS for Music CEO Andrea C. Martin, reflecting on her vision for the British PRO.
Martin was appointed as CEO in 2019 and given charge of an organisation of 500 people across two London sites and three joint ventures, now representing 165,000+ songwriters, composers and music publishers.
Over the course of her career, Martin, a Big Data expert, has held multiple C-Suite roles in various industries, from President and CEO of three international business units with Reader's Digest Association, to Managing Director of Data Services for the Royal Mail in the UK and President of ADT Canada.
"I felt that my data and my digital experience would be a great asset to a company that needed transformation," explains Martin. "The [music] industry is changing a lot and even more so now with AI."
Described by PRS as a 'transformation specialist', Martin explains that, "I always transformed old companies impacted digitally; old companies with big subscription bases and big databases".
Amongst the first changes and challenges under her leadership at PRS – a nearly 110-year-old organisation now handling trillions of lines of music usage data each year – were overhauling the governance model, and moving data to the cloud.
"We had the same governance model for 20 years," says Martin. "It had to be overhauled. That was the first thing we did. It was a huge milestone for the company. It allowed us to have flexibility and quick decision-making."
Martin says that PRS for Music then set out its "vision" in 2020 for what the exec calls a "very ambitious five-year plan". That plan includes paying out £1 billion in royalties to its members by 2026, achieving a cost-to-income ratio below 10%, and "being innovative" in strategic partnerships, tech systems, and data.
MBW asks Martin how the plan is shaping up, and we're told that PRS is already "tracking way above" those goals. Such progress, according to Martin, "is rare".
Achievements so far include hitting a cost-to-income ratio of 9.3% in 2022. "We made it [to below 10%] in one year," says Martin.  "When I came in, it was 13%."
And on data, PRS, as well as ICE – its pan-European music licensing hub created with Sweden's STIM and Germany's GEMA  –  implemented a phased project of moving a vast volume of data from physical storage to the cloud. "We had a lot of old systems," says Martin. "We had to bring it into the cloud."
Another key project to be launched during Martin's tenure is the 'Nexus' programme, which PRS believes is the solution to what it calls "the worldwide music metadata gap".
The programme includes the Nexus metadata portal, a free hub that publishes songwriter and composer credits, which means that portal users can flag discrepancies with data that could impact their revenue.
"A high-performing team that is motivated, with the right mindset, makes a big difference."
"Nexus is going to be huge," says Martin, and adds that it is "a global solution" that "everyone in the industry [has] to work together to make happen." PRS for Music recently expanded its Nexus programme with a new CISAC-supported initiative to ensure songwriter and composer information (via ISWCs) is linked to recordings (ISRCs) prior to release.
Commenting on the launch, Martin called it a "pioneering initiative" that is "designed to solve a worldwide issue and revolutionise how songwriters are paid".
She added: "Linking ISWCs to ISRCs at the point of release is crucial and has long been an obstacle for music creators."
Also as part of Nexus, PRS, along with The Ivors Academy, the Music Publishers Association (MPA), and the Intellectual Property Office (IPO) created the Get Paid Guide, which they say is "designed to demystify music metadata".
Here, following a banner year in 2022 for PRS in terms of both revenue and payouts (hitting £964 million and £836.2 million respectively), Martin tells MBW about the organisation's forecasts for 2023, achievements over the past few years, and more…
---
Why was taking over the leadership role at PRS an appealing proposition for you?
When I was approached first, I said no. I was semi-retired. This is my sixth CEO or Managing Director role. But then one of my friends [encouraged Martin to take the job] and said, 'Andrea, you love music too much'.
Just a little anecdote: In the late 1990s, I was working at Reader's Digest. A lot of people don't realise that we made money selling books, [but also] music and video.
We did 'Best Of' international compilations like ABBA and Elvis, and local [comps] depending on the country.
I was asked to be the Managing Director of the music division globally. I was very honoured. They asked me to move to the headquarters in New York, but I couldn't unfortunately, because of my husband's business. He was an entrepreneur and he couldn't move. And he didn't want to move.
So when I was approached for this [job at PRS], I thought, 'Oh, this is kind of full circle'. I remember reading Billboard constantly, looking at the Top 10 for how we put together the 'Best Of' compilations [at Reader's Digest].
But I also knew that [PRS] was a very old company. If you look at my background, what I really like doing is fixing things. For me, that's a challenge. It motivates me and it gives me energy.
---
In the announcement of your appointment, you were referred to as a 'transformation specialist' specifically. Could you talk about that?
I always transformed old companies that have been impacted digitally. Old companies with big databases.
Even though I was only in the music industry when it was really [just about] clearing mechanical rights, and I had a lot to learn, I felt that my data and my digital experience and my transformation on people would be a great asset to [PRS].
I knew there were going to be challenges, but that's what I like doing. I'm pretty good at it. I have a playbook on how to [transform companies]. A lot of change was needed. I could see it right away, even in the interview process.
"A lot of change was needed. I could see it right away, even in the interview process."
The company was very proud to have a growth rate of 8%. But in the interview, I said, 'Well, the research I did showed the music industry was going up by 12%.' So there was an opportunity. That's what compelled me.
Any change starts at the top – and even above the CEO. I really commend the Chairs to have hired someone who is not from the music industry, who is not a Brit, a woman, who is mainly specializing in transformation and change in data and tech.
---
What needed changing most urgently?
I saw right away that they needed to change their governance. That was a huge project. We had the same governance model for 20 years.
It was very tough. We had an external company come in that understood good governance. The UK is one of the best countries in good governance. I'm a certified corporate director, so I have some experience [in governance].
That was the first thing we did and that was a huge milestone for the company, which was through our first virtual AGM in August 2020.
"I'm a true believer in diversity: of thought diversity, gender diversity, ethnic diversity, and neurodiversity."
We had people on the board for 50 years. That's not diversity. I'm a true believer in diversity: of thought diversity, gender diversity, ethnic diversity, and neurodiversity.
The second thing I'm a big believer in, that I've learned through transforming old companies, is that it's all about internal people – making sure that we have the right skills, processes and structure to deliver the strategy.
I spent the first six months, with each team having to present to me. I learned about the business, but at the same time I learned about the people. That was implemented right away. I started transforming the team.
---
Just over six months after you joined PRS, the pandemic hit. Could you sum up the impact of that time on revenues, payouts and your work with PRS members during that time? 
Revenue was about £160 million down year over year, but we really did well in distributions. Actually, in 2020, we had a record distribution, close to £700 million.
In 2021, [it was] a little bit lower, but not that much. And yes, there was an impact to some members, but we pivoted very quickly.
When I saw the government talking about a lockdown, we essentially had what we called the COVID plan a week after the [office] closed down.
The plan was hinged on going back to basics. It was all around the livelihood of our members, and of our employees. If the employees were sick and they weren't working, they couldn't serve our members. And we launched the emergency relief fund at PRS, which was really important.
We have two charitable arms: PRS Foundation, which is for emerging talent and the PRS Members Fund which is for these crises. We worked with them and we also went to some of our members to raise funds and we gave out over £2.1 million to members that needed it. There were about 5,000 members that got money.
It wasn't huge, but I remember getting a letter saying, 'Wow, Andrea thank you so much, because the money allowed me to put food on the table and get my medication and to be able to continue'.
We also pivoted very quickly to look at a licence for online concerts. We're one of the leading [PROs to do that]. By pivoting, and having our plan, we got through it.
---
Last year was a banner year for PRS in terms of both collections and payouts. You hit £964 million in collections, and £836 million in payouts respectively in 2022. What drove those results? 
Let me talk about the people. A high-performing team that is motivated, with the right mindset, makes a big difference. The diversity of the team [also makes a difference]. The team really stepped up.
In the last two years, we signed and renewed contracts. We did 82 in two years. And that was incredible, because the year before I arrived we did nine. Those new and renewed agreements made a huge difference.
We [signed] a landmark agreement with Twitch. We did our first NFT. We also put ICE back on track, our joint venture which is the multi-territory online [licensing hub], which needed some resetting.
We brought in a new CEO [Peter de Mönnink] and really focused on the partnerships. Then there's also the PPL/PRS partnership. Those are the major drivers.
---
You mentioned some key new initiatives based in emerging areas, such as licensing your first NFT album and licensing virtual live concerts in the metaverse. Charlie XCX was an example and PinkPantheress on platforms like Roblox and Fortnite. How big of a contribution to PRS' revenues do you think these platforms will play in the next five years or so?
It's really hard to tell, I really think both in the metaverse and NFTs, you have what you call a hypercycle and there's ups and downs. You can see that in NFTs.
We still have to be there and we have to monitor it. We have to license it, [but] we're putting more focus on video games.  In the next five years, that's going to be the biggest growth. Yes, NFTs are going to happen. Yes, the metaverse [too], [but] video games have a greater potential.
---
To put PRS's 2022 revenue collection in context in dollar terms, versus US-based PROs ASCAP and BMI,  PRS collected (USD $1.19bn); ASCAP ($1.52bn); BMI (to end of June 2022; $1.573bn).  What does that tell us about PRS' positioning globally at the moment?
You're looking at collections, not royalties paid out, right? Our objective of  £1 billion in royalties paid out is because that's what's important to members.
Other societies run at a cost-to-income [ratio] much higher than 9.3%. That's one comment. We are getting much closer [to them in terms of collections]. When I came in, we were not at those numbers.
---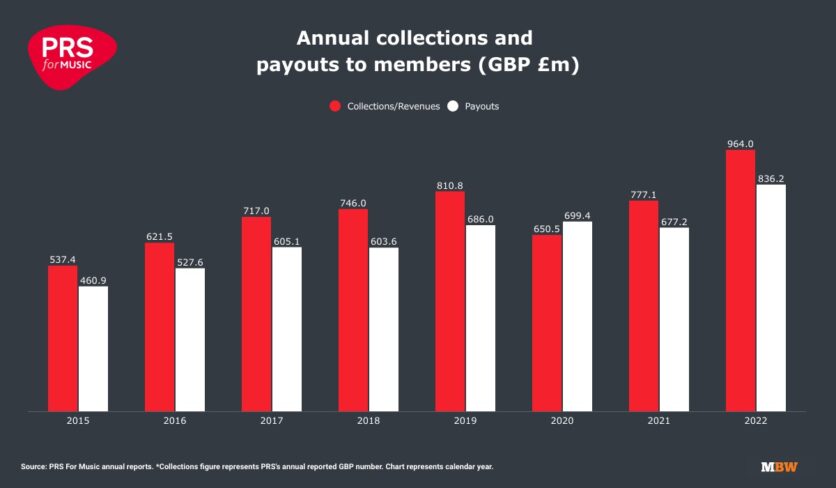 ---
Our main focus is royalties paid out, because that's what the members want. They want to know what's going to be in their bank account. And we're getting there. This year, we will surpass £1 billion in collections.
We're well positioned versus those PROs that you talk about. They are good, we work with them. They have a bigger market, and of course the US [industry] has been growing a lot.
If you look at the last 10 years, the market share of the US has increased a lot. But we have some great assets. We're very
strong internationally.
---
You mentioned earlier about delivering a historically low cost-to-income ratio of 9.3%. What is the significance for PRS's members of driving that cost-to-income ratio down?
The more we reduce that, the more we can pay out to our members and so that is really important to be efficient.
This is public information, but if you look at the CISAC reports, on average the biggest 15 societies run at around 13-14%. This is members' money.
Now of course, increasing the top line helps, because it's a cost-to-income ratio. So it's a cost versus the revenues, [but] we do have to invest. We have invested in people and in commercial partnerships to bring in more revenues.
We have invested in people and data to be able to [execute] our projects and to be more accurate and more transparent in our distribution.
We need to invest in people to drive the top line, but at the same point, by bringing in better systems like Salesforce, like Oracle, we can automate some of our processes and be more efficient.
---
In your 2021 AGM speech, you said that being brilliant at the basics of PRS for Music also includes being brilliant at data.  PRS is processing a vast volume of usage data each year – 21 trillion lines in 2021. What's your strategy for handling this vast volume of data – and how big a role will AI play in that strategy?
We had to move into the cloud, PRS and then also [pan European licensing hub] ICE. For PRS, it was a two-and-a-half-year project. When you move so much data, you have to do it properly.
If we don't, then our distributions will not happen. And if they do happen, they could be incorrect, so it was very important that we did it properly.
It was such a big project, that we actually had access to the Board of Oracle. And we did it seamlessly on budget and on target. There are so many legacy systems intertwined with that. So that was important, because before putting it in the cloud, we just couldn't be really good in data and providing services to our publishers and composers and writers.
We're now upping the game on that. We're doing many of what we call MVP, minimum viable products. One of them is artificial intelligence and machine learning. It's playing a vital part and that is a very positive side of AI.
And then for ICE there is, of course, what we call Project Apollo, which is moving from IBM physical hardware into the cloud, AWS [Amazon Web Services].
We decided to do that project in phases, and we are already seeing the benefits of quicker ingestion, and quicker and better processing.
Now that everything is in the cloud we can do much better matching, but the more we match, the more money we can get out, and the more accurate we can be.
---
If you could change one thing about the music industry, what would it be?
I've been in many industries, including print publishing, logistics, and security. I was on the board at a telco company. So I've seen different industries and I feel that the music industry has to be open to change and embrace people that are not from the industry.
We [also] have to embrace diversity. There's much more diversity at PRS since I arrived: gender diversity, and ethnic diversity at the board level and at the leadership level.
One message to the industry: embrace change, bring in people and diversity, please. More women, more diversity, and people that are not from the industry.
---

This article originally appeared in the latest (Q3 2023) issue of MBW's premium quarterly publication, Music Business UK, which is out now.
MBUK is available via an annual subscription through here.
All physical subscribers will receive a complimentary digital edition with each issue.
Music Business Worldwide