2022 was a banner year for London-headquartered collection society, PRS For Music.
Even factoring in a post-Covid bounce, the licensing org's annual numbers impressed, up 22.9% YoY at constant currency to GBP £964 million.
At average exchange rates (per the IRS), that figure translated to USD $1.19 billion.
PRS collects royalties on behalf of British songwriters and publishers globally for the use of their works (as opposed to the equivalent org for recorded music in the UK, PPL).
PRS's GBP £964.0 million annual collection last year was by far its largest in history, easily topping the £810.8 million that the org reported in its last pre-pandemic year, 2019.
To put PRS's 2022 revenue collection (USD) in context vs. its larger US equivalents: PRS (USD $1.19bn); ASCAP ($1.52bn); BMI (to end of June 2022; $1.573bn).
---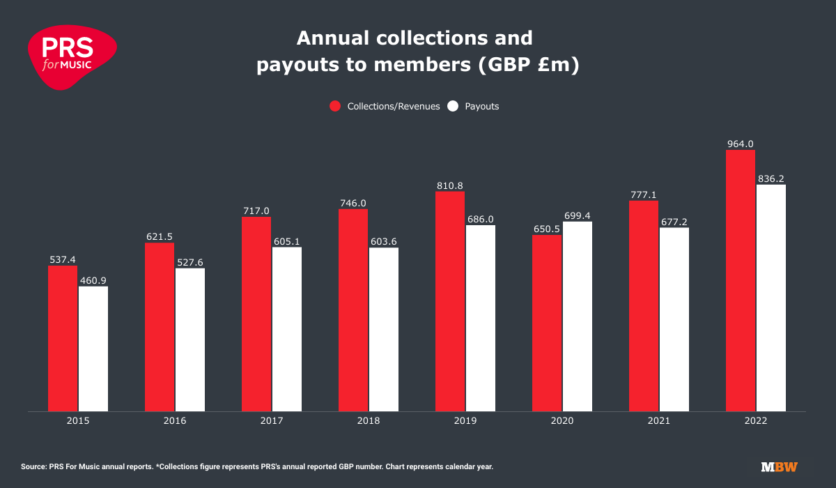 ---
In terms of pay-outs to songwriters and publishers, PRS says that it distributed GBP £836.2 million (USD $1.03bn) in royalties in 2022.
That represented a 23.5% YoY (£159m) increase on 2021.
PRS says its 2022 results were delivered at a historically low cost-to-income ratio of 9.3% (excluding charitable donations and subsidies) meeting the org's target of achieving a cost-to-income ratio below 10% four years earlier than its five-year plan.
"Through our ambitious licensing strategy and utilising our joint ventures we have maximised the value of members works at every opportunity."

Andrea Czapary Martin, PRS For music
Andrea Czapary Martin, CEO of PRS for Music, said: "In 2021, PRS for Music set out its vision to pay out over £1 billion in royalties within the next five years. Last year we accelerated progress towards, and beyond, this milestone. Through our ambitious licensing strategy and utilising our joint ventures we have maximised the value of members works at every opportunity.
"[Our] investment in new technologies and services means we can pay out royalties more quickly and accurately, delivering the best possible service to members at a market-leading low cost-to-income ratio."
---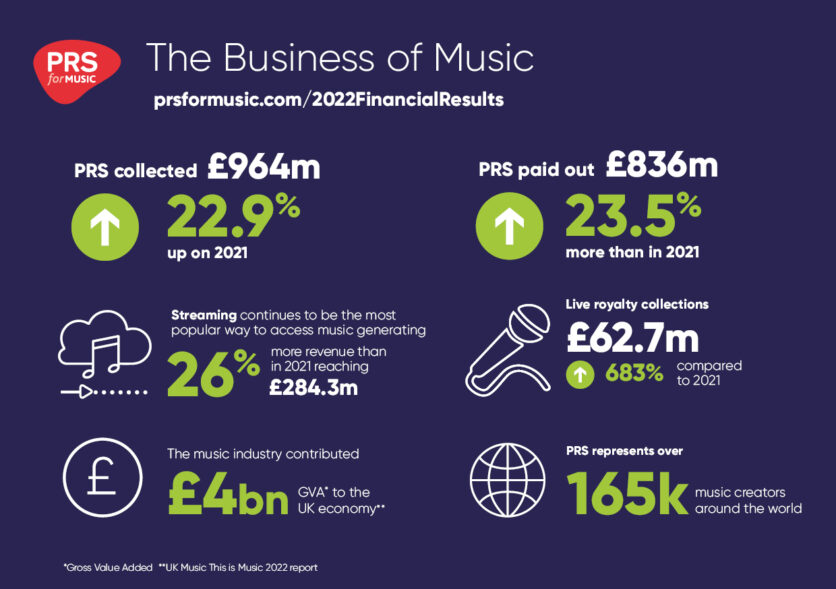 ---
Music streaming contributed GBP £284.3 million to PRS's overall revenues in 2022.
Total online royalties stood at £334 million, up 25% YoY at constant currency.
Unsurprisingly, PRS also saw a big bounce in royalties collected from live concerts.
Live music royalty collections at the CMO generated GBP £62.7 million in 2022, an increase of 683% on 2021, and 16.1% on 2019.
Over 128,000 live events were reported to PRS for Music across the year in the UK, including major tours from the likes of Dua Lipa, Ed Sheeran, Little Mix, N-Dubz, The Cure and The Rolling Stones, among others.
---
Overall revenues from public performance, music played or performed in public (i.e., shops, restaurants, bars etc.) represented the largest year-on-year monetrary increase in 2022, hitting £228.9 million – up by 66.4% YoY compared to 2021.
Royalties collected from public performance were 3% (£6.7m) higher than 2019 (£222.2m), the last full year unaffected by lockdowns.
PRS's international (ex-UK) revenues showed strong signs of recovery following the global pandemic, totalling £272.4 million in 2022, a year-on-year increase of 8.8% YoY (constant currency).
2022 saw overall overseas royalty income remain below pre-pandemic levels, however, at 2.3% lower than 2019.
Revenue from linear UK broadcast television declined by 2.4% (£1.9m) compared to 2021, totalling £76.5 million in 2022.
PRS welcomed almost 7,000 new writer, composer and publisher members in 2022.Music Business Worldwide