Universal Music Group has completed its first full day of trading on the Amsterdam Stock Exchange – and it was a big one.
The world's biggest rights-holder listed on the Euronext in Amsterdam this morning, opening with a €25.25 ($29.63) share price, giving the company a valuation of €46.3 billion or $54.3 billion.
UMG's shares hit a peak of €26.45 ($31) during the day, and closed at €25.10 ($29.43), which translates to a valuation of €45.5 billion or $53.3 billion after the company's first full day of trading (see below).
Not bad for a day's work.
---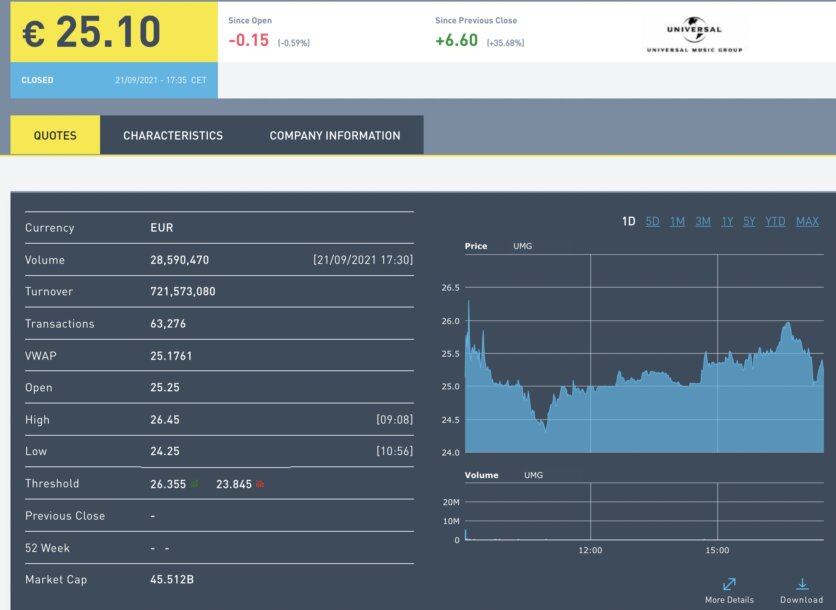 ---
The reference price of Universal Music Group shares was set at €18.50 ($21.70) per share by former parent company Vivendi yesterday, valuing UMG at €33.5 billion (approx. $39bn).
Universal wasn't the only publicly traded music company to have a good day on the stock markets.
UMG's NASDAQ-listed rival Warner Music Group has seen its value rocket in the wake of UMG's listing in Amsterdam.
---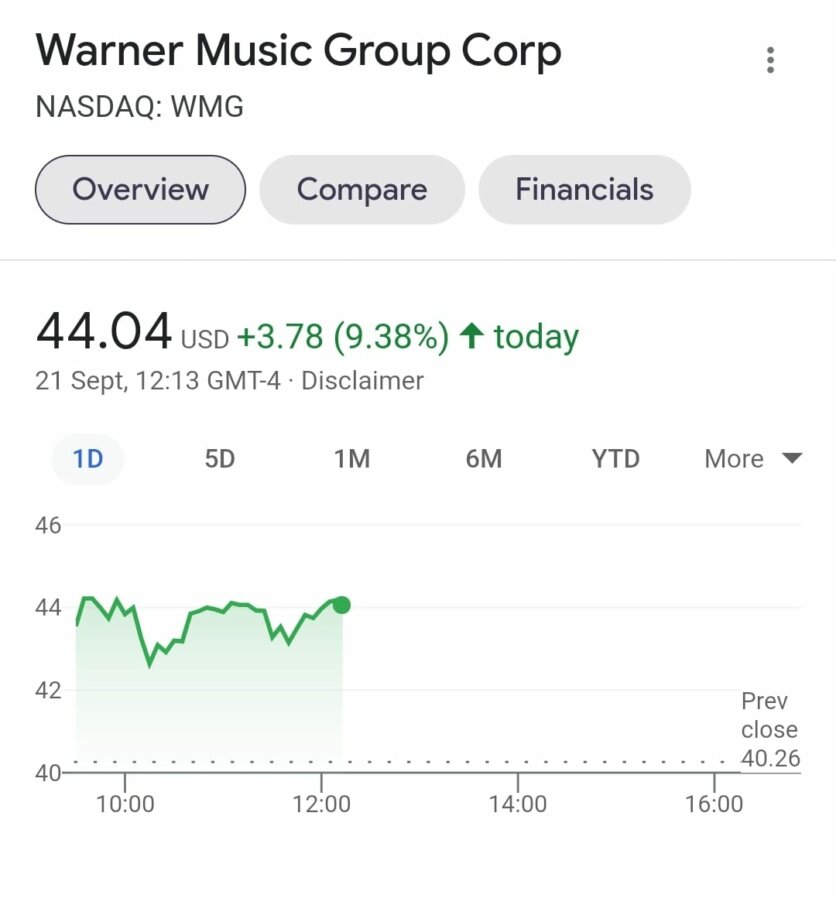 ---
At the time of publishing, Warner's share price was up 3.78% to $44.04, equating to a market cap rise (during the hours of trading so far) of around 9.4%.
That translates to a rise of $1.9 billon, from the company's closing market cap of $20.70 billion yesterday (September 20) to $22.6 billion at the time of writing.
Subsequent to UMG's listing, Vivendi now owns just 10% of UMG, while a Tencent-led Consortium owns 20%.
Pershing Square Holdings Ltd also owns 10%, and French businessman ex-Vivendi Chairman Vincent Bolloré's 'Bolloré Entities' owns 18.0%.
At a €45.5 billion valuation, Bolloré's share of UMG is worth €8.19 billion ($9.60bn) after UMG's first day of trading, while the Tencent-led Consortium's 20% share is worth €9.1 billion ($10.67bn).
Vivendi and Pershing Square Holdings' respective 10% stakes are each worth €4.55 billion ($5.33bn).
The listing of Universal Music Group on the Euronext Amsterdam follows the earlier announced intention by Vivendi to spin out 60% of UMG shares.
Sir Lucian Grainge, and members of the corporate executive team, sounded the gong live from UMG's Santa Monica HQ this morning to announce the market opening for Universal Music Group on the Euronext Amsterdam Stock Exchange (see below).
"Today's listing marks an exciting milestone in UMG's storied history."
Commenting on the launch of the listing, Sir Lucian Grainge, Chairman and CEO of UMG, said: "Today's listing marks an exciting milestone in UMG's storied history, reflecting our position as the world's leading music-based entertainment company and our deep commitment to our amazing artists, songwriters and partners.
"We offer our thanks to the team at Euronext Amsterdam for their work on this listing and look forward to a great partnership together."
---
---
In a pre-IPO prospectus published last Tuesday (September 14), UMG offered potential investors an insight into the company's business risks, executive rewards, historical financial information and profit forecasts, in addition to revealing details of the firm's post-IPO board.
The firm's new board includes Sir Lucian Grainge, who is Chairman & Chief Executive Officer and Executive Director, and Vincent Vallejo, UMG's Deputy Chief Executive Officer, Corporate and Executive Director.
The board also includes James Mitchell, Senior Executive Vice President and Chief Strategy Officer of Tencent Holdings Limited and a Director of New York Stock Exchange-listed Tencent Music Entertainment Group.Music Business Worldwide