Good news coming out of Denmark: total recorded music income in the market – one of the world's most advanced nations in terms of streaming music consumption – grew 3.7% last year, up from DKK 437 million ($64.6m) in 2014 to DKK 453 million ($67m).
It was the third consecutive year of growth for the Danish record industry, according to IFPI stats.
Income from streaming, helped by leading services such as Spotify, TDC Play and Apple Music, leapt up by 26.5% to DKK 323 million ($48m) from DKK 256 million ($37.9m) in 2014.
Yet, percentage-wise, that streaming growth was a significantly smaller jump on 2014, when streaming's revenues jumped by 50.5% in Denmark.
We'll come on to one likely reason for that slowdown shortly.
Overall, streaming claimed 71.3% of Denmark's total recorded music market in 2015 – up from 58.5% in 2014.
The total Danish industry grew 1.8% to DKK 437m (€58.6m) year-on-year back in 2014, and was up 5.2% in 2013.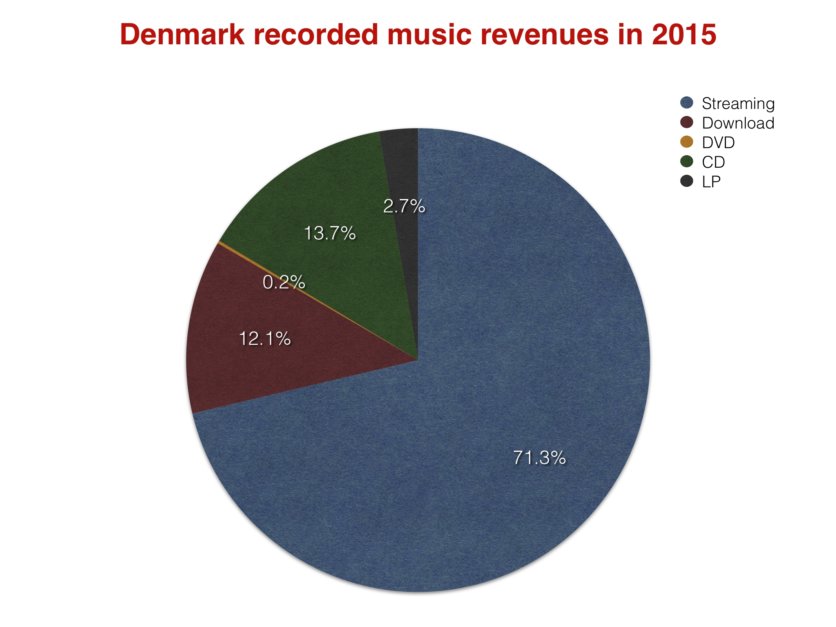 ---
In 2015, there was not-so-good news from the CD and download formats – while YouTube revenues were, yet again, shameful.
Download sales fell by 20% – or DKK 14.4m ($2.1m) – to DKK 55m ($8.1m) in the year.
The format accounted for 12.1% of the market, meaning revenues from streaming dwarfed digital sales by ratio of around 6-1.
(Streaming's ability to offset this download decline is illustrated by one key stat: total revenue from both digital formats in Denmark increased by 130% from 2011 to 2015.)
Meanwhile, income from CD sales plummeted in 2015 by 40.6% – or DKK 42.3m ($6.3m) – to approximately DKK 62m ($9.2m), representing just 13.7% of the market.
When you consider that CD's value fell by a further 26.7% in 2014, its sustained steep decline becomes more apparent.
Back in 2012, CD sales still amounted to 43.6% of the total Danish annual market.
But CD aside, Denmark's IFPI has warned of a worrying future for another reason – and you can see why.
---
In 2015, audio streaming platforms (including freemium) in Denmark such as Spotify, Apple Music and TDC Play contributed DKK 305m ($45m) to recorded music rights-holders.

That equated to 67.3% of the total recorded music market's income.
However, ad-funded-only services, such as SoundCloud and YouTube, only contributed a pitiful DKK 18m ($2.66m) to the total turnover.
That's 4% of the market's overall revenues.
The news comes days after MBW reported that in Denmark's sister territory of Norway, YouTube revenues reflected less than 2% of overall recorded music income in 2015.
See?
When you consider how much consumption takes place on these platforms… 'embarrassment' pretty much covers it.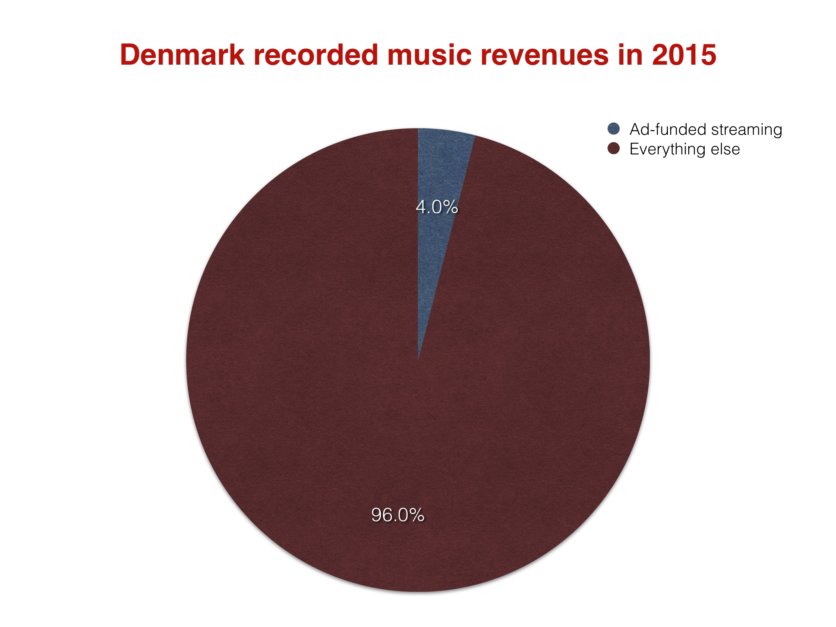 IFPI Chairman Henrik Daldorph said: "2015 is the third consecutive year of growth for music companies. It is of course welcomed.
"At the same time it is crucial for the industry's continued growth that we become even better at exchanging music's popularity into income for those who create music and invest in it. "
Daldorph didn't stop there, either – he openly criticised YouTube's ability to hide behind safe harbour laws in the EU when it comes to unlicensed material on its platform.
"It is not tenable that streaming services as an active provider of music are not equal before the law," he said.
"It creates an uneven playing field in the market, which inhibits investment willingness. And it is not good for consumers nor music.
"Therefore, we want to be do something politically about the loopholes in EU legislation – which allow for some streaming services to get around entering into proper licensing deals with music [rights-holders]."
---
Interestingly, record companies saw their income from live concert sales double in Denmark in 2015, up from DKK 12.1m ($1.79m) in 2014 to DKK 23.2m ($3.43m) in 2015.
Meanwhile, in terms of other 'ancillary income' for labels, revenues from brand partnerships stood at DKK 22.5m ($3.3m).
Sync revenues stood at DKK 3.1m ($460,000), while labels' share of merchandise income was DKK 2.5m ($370,000).
Acts who enjoyed particular success in Denmark in 2015 included MØ, Major Lazer and DJ Snake plus Lukas Graham (pictured).Music Business Worldwide