2015 was a good year for the music biz in Norway – but with a pathetic statistic at its heart.
Norway's recorded music market was up 6.9% in 2015 to NOK 646m ($74.3m) last year – a return to growth after the industry flatlined in 2014.
Streaming now accounts for 77.4% of all recorded music income, according to new stats from IFPI Norway.
Streaming revenues increased 9.7% last year from NOK 456m ($52.6m) to NOK 500.3m ($57.7m), with 1.5m Norweigans paying for streaming services.
Of this streaming income, NOK 490.1m ($56.5m) came from audio streaming services (Spotify, Tidal, Apple Music).
Just 2% of total streaming revenue (NOK 10.2m – $1.2m) came from video streaming services such as YouTube.
Interestingly, physical sales increased 30.4% in 2015 from NOK 83.1m ($9.6m) to NOK 108.4m ($12.5m), but it's worth bearing in mind that physical crashed by more than 40% in 2014.
Vinyl's turnover hit NOK 26.1m ($3m) in 2015, up 68.9%.
CD sales increased by 26.4% to NOK 79.3m ($9.1m).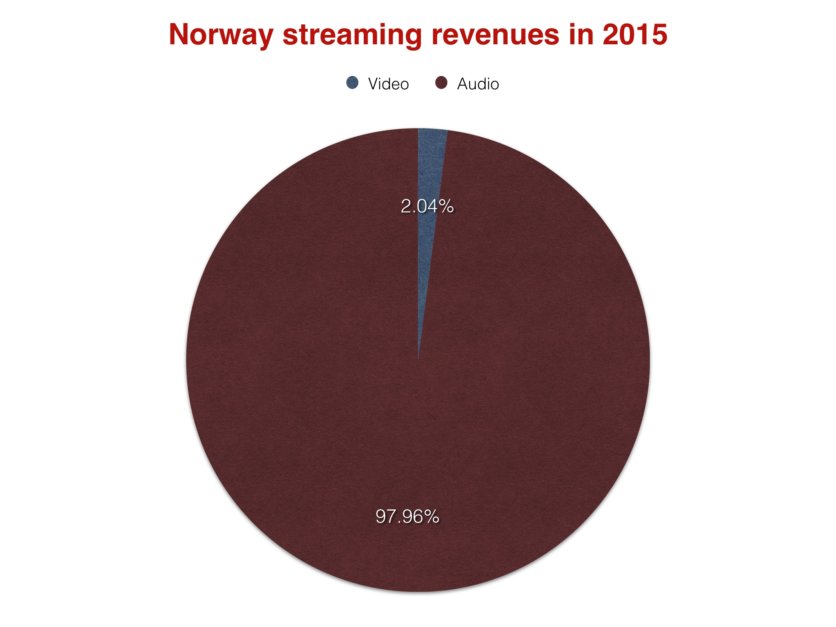 Download revenues fell 5.8% – a further decline on a 10.9% drop in 2014.
26.3% of music sold and streamed was domestic, up from a 22% share in 2014.
Directing manager of IFPI Norway, Marte Thorsby, said she was certain we haven't seen the top of streaming yet.
She commented: "We have seen an annual increase in streaming since the introduction of the format in 2009, and with a growth from 2014 til 2015 of NOK 44m, equal to 9,7%, we obviously still haven't reached the top.
"More surprisingly is the growth in physical sales, in total a growth of 30%. However, in figures, the growth of physical is in total around NOK 25m, which is far lower than the increase in streaming."
Thorsby doesn't expect physical sales to decline in 2016.
She said: "The growth in physical sales is due to a number of factors, such as more physical releases in general, and upgoing trend for vinyl as a format and as to CD, large campaigns towards supermarket chains has had great success.
"I am not sure that we will continue to see an annual growth of 30%, but I will not be surprised if the physical format will stay stable or continue the growth in 2016."
Managing director of Music Norway Kathrine Synnes Finnskog said: "These numbers confirm that the Norwegian music industry is going strong.
"There is an optimism in the industry today. Instead of fighting it we've adapted to new revenue models and see more and more great artists coming up every day.
"With it we see the industry as a whole growing, giving businesses the opportunity to continue to build a stronger industry and develop new acts and artists."Music Business Worldwide