France is one of the world's most important territories for recorded music.
According to IFPI data, it was the world's fifth biggest market for label and artist money-making last year, but – owing to a 15% decline in physical format sales – its overall revenues only grew by a measly 1.4% versus 2017.
2019, however, seems to be a different story. France's local trade body SNEP has today (July 25) published its half-year industry update, complete with trade revenue stats for the six months to end of June.
These statistics (see below) show that overall streaming revenues in France grew 28.3% year-on-year in the first six months of 2019, to reach €175.3m ($195m).
This growth was largely thanks to a bountiful rise in subscription/paid-for streaming revenues, which increased by 25% to €138.1m ($154m) compared to H1 2018.
Physical format revenues declined 4.26% year-on-year, while download revenues fell by 21.8%. But neither of these reductions was enough to prevent streaming dragging France's recorded music market's revenues up 12.7% year-on-year at the midyear point.
That represents a significant climb: labels and artists generated some €31.2m ($35m) more across all formats in the first six months of 2019 in France than they did in H1 2018.
---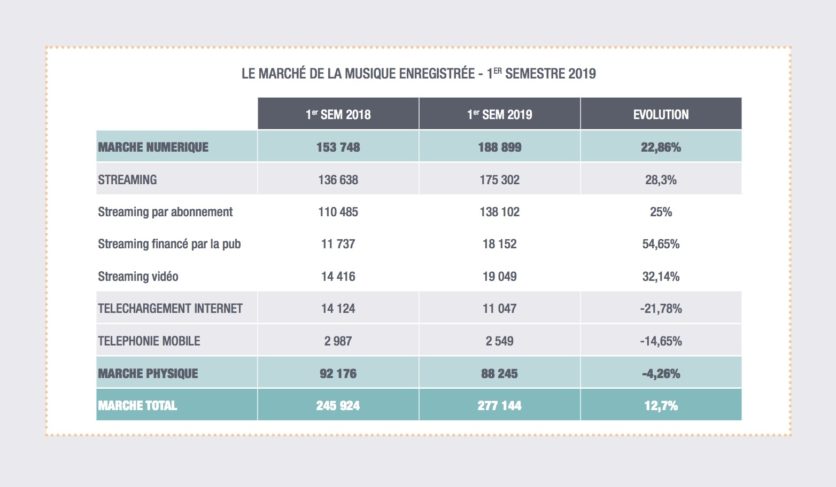 ---
What's driving this exciting growth in market revenues?
Domestic hip-hop is certainly playing an important role, with SNEP noting that out of France's Top 200 best 'selling' albums in H1 2019, some 160 were by French artists. (That's 'selling' as in, a combination of actually selling units, plus an 'equivalent' formula reflecting these records' paid streams.)
SNEP says that 40% of the Top 200 albums in H1 2019 could be described as 'French urban' music. And, as you can see below, records described as 'Rap Francais' claimed 50% of the Top 10 biggest albums in the period.
---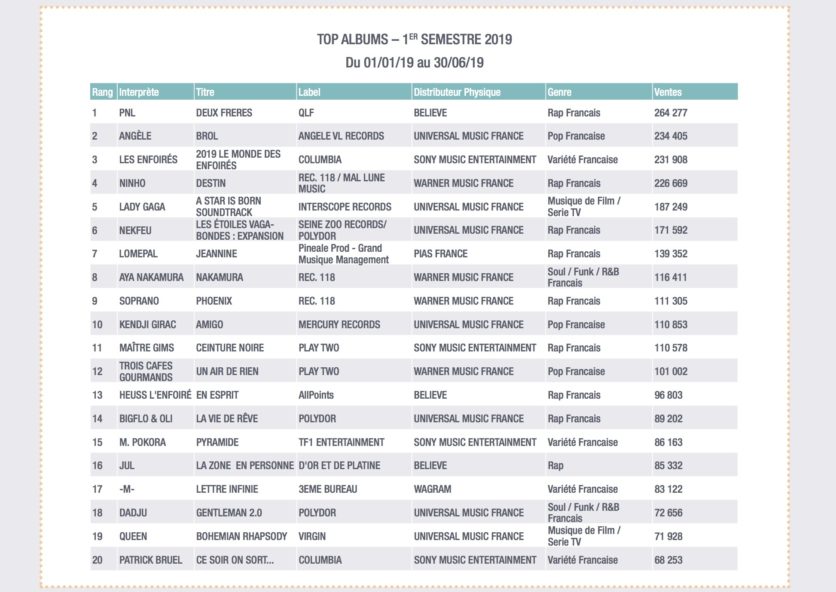 ---
Leading the pack of these French rap successes was Deux Frères by hip-hop duo PNL – an album which recently hit headlines for reasons other than its impressive sales (equivalent) performance in its home territory.
PNL are an independent act who released Deux Frères both physically and digitally via distribution and services company, Believe.
Deux Frères (Two Brothers), attracted over 113,000 sales equivalents in its first week on the French chart in April, going to No.1 and staying there for five weeks. Since its release to the end of June, says SNEP, Deux Frères 'sold' (sales plus streaming equivalents) 264,300 units in France.
The LP's 'sales' figures would have been given another boost recently following a special re-release of the album at the close of June, on Apple Music – featuring four new tracks which were exclusive to the service for a week.
This was Apple's first meaningful foray into the world of artist exclusives since the infamous release of Frank Ocean's Blonde in 2016. MBW understands PNL and Apple have inked an ongoing partnership, with further platform-exclusive content expected to arrive in future.
Apple Music's Global Creative Director, Larry Jackson, responded to PNL's new tracks arriving on the service in an Instagram story earlier this month (July 3).
He wrote: "A huge congrats to my French brothers – the biggest and most influential duo out there – PNL, for breaking streaming records again in Europe this week. This time we proudly did it together.
"These guys bravely turned down countless offers from every company in business to remain fiercely independent, and also stay in control of their own masters."Music Business Worldwide