MBW's Stat Of The Week is a series in which we highlight a data point that deserves the attention of the global music industry. Stat Of the Week is supported by Cinq Music Group, a technology-driven record label, distribution, and rights management company.
---
Universal Music Group will have to battle hard to grow its revenues in the second half of 2020.
That's one obvious deduction from the firm's Q2 (and half-year) results, as issued by majority-parent Vivendi yesterday (July 30).
In half-year terms, Universal had a reasonably decent run: In the six months to end of June, the firm's recorded music revenues were up 3.7% in organic terms (to €2.77bn / $3.03bn), largely thanks to a 12.4% rise in streaming revenues (to €1.81bn / $1.98bn).
Publishing was up 21.2% to €573m ($626m) in the same H1 2020 period – boosted by a one-off digital royalty claim – while UMG's total business (records plus publishing, merch etc.) saw revenues rise 3.5% to €3.46bn ($3.78bn) in the half-year period.
These weren't the double-digit rises we're used to seeing from UMG, but considering current global circumstances, they're impressive nonetheless.
In Q2 (the three months to end of June), however, UMG faced a harsher set of conditions.
Thanks to the COVID-19 pandemic – and the connected quarantines/lockdowns across the world – UMG's total recorded music sales dropped 4.5% YoY in the quarter, despite streaming revenues growing 8.5%.
Quarterly recorded physical sales declined by a painful 39%, down to just €152m ($165m); merch sales fared even worse, down 61.8% to €51m ($55m).
That left revenues across UMG's overall business (records plus publishing, merch etc.) down 4.7% YoY in Q2, at €1.69bn ($1.83bn).
---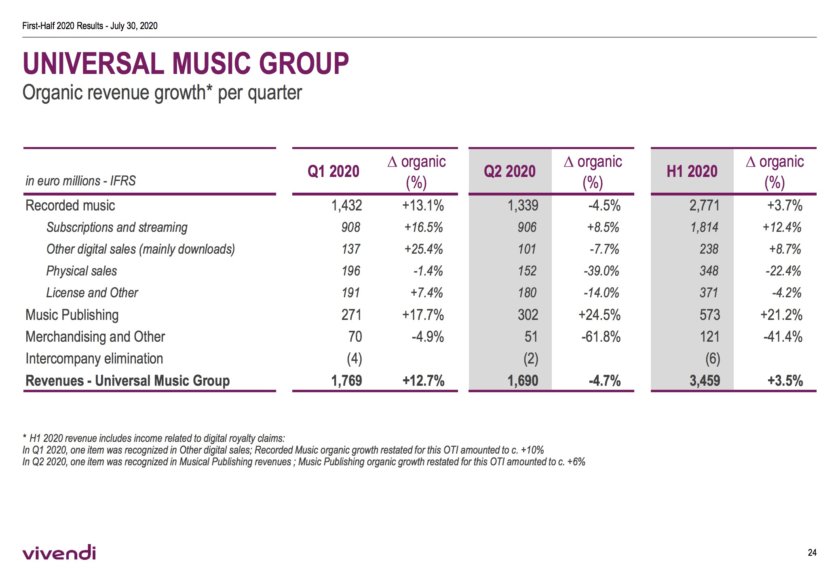 ---
Clearly, the widespread closures of physical retail stores worldwide (plus the cessation of the global touring circuit) had a significantly deleterious effect on UMG's sales in the quarter.
So too, it appears, did UMG's own quieter-than-usual release schedule.
Vivendi revealed yesterday that UMG's biggest selling artist projects globally in the first half of 2020 were, in order: (i) Billie Eilish; (ii) The Weeknd; (iii) Justin Bieber; (iv) King & Prince; and (v) Eminem.
What unites all of these artists? None of them released a studio album in Q2 2020. (Eminem's chart-topping Music To Be Murdered By was released in January; The Weeknd's After Hours arrived in March.)
Vivendi says that Universal's other biggest sellers in H1 2020 were Lil Baby (who released his latest album in February) and Post Malone (whose last album, Hollywood's Bleeding, was a 2019 release).
There were some major Q2 releases from Universal (for example: Blame It On Baby by DaBaby in April, Lady Gaga's Chromatica in May) but, just like the rest of the blockbuster record business, it was a noticeably light slate.
So were there any bright spots for UMG amid the aberration of its COVID-hit Q2 period?
Yes. It's our Stat Of The Week – and it will probably particularly please Tencent.
It an indicator of Universal's strong underlying (i.e. catalog) business shining through… even when the company isn't operating at full capacity.
---
MBW's Stat Of The Week:

Despite – and partly due to – Universal's relatively quiet operations in Q2, the company's Operating Profit in the first half of 2020 grew to €597m ($652m). That was up 17.7% year-on-year on an organic basis, representing an operating profit margin of 17.3% versus 15.4% in the prior year.
---
Vivendi gives away two profit figures for Universal Music Group every six months (but not every quarter): the company's Operating Profit, and its EBITA (Earnings before interest, taxes, and amortization).
The latter figure takes into account exec share-based compensation, restructuring charges and special items.
In the first six months of 2020, says Vivendi, Universal's operating profit grew by €96m year-on-year (+17.7%) to €597m ($652m). Its EBITA rose by €86m (+16.6%), to €567m ($619m).
Meanwhile, UMG's total costs (ie. net revenue minus operating profit) rose only slightly, up from €2.76bn in the first half of last year to €2.88bn in H1 2020.
---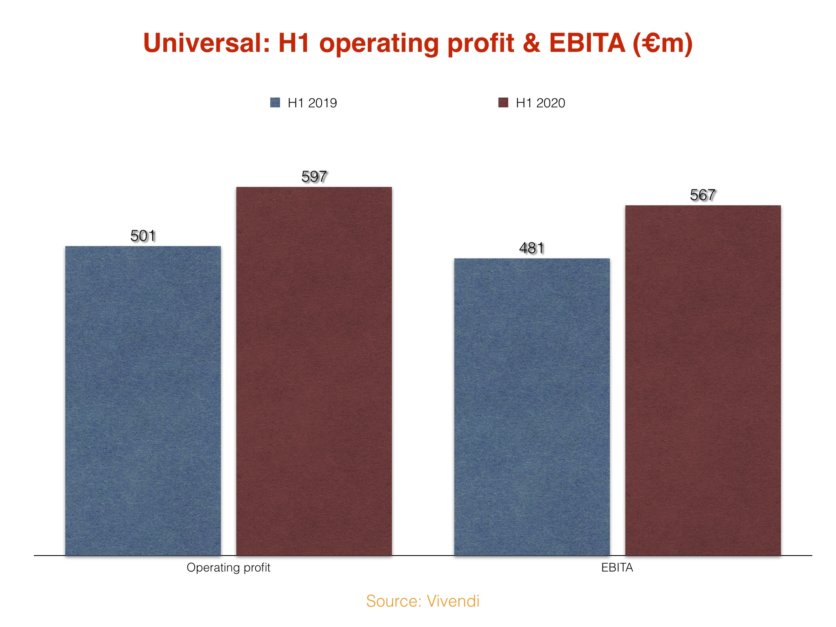 ---
These figures will be of definite interest to Tencent Holdings and the consortium it leads, which already owns 10% of UMG, because it gives a clearer-than-usual picture of Universal's root profitability beyond the noise of its more typical frontline release rhythm.
This is especially important when you remember that Tencent is currently mulling whether to acquire a further 10% in Universal, taking its total stake to 20%. The Chinese giant (and the backers of its consortium) have until early 2021 to make that decision.
The other thing it tells us: Universal's rapid transition into a streaming-led company has largely protected it from the worst of the pandemic's commercial headwinds. In Q2 2020, more than two thirds (65.5%) of Universal's recorded music revenues came from streaming. In turn, streaming contributed nearly six times the revenues UMG generated from physical sales.
Despite the profitability upsides to a quieter quarter, UMG Chairman and CEO Sir Lucian Grainge won't be keen on a more muted release slate lasting too long.
Grainge and his label heads would no doubt rather Universal was back firing on all cylinders – releasing more blockbuster records, breaking more blockbuster artists… and generating more blockbuster revenues.
With that in mind, one suspects that Taylor Swift – whose history-making new LP, Folklore, is currently driving UMG's Q3 performance forward – is particularly popular amongst Universal's most senior executives right now.
---

Cinq Music Group's repertoire has won Grammy awards, dozens of Gold and Platinum RIAA certifications, and numerous No.1 chart positions on a variety of Billboard charts. Its repertoire includes heavyweights such as Bad Bunny, Janet Jackson, Daddy Yankee, T.I., Sean Kingston, Anuel, and hundreds more.Music Business Worldwide