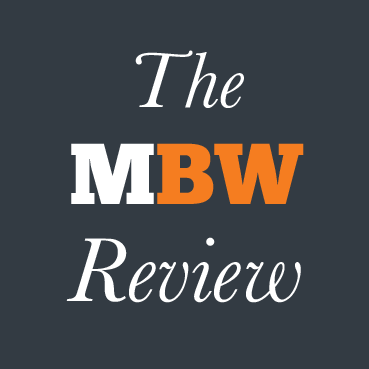 The MBW Review is where we aim our microscope towards some of the music biz's biggest recent goings-on. This time, we look into Taylor Swift's highly impressive early streaming numbers, especially on Spotify. The MBW Review is supported by Instrumental.
---
Taylor Swift's surprise-released new album, Folklore, has wrong-footed the music business.
This fact was perfectly encapsulated by a press release issued by Swift's record label, Republic, on Saturday (July 25) which revealed that Folklore had just set official day-one streaming records as both the biggest "pop album" of all time on Apple Music and the biggest "Indie/Alternative" album of all time on Amazon Music.
The complex categorization of Folklore is deliberate, of course; a 16-track, critically lauded record from one of pop's biggest megastars, it was created with indie royalty including The National's Aaron Dessner (who produced/co-produced 11 tracks) and Bon Iver (who co-wrote and features on the track Exile).
The most telling stat from that same Republic Records announcement, though, applies to Swift's day-one performance on Spotify. Folklore was officially streamed 80.6m times globally on the Swedish service in its opening 24 hours – making it the biggest debut album ever on the platform from a female artist.
This, Republic notes, contributed to a day-one global (equivalent) sales tally for Folklore of 1.3m, which would have also included a bunch of people buying/pre-ordering the physical version of the album (and its alluring, unheard bonus track).
Folklore's highly successful debut is put into sharper focus when you compare it with past artist milestones on Spotify, including those of Swift's previous studio album, Lover, which was released just 11 months ago.
According to MBW's calculations, Folklore just became the second-biggest album debut of all time on Spotify, behind Drake's Scorpion.
To demonstrate this, we need to look to a new number – the number of chart-eligible Spotify streams that Folklore racked up in its first 24 hours. (This figure is always slightly lower than the official stream-count number, as Spotify caps the amount of plays each individual user can contribute towards its chart in a 24 hour period.)
Folklore's chart-eligible Spotify count on its release day (Friday, July 24), according to SpotifyCharts.com, was 79.44m, suggesting that Spotify discounted around 1.2m streams in terms of its global chart.
Here are the stats that show how that 79.44m chart stream count makes Folklore Spotify's second biggest album debut of all time:
---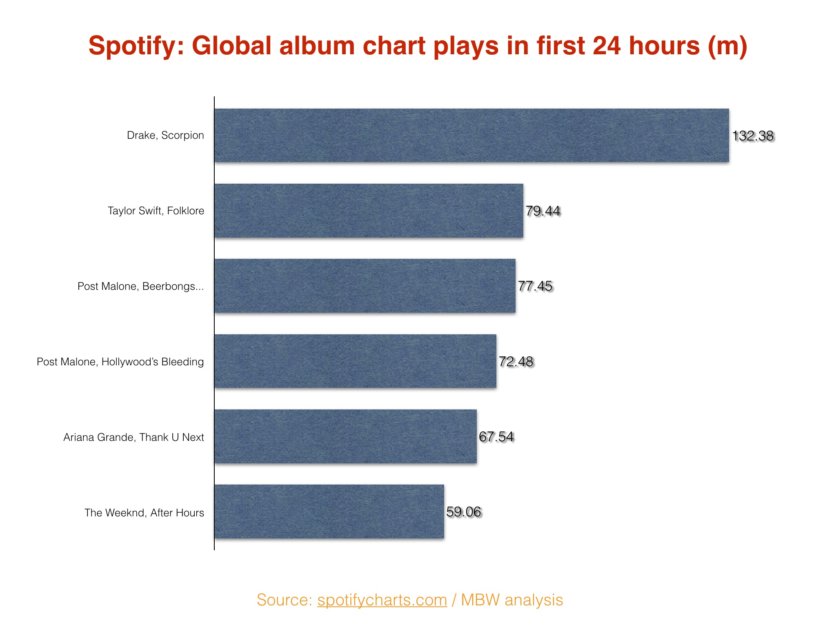 ---
There is another fun way of slicing this, just as we did for The Weeknd's After Hours back in March.
As mentioned, Swift's Folklore contains some 16 tracks (on streaming services). Drake's Scorpion had 25, while others in the list differed again – including Ariana Grande's Thank U Next  (12 tracks) and two Post Malone albums: Hollywood's Bleeding (17 tracks) and Beerbongs & Bentleys (18 tracks).
In terms of a per-track average on day one of streaming, here's how Spotify's all-time global list shakes out, with Swift's Folklore at No.3, and Ariana Grande's 2019 album Thank U Next at No.1
---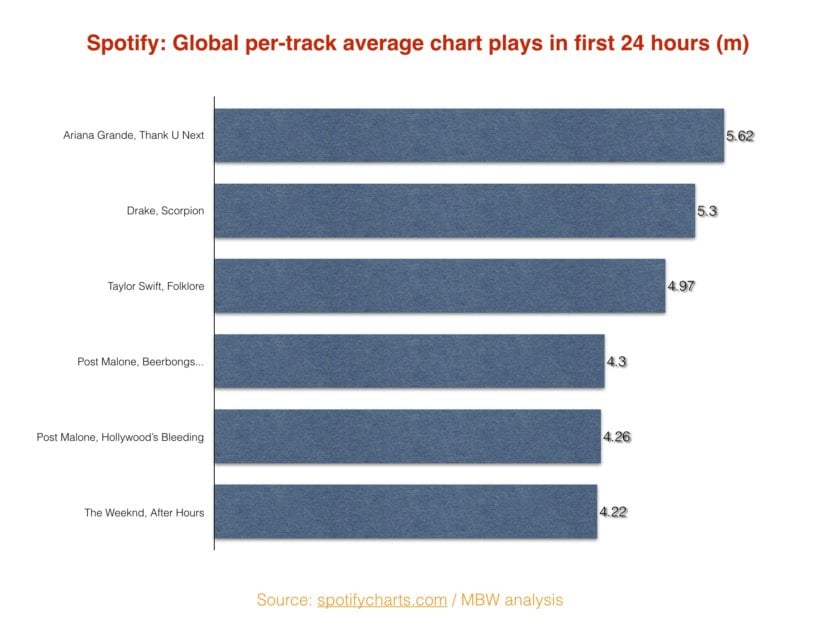 ---
There's certainly one battle in which Folklore comes out far and away in the top spot – and that's its early global Spotify performance vs. that of Swift's last studio album, Lover (which was released in August last year).
According to Spotify's chart figures, Lover's day one global stream-count on the platform was over 25m lower than that of Folklore's, at 54.10m.
We also have global chart stats from Spotify for Folklore's first three days on the platform, during which time it racked up 175.4m global streams.
This too crushed Lover's efforts – by more than 50m plays.
---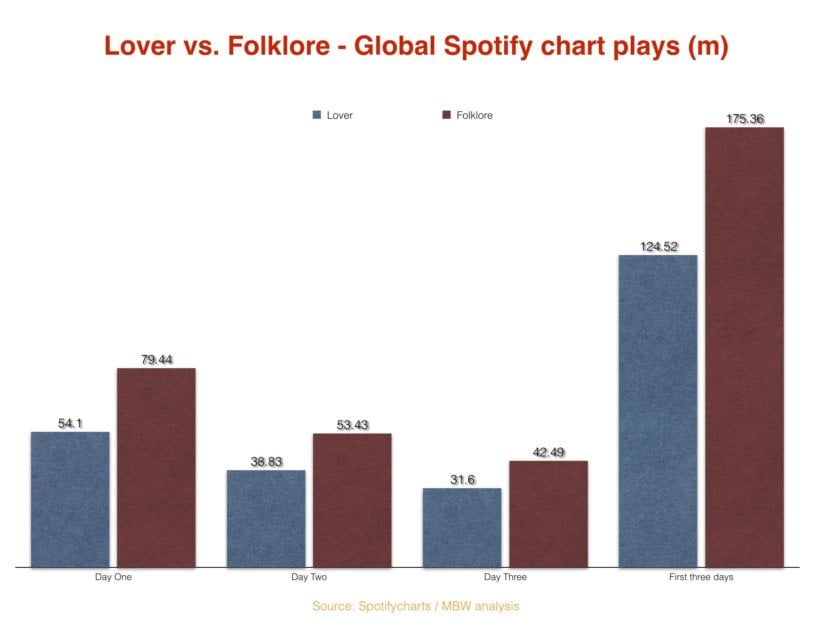 ---
As ever with these comparisons, it's worth noting that at the time Lover was released, Spotify's official global Monthly Active User (MAU) count (as of end of June 2019) was 232m. For Folklore, the service's latest official global MAU count (as of end of March 2020) was 271m.
That's an official worldwide Spotify user growth of 16.8% in between the releases of Lover and Folklore. The growth in three-day debut streams of Swift's albums (124.52m vs. 175.4m), by the way, easily tracked above this, rising 40.9%. (Spotify is due to announce a fresh global MAU number as of the end of June on Wednesday, July 29.)
For those wondering why we're focusing so intently on Spotify, rather than other streaming services?
According to Republic's announcement on Saturday, Folklore's official 80.6m global day-one stream count on the services was more than double that seen on Apple Music (35.47m); a reminder that, while Apple regularly bests Spotify when it comes streams of the biggest hip-hop releases, it's often different story when it comes to other genres.
Genres like pop… or indie/alternative… or however you'd like to personally pigeonhole Folklore.
---

The MBW Review is supported by Instrumental, which powers online scouting for A&R and talent teams within the music industry. Their leading scouting platform applies AI processes to Spotify and social data to unearth the fastest growing artists and tracks each day. Get in touch with the Instrumental team to find out how they can help power your scouting efforts. Music Business Worldwide