Who controls the biggest 20 global tracks on Spotify right now?
If you're thinking the major record companies you're… half right.
SPOT's latest Daily Top 20 Global Songs chart (as of October 9) is a striking snapshot of a global industry whereby hit artists (and 'non-major' music companies outside the 'Big Three') are holding on to ownership of recording copyrights more often than you might expect.
---
Spotify doesn't just present us with chart and song information: It also publishes a phonogram ownership credit (designated with the (P) mark) for each record on its service.
MBW has analyzed this ownership information for each of the current Top 20 biggest songs in the world, with an interesting picture emerging:
According to Spotify's credits, a minority (3) of the tracks in the Top 20 are outright owned by any of the majors;
However, those same three majors exercise some degree of control, via licensing agreements, over another eight other tracks in the rundown;
However, that leaves nine records in the Top 20 – almost half of the chart – credited as being fully independently owned, indicating no major label equity in these tracks outside of (in some cases) a distribution/marketing relationship.
Before we dig in a little deeper, it's probably best you look at the list:
---

---
As you can see, the No.1 track – Seven by Jung Kook ft. Latto – is credited on Spotify as being fully owned by Korean music giant BigHit (aka HYBE).
Although the track is released via Geffen/Interscope/A&M in the United States, Spotify's credit indicates that this is a distribution (plus marketing/services) relationship.
BigHit and Jung Kook also claim the No.4 position on the current Spotify Top 20 with 3D ft. Jack Harlow. Again, on Spotify this is credited as a 'pure' BigHit-owned record.
BigHit owner HYBE can't really be classed as a 'non-major', of course – it generated KRW 1,778 billion (USD $1.37bn) globally in the calendar year of 2022.
All the same, the underlying ownership of Jung Kook's big hits today appears to sit outside of the 'Big Three'.
---
What the majors own – and what they license
In between Jung Kook and HYBE/BigHit's two entries on the Spotify Top 20 above are two records that are credited as being fully owned by major labels:
(i) Doja Cat's Paint The Town Red at No.2, and
(ii) Tate McRae's Greedy at No.3.
Paint The Town Red is credited as being owned by Kemosabe/RCA – both labels that sit within Sony Music, with Kemosabe previously run by producer Dr. Luke. Greedy, meanwhile, is credited as being fully owned by RCA/Sony Music.
The one other Top 20 track with a (P) credit that indicates full major-label ownership is What Was I Made For? by Billie Eilish – one of the standout pieces of original music in the 2023 Barbie movie.
Eilish's music is, according to Spotify's credits, owned by Darkroom/Interscope Records.
Darkroom was founded by Justin Lubliner in 2014, before becoming an imprint of Universal Music Group-owned Interscope, via a deal between Lubliner and Interscope Geffen A&M boss, John Janick, that was inked before the mainstream rise of Eilish.
---
Interestingly, there are a number of other records in the current Spotify Top 20 whose (P) credits indicate that the underlying master recording is owned by the artist – and then licensed (for an undetermined amount of time) to major labels:
One of those records is the fast-rising Strangers by British artist Kenya Grace (No.7), which is licensed to Warner Records/Major Recordings by the act's own KGJ Music Ltd. (KGJ stands for Kenya Grace-Johnson, according to company filings.)
Another example is KAROL G's QLONA (No.10) with Peso Pluma. That track is owned by the label Bichota Records LLC – founded by KAROL G herself – but licensed through Interscope Records;
It's a similar setup for one of the biggest new US pop stars on the planet: Olivia Rodrigo. Rodrigo's current highest-charting track, Vampire, is credited on Spotify as being owned by the artist herself, but being licensed (again, for an indeterminate amount of time) through Interscope Records.
The artist whose ownership-licensed-through-a-major setup is having the biggest current impact on the world's streaming charts? Drake.
Since the release of his Certified Lover Boy album in 2021, ownership of the recordings of Drake's studio albums has been credited to his own label, OVO, but licensed through Universal's Republic Records.
It's the same structure for Drake's latest LP, For All The Dogs (released: October 6), which at the time of publication had five tracks within Spotify's Daily Top 20 Global tracks.
Drake's albums prior to Certified Lover Boy were fully owned by Young Money/Cash Money – a label combination that is today understood to be fully owned by Universal Music Group.
(Below you can see a slide from a Universal Music Group FY 2022 presentation in which the company outlined its ownership of the Cash Money catalog; Lil Wayne's ex-manager, Ron Sweeney, suggested in a 2020 lawsuit that UMG had acquired Young Money for over $100 million earlier that year.)
---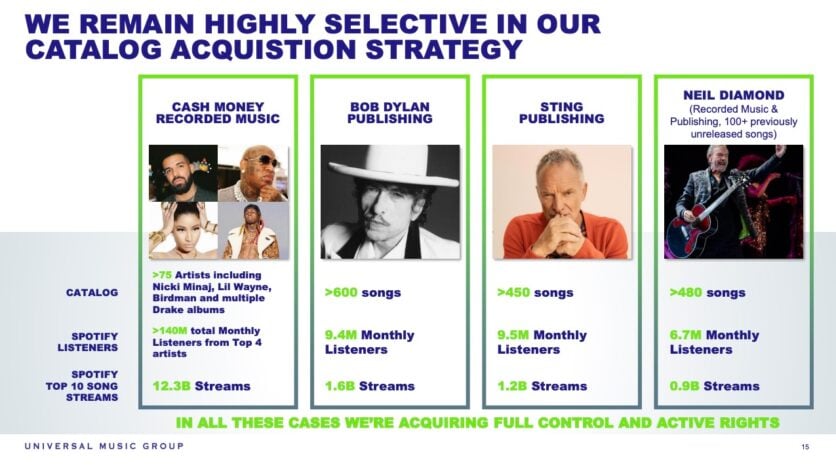 ---
The Latin impact on independence
There is a new wave of independently-owned recordings having a marked impact on Spotify's global Top 20 at the moment – all from Latin America.
This can be seen, of course, with Bad Bunny, whose recordings are owned by Rimas Entertainment (in which Bunny and his manager, Noah Assad are shareholders – although reports suggest that Sony Music may soon, or may already, own a minority stake in the company).
Bad Bunny and other Rimas recordings are distributed by Sony's The Orchard, and that setup claims the No.17 place on the Spotify chart above, with Bunny's UN PREVIEW.
The highest-placing, fully independent Latin track on the above Spotify Top 20 is Si No Estás by Iñigo Quintero at No.6.
With over 50 million Spotify streams to date, the record – according to Spotify's credits – is fully controlled by the independent company Acqustic. It is distributed by Believe.
The Latin independent influence on Spotify's Top 20 doesn't end there.
The Spanish-language record LALA by Myke Towers (No.11) is, according to Spotify's data, owned by the indie label One World International and distributed by Warner Music Latin / Warner Music.
Elsewhere, the latest hit from Argentine DJ, Bizarrap – a new BZRP track with Milo J – is fully owned by Latin indie label powerhouse, DALE PLAY.
---
---
The indie thoroughbreds make their mark – including Taylor Swift
There is a whole other article to be written on this topic: At which point do we start classing Taylor Swift as an independent artist?
The first six albums of Swift's career were, famously, owned and released by Big Machine. (Big Machine is now owned by HYBE; the recorded music rights to Swift's first six LPs are owned by Shamrock Capital.)
Since 2019, though, Swift has owned the masters to each subsequent record she has released, from that year's Lover through to 2022's global smash, Midnights.
This explains why Swift's sole entry on the current global Spotify Top 20, Cruel Summer (from Lover), is credited as (P) Taylor Swift.
Swift's records are distributed and 'serviced' (marketing, promo etc.) by Universal Music Group and Republic Records. But she owns them outright.
---
Finally, it's interesting to see two mainstays of the independent label world claim two entries on the current hottest tracks of the moment.
Dead Oceans (part of Secretly Group) claims the No.14 spot with My Love All Mine by Mitski. And Domino Recording Co. claims the No.19 slot on the list with I Wanna Be Yours by Arctic Monkeys.
I Wanna Be Yours is the oldest track on the current Spotify Top 20, having originally been released in 2013.Music Business Worldwide