Spotify has revealed its latest paying subscriber numbers as part of its Q3 2018 earnings announcement.
The company ended September with a global subscriber base of 87m people, it has confirmed.
That represented a climb of 4m on the 83m subscribers the service had three months earlier, at the end of June.
The new figure represents a slowdown in growth velocity despite some aggressive recent price promotions, including the giveaway of 60 days of Premium access for free in territories including the US, as well as Australia and the UK.
In the three months to end of September, therefore, Spotify saw an average addition rate of 1.33m subscribers per month.
In the prior three months, Spotify added 8m subscribers – an average of 2.67m per month.
Today's announcement, however, was in line with Spotify's guidance: in Q2, the firm predicted that at the end of Q3, it would have between 85m and 88m subscribers.
Spotify counted 71m global subscribers at the end of last year, meaning that it added 16m subs in the first nine months of 2018 – a per-month, year-to-date addition average of 1.77m.
Spotify's latest fiscal results also show it ended September with 191m total Monthly Active Users (MAUs) – across both ad-supported and premium – up 28% year-on-year, and an 11m increase on the 180m registered at the end of September.
---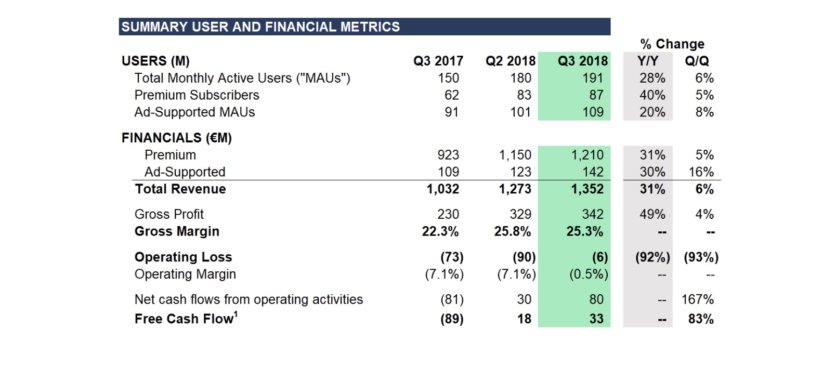 ---
Spotify's total Q3 revenue was €1.35bn, up 31% Y/Y.
Excluding the negative impact from foreign exchange rates growth in revenue would have been 33% Y/Y.
Premium revenue was €1.21bn in Q3, up 31% Y/Y. On an F/X neutral basis, Premium revenue was up 34% Y/Y.
Operating expenses totaled €348 million in Q3, resulting in a total Operating Loss of €6 million.
Spotify's operating loss in the first nine months of 2018 was €291m. Its net loss in the same period was €639m.
Average revenue per user ("ARPU") was €4.73 in Q3. This represented a 6% Y/Y decline, but an improvement from the 12% Y/Y ARPU decline SPOT reported in Q2.
Gross Margin was 25.3% in Q3, up from 22.3% in Q3 2017, and slightly lower than Q2.
---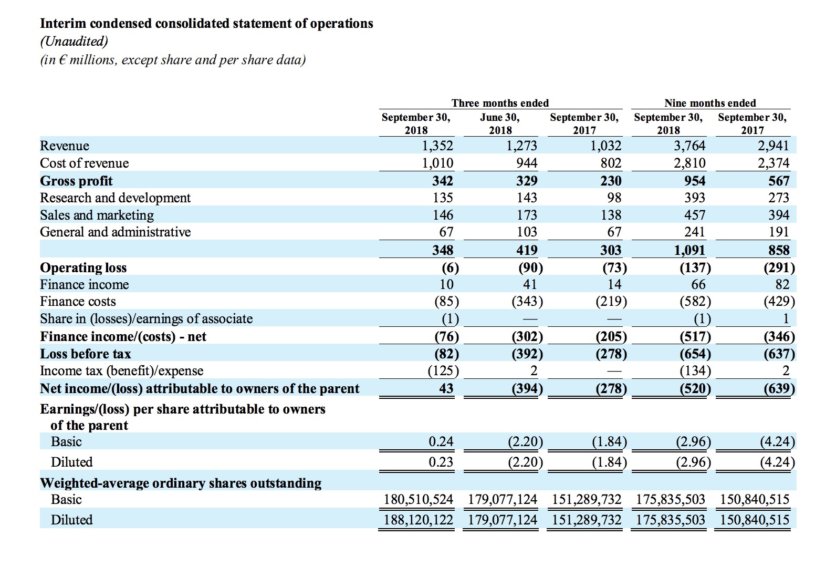 Music Business Worldwide