Spotify has officially revealed its latest official subscriber numbers – and they're sure to get the music business talking.
As part of its Q2 2018 fiscal announcement today (July 26), Daniel Ek's firm has just revealed that it ended the month of June with a global paying subscriber base of 83m.
That was up by 8m on the 75m subscribers the company confirmed three months prior – at the end of March (Q1) – and up by 12m on the 71m subscribers it counted at the end of December.
In the six months from January-June 2018, then, Spotify added an average of approximately 2m subscribers a month worldwide.
According to MBW's calculations, Apple Music – Spotify's biggest rival in the on-demand audio subscription world – would have ended June with around 44m paying subscribers worldwide (not including free triallists), around 39m behind Spotify.
Apple's global paying subscriber base is also currently growing by around 2m a month.
---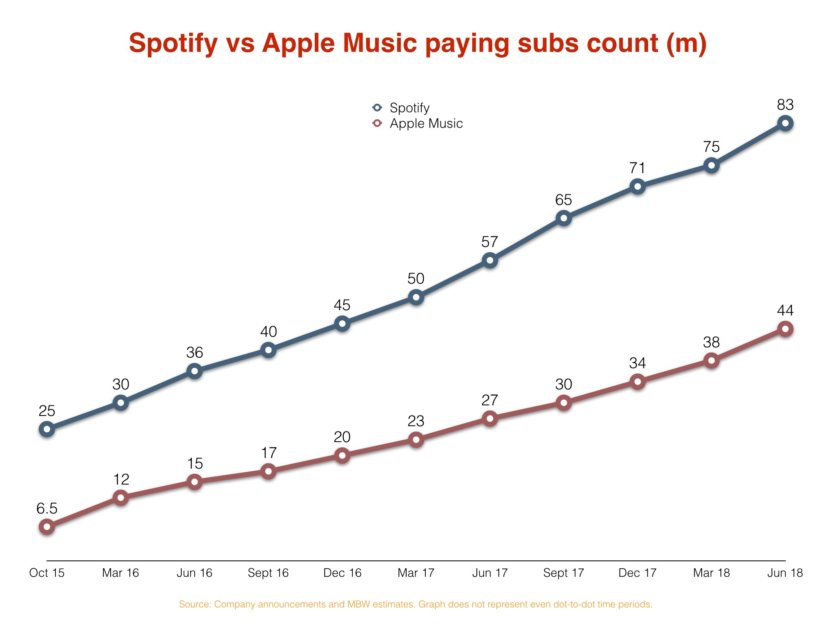 ---
Spotify's latest fiscal results also show it ended June with 180m total Monthly Active Users (MAUs) – across both ad-supported and premium – up 30% year-on-year, and up by 7m on the (newly adjusted) 173m seen at the end of March.
In fiscal terms, Spotify turned over €1.273bn in revenues in Q2 (the three months to end of June), up 26% year-on-year in real terms, and up 34% after adjusting for negative impact of currency exchange rates.
Operating losses in the quarter stood at €90m, widening 14% on Q2 2017.
However, this included a €30 million cash expense related to Spotify's direct listing on the NYSE in April, as well as unexpectedly high payroll and stock options-related taxes.
In terms of net losses, Spotify saw a deficit of €394m in Q2, taking its year-to-date net loss over €500m.
In Q2, this was largely down to finance costs of €302m, or more than €100m a month.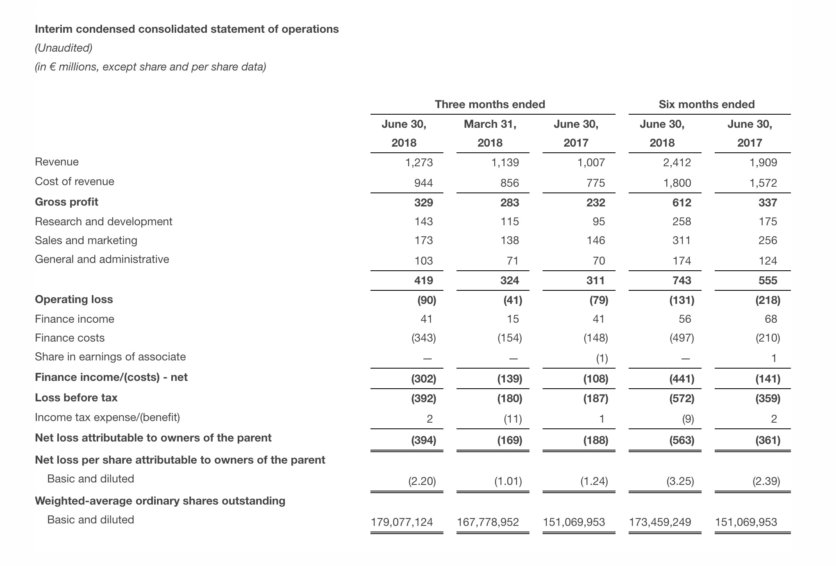 Gross margin was 25.8% in Q2, at the high end of Spotify's guidance range of 24-26%.Music Business Worldwide