2020 has been a big year for music videos.
Official music videos were added to Facebook in the United States in July, while Apple launched a free 24-hour Music TV channel called Apple Music TV in the US in October.
Meanwhile, YouTube revealed last month that more than 2 billion of its logged-in users are now playing music on the platform each month, and just last week we learned that Amazon Music Unlimited subscribers can also now stream music videos on the Jeff-Bezos-owned platform.
But what about Spotify?
While SPOT continues to invest heavily in podcasts and spoken word originals, its rivals appear to be ramping up their visual content offerings, with Daniel Ek's company running the risk of being left behind by its competitors in this field.
In spite of Daniel Ek's quest for Spotify to become "the world's No.1 audio platform", the company is obviously not completely averse to video content altogether.
It unsuccessfully attempted to expand into video a few years ago and officially launched video podcasts globally in July, having made exclusive video content a key element of its $100m deal with Joe Rogan in May.
There was also a report in May that music videos could be coming to the platform after reverse engineer Jane Manchun Wong discovered Spotify was testing a 'Video' tab on the 'Now Playing' screen of its app.
Meanwhile, just a week ago, it was reported that Snapchat-style Stories are being tested alongside some Spotify playlists.
But so far, no official announcement has come from Spotify to indicate that full, official music videos will be launching on its platform.
---
According to Spotify itself, music videos are coming to the platform, in addition to "documentaries, and exclusive video series".
That's according to a post unearthed by MBW on Spotify's community support page (see below).
On September 1, 2020 a Spotify user named 'Akhra' posted the following: "Hello, it would be cool if Spotify will have a feature for viewing video clips of artists"
On September 8, 'Akhra' got their answer, after an official Spotify moderator called Mario posted the following message: "Hey there, Thanks for your feedback. It's now possible to watch music videos, documentaries, and exclusive video series, all from within the Spotify app. More info here. Cheers!"
Mario's feedback and Spotify's official status update have both (oddly) since been removed.
---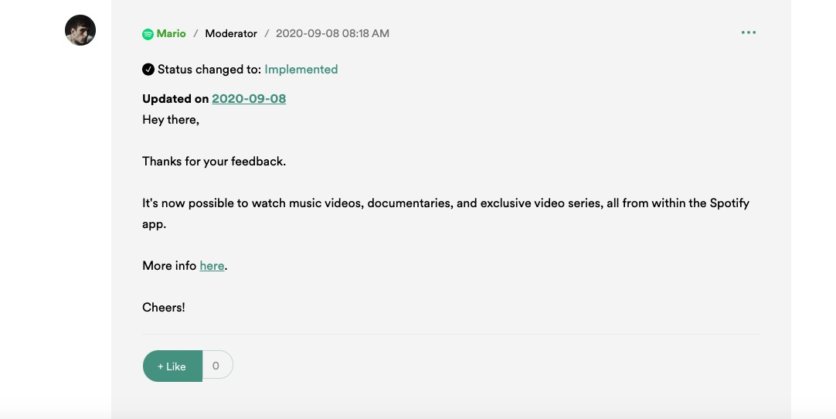 ---
The link provided in Mario's response does still work, though, and takes you to Spotify's official support page.
Last updated on May 27, under the 'Videos' headline, Spotify states: "Watch music videos, documentaries, and exclusive video series, all from within the Spotify app."
Below that, Spotify provides four-part instructions on how to find and watch videos on SPOT's desktop, mobile and tablet apps (see below).
---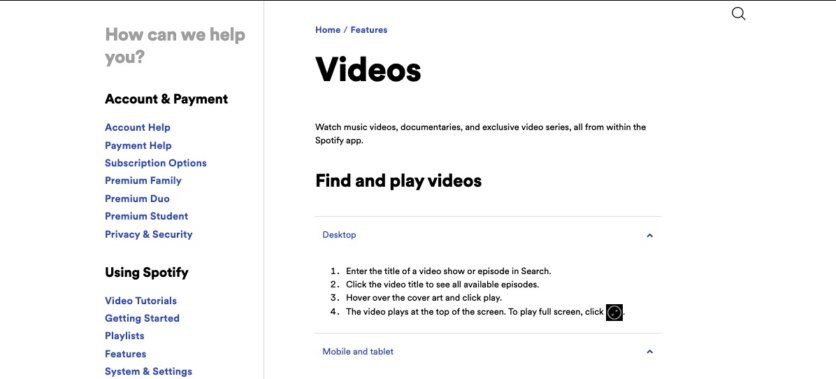 ---
Problem is, following those instructions doesn't actually lead to users being able to access any videos on Spotify… yet.
Apart from the video podcast news in July, no official Spotify announcements have been made this year about music videos, documentaries, or exclusive video series launching on the platform.
Is that all set to change? Watch this space.Music Business Worldwide