There are a few different ways you can slice Spotify's performance in 2020, as revealed in its newly-published Q4 results.
Spotify shareholders will be happy to see that the firm's paying subscriber base closed out last year's fourth quarter at 155m.
That was up 11m on where it sat at the end of Q3, and up 31m year-on-year.
SPOT's annual gross margin (i.e. the chunk of its yearly turnover left after it pays royalties to the music industry and other Costs of Revenue) was also very slightly up, from 25.5% in FY 2019, to 25.6% in FY 2020.
There was further good news in terms of Spotify's topline annual revenue growth: up 16.5% year-on-year from €6.76bn in 2019 to €7.88bn in 2020.
Yet the further down Spotify's 2020 Statement Of Operations you look, the grislier things become.
---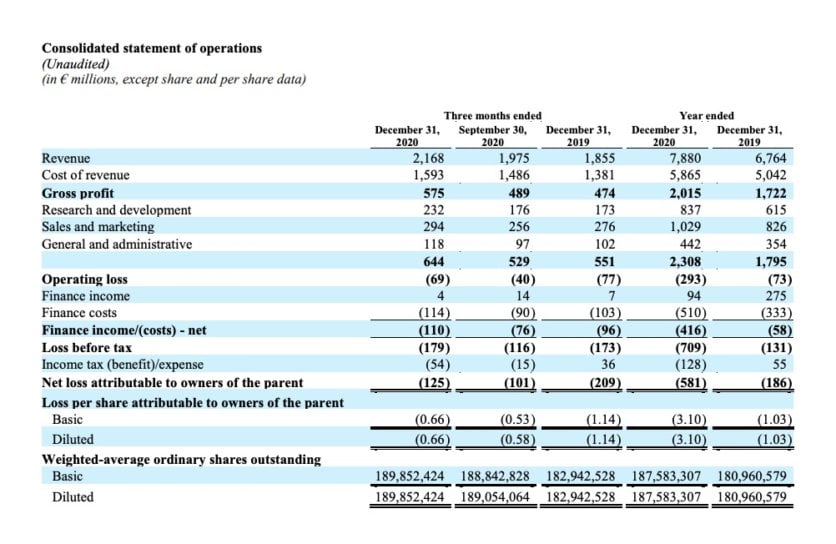 ---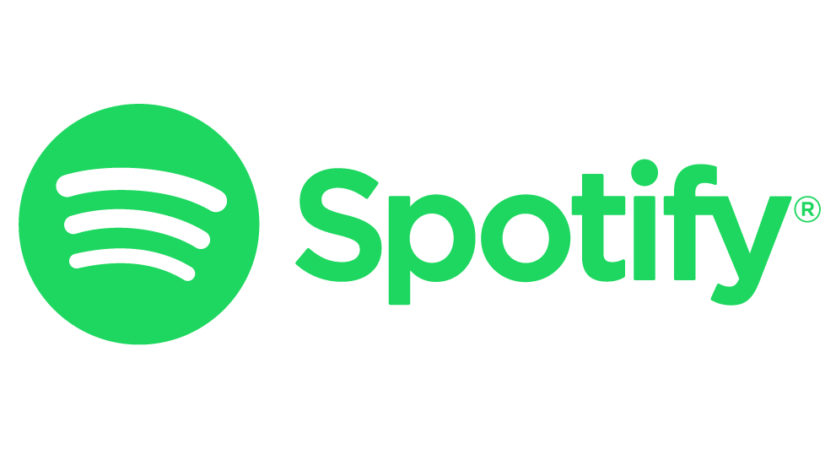 Spotify's operating loss in the calendar year of 2020 stood at €293m ($335m) – more than four times the op loss the company posted in 2019.
Worse still, after additional finance-related costs are taken into account, Spotify's pre-tax loss in 2020 weighed in at €709m ($810m), no less than five times the equivalent loss seen at the company in the prior year.
In fact, that $810m annual loss is the equivalent of Spotify losing $2.2m every day that ticked by in 2020.
Spotify's annual net loss last year was slightly less ugly at €581m ($664m), but only because it received an income tax bump of €128m. (Being a loss-making company has its upsides, you know.)
SPOT's plummeting losses are in stark contrast to the other defining chapter of Spotify's financial story in pandemic 2020 – its share price.
Over the calendar year, from its first closing price on the New York Stock Exchange on January 3 ($152.50) to its closing price on the year's last day of trading on December 31 ($341.66), Spotify's share price ballooned, up 106%.
"That $810m annual loss is the equivalent of Spotify losing $2.2m every day that ticked by in 2020."
Indeed, from SPOT's lowest share price in 2020 – on March 16, when it closed at $117.64 – through to Friday, January 8 this year ($353.11), Spotify's share price actually tripled over the course of 10 months.
Will Spotify's shareholders lose patience with the company's refusal to turn a profit anytime soon?
Perhaps not if Daniel Ek keeps throwing them shiny curveballs – the latest being a teased Spotify event on February 22 that boldly promises to unveil "the future of audio". (My bet's on a podcast focus – possibly a new, separate Spotify podcast-only app – and a new subscription structure with podcast-only and podcast-plus-music options. But we shall see.)
---
Back in the world of fiscal reality, it's worth looking at how Spotify burned through its gross profit in 2020 compared to previous years.
Here's how the firm's recent annual operating costs break down, in Euros as reported:
---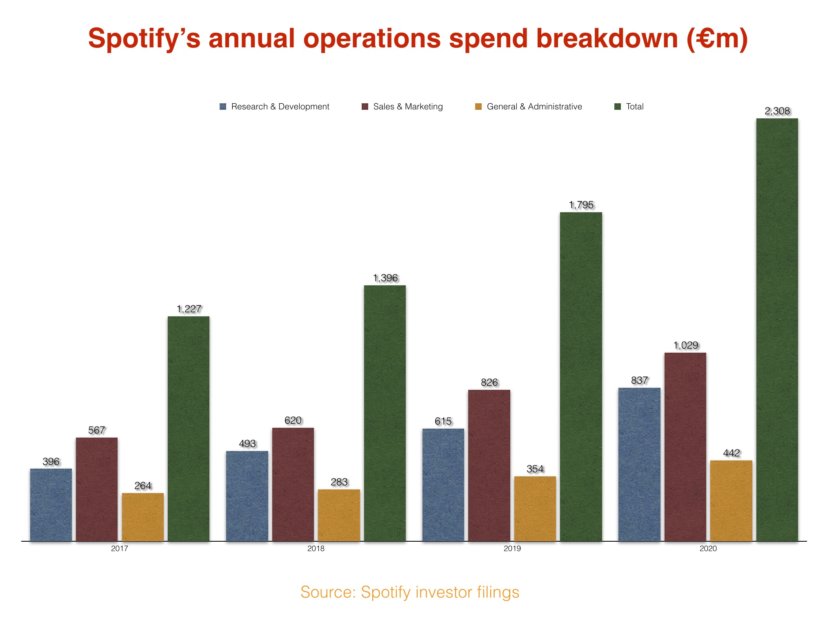 ---
As you can see, Spotify's Sales & Marketing expenditure bounded up in 2020; it jumped a full 25% to surpass a billon dollars (€1.03bn / $1.18bn) for the first time ever.
Another observation: Spotify's annual Sales & Marketing expenditure, as well as its total operating costs, both nearly doubled in the three years from 2017 to 2020.
In that sense, these expenditures are keeping pace with Spotify's annual topline revenue growth, which rose 93% from 2017 (€4.09bn) to 2020 (€7.88bn).
Question is, when will Spotify's investors start calling on the company to put the brakes on its ever-escalating, $2bn-plus annual operating costs?
Daniel Ek will be hoping: no time soon.
As Ek told CNBC in May last year: "We're in the growth stage, trying to capture that growth. Eventually we will get to more of a point of maturity where we'll focus more on profit over growth, but for the next few years it's going to be predominantly growth for us."
That means it's going to be predominantly heavy losses, too.
[All currency conversions in this story made at average annual rate according to OFX data.]Music Business Worldwide