The day has finally arrived.
Music streaming service Spotify is making music listening hardware and its first official product release is a smart device for the car called the Car Thing.
Initially available for select US users, the new gadget's anticipated retail price is $79.99, but is available at no cost for a limited time for those select users, with SPOT only charging $6.99 postage. The company currently has a waiting list for it, here.
Today's news comes two years after initial reports said that the streaming company was building an in-car music player in tandem with tech company Flex.
In May 2019 Spotify confirmed that it was testing a voice-controlled, in-car audio device called the 'Car Thing' with a small group of Spotify Premium users.
SPOT also said at the time that it might carry out similar tests in the future, "so don't be surprised if you hear about Voice Thing and Home Thing."
According to a dedicated microsite launched by SPOT today (April 13), the new voice-controlled device, which only works with a Spotify Premium account, will let you say "Hey Spotify" to ask for a song, album, artist, playlist, station, or podcast.
It also features a dial to browse, select, play and pause content, a 4″ touchscreen and four preset buttons for shortcuts to your favorite artists, playlists, stations, and podcasts.
---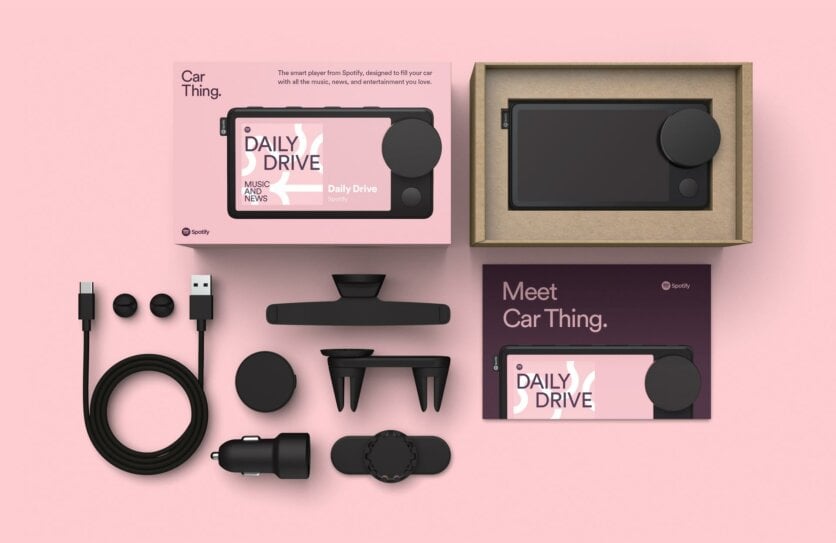 ---
The device connects to Spotify's app on your smartphone and connect to your car stereo via Bluetooth, AUX or USB cable.
Spot also claims that the Car Thing's microphones' "noise suppression capability helps tune out sounds from the road in order to focus on your voice".
Car Thing, reads a post published by the company today, is "the smart player from Spotify that fills your car with music, news, entertainment, talk, and more".
Adds Spotify: "Car Thing is built with a sturdy unibody design for durability, and its matte-textured rubber details make it easy to navigate.
"Car Thing's tactile navigational controls include buttons, a dial, and a back button, all durably constructed for repeated use."Music Business Worldwide