Shazam has closed a $30 million (£19.8m) investment, which it says now values the company at over $1 billion (£660m).
Yet in its bid to grow rapidly, London-based Shazam has failed to record an annual net profit since 2006.
In fact, since emerging at the turn of the millennium, MBW research shows that Shazam has posted a net profit just twice in 13-and-a-half years.
Its total annual net losses since 2001 stand at £25.97m, while its total years of profit amount to £5.65m.
Take one from the other and you're looking at a total net loss of over £20m – or an average loss of around £1.5m per year.
Shazam will point to its efforts to maintain its very impressive user growth as the main cause of this outlay, as well as its expansion into other fields.
The Shazam app has now been downloaded over 500 million times and has more than 100 million monthly mobile active users.
What started as a music recognition technology has now moved into TV, ads, cinema, radio and retail in recent years.
It is integrated with the likes of Rdio and Spotify; sending consumers their way when they want to hear a recognised track.
But as MBW's snapshot graphs below show – based on 13 years of Companies House data – Shazam suffered the worst net loss in its history in just the second six months of 2013; more so than in any full year.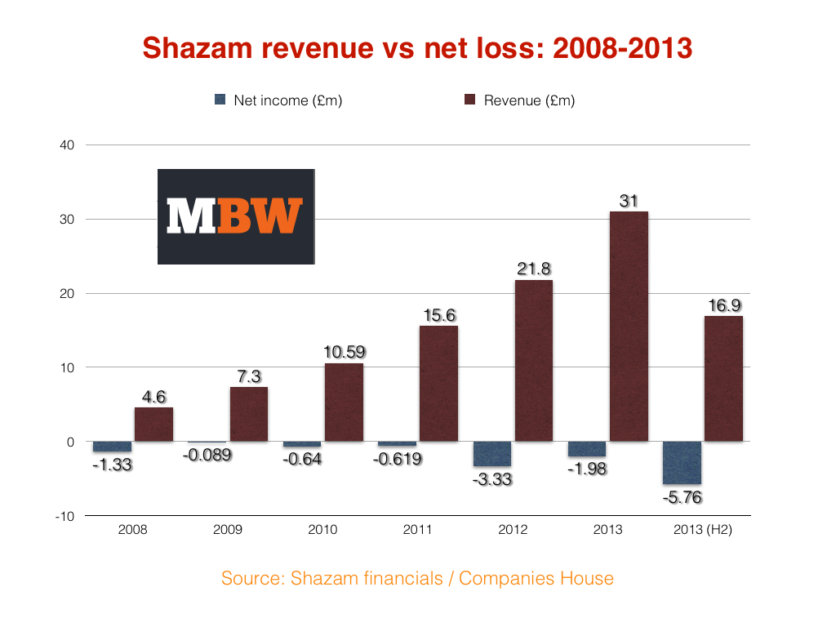 Although it turned over almost £17m in the period, its half-year net losses reached £5.76m. Shazam was particularly stung by £20.8m of 'administrative charges', contributing to a £5.13m operating loss.
And there's no doubt that the shrinking download market would have hurt Shazam. It previously received decent revenues from iTunes as an 'affiliate' partner; whenever it sent someone to download a track, Shazam would receive a small fraction of the purchase price.
One of the biggest net profit announcements in Shazam's history came after the sale of a major asset in 2005, when it flogged its core technology to US PRO BMI.
This led to £10.37m being included in its 2006 figures as an 'exceptional item', in a year when its profit hit £4.28m. Shazam hasn't announced an annual profit since. It bought the technology ownership back off BMI in 2011.
Shazam usually announces its full-year results (to end of June the previous year) in mid-March.
Discussing the new funding of Shazam, Andrew Fisher, Executive Chairman said, "This funding reflects the substantial progress we have made in delivering a new paradigm for brands and content owners to increase engagement with their audiences whilst magically connecting people to the world around them.
"We are delighted to welcome our new investors as we further strengthen our balance sheet and continue to effectively execute on our corporate strategy."
Added Rich Riley, CEO of Shazam (pictured): "We're excited to continue to focus on user growth and engagement, building on our strength in music and innovating to increase the universe of what is Shazamable in order to realize the enormous potential of Shazam.
"Our move into multiple new environments in 2014 has allowed our users to connect to more aspects of their world while enabling our partners and advertisers to reach our massive and engaged user base like never before."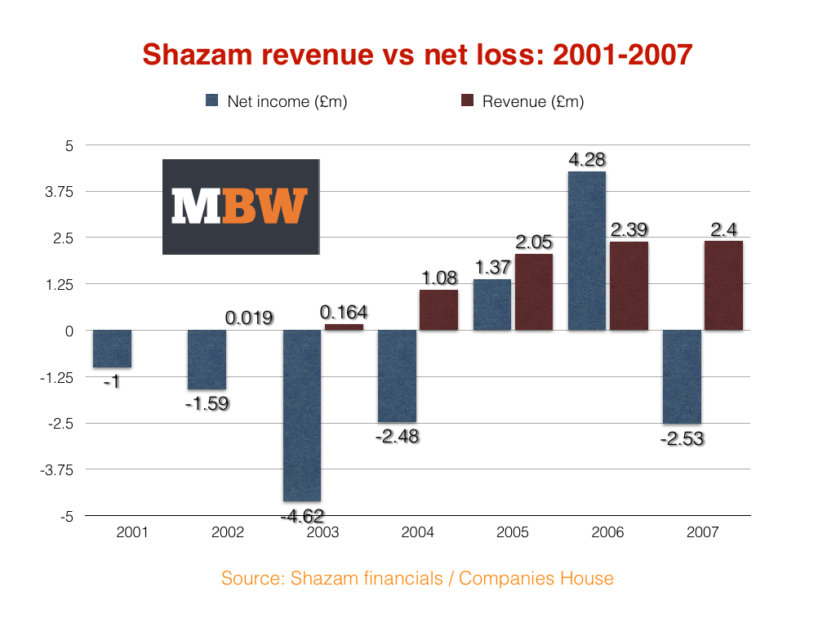 Music Business Worldwide