SFX Entertainment, the owner of Beatport and live electronic music brands such as Tomorrowland, is going through a tough time.
Friday last week (August 14) was a big day: the firm's CEO Robert Sillerman was supposed to take the company private by purchasing the 62% of SFX he didn't already own for $774m.
But Sillerman couldn't raise the funds in time for this deadline and SFX's stock price crashed.
It has continued to do so this week.
In the past three days of trading – Friday (14/08), Monday (17/08) and Tuesday (18/08) – SFX's share price has fallen by a worrying 41%, from $1.94 to $1.15.
That equates to a total company market cap decline of around $80m, down to just $112.3m.
Yesterday's performance compounded this trouble, with SFX's stock dropping by 13.5% on the NASDAQ.
Sillerman apparently still wants to buy back the company – and considering it's now worth almost a fifth of what he was originally due to pay (at $5.25 per share), he must be licking his lips at the prospect.
Another option, as MBW reported on Monday, is a fire sale; SFX investors could hawk individual assets like Beatport if they think this would be a route to a more equitable get-out.
When these investors look at the performance of SFX's stock over the past two years, they may begrudge selling anything to Sillerman at all.
This time last year (August 19, 2014), SFX's share price stood at $6.90.
In other words, the company has lost a shocking 83% of its value during this period.
Market cap-wise, that means SFX's total value has dropped from around $640m in August last year to just $112m now – a fall of $528m.
Go further back, and things get even worse.
The market cap of SFX in December 2013 was on the cusp of a billion dollars, at $927m.
It has fallen by $815m since these heady days.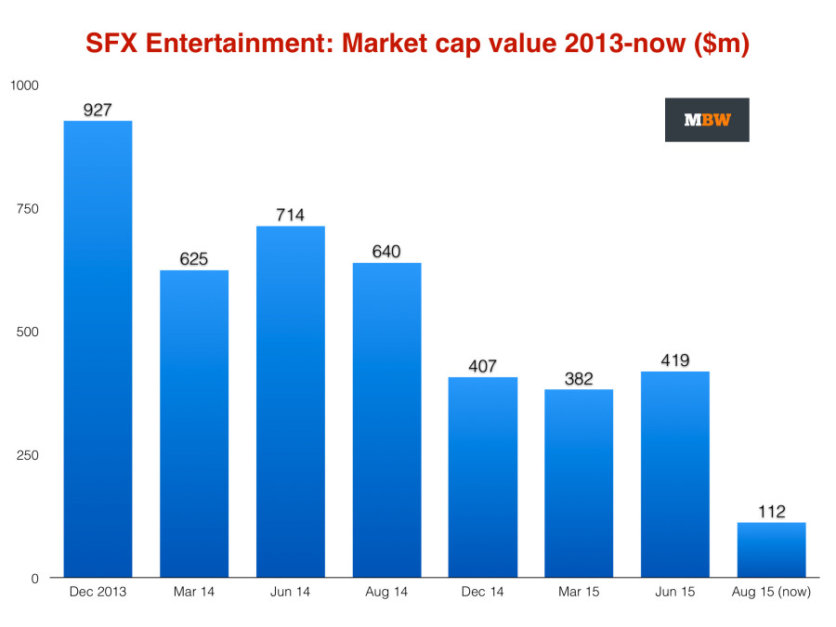 Music Business Worldwide