It's official: SFX Entertainment has filed for bankruptcy.
The Beatport owner and live music company, which also runs festivals such as Tomorrowland, has filed for Chapter 11 bankruptcy in the US today (Monday, Feb 1).
The move will help wipe $300m in debt off SFX's balance sheet and see it go private as part of a new Restructuring Support Agreement (RSA) with creditors.
UPDATE: Boss Robert Sillerman is stepping down as CEO as part of the bankruptcy process, but will remain as Chairman.
SFX says it has reached an agreement with an 'ad hoc group of bondholders' to significantly restructure its outstanding debt. This includes the conversion of debt owed to these bondholders into equity as part of the new privately-owned SFX.
These 'ad hoc bondholders' have additionally agreed to provide SFX up to $115m in DIP (debtor-in-possession) financing, allowing the firm to operate as normally as possible over the next few months.
The Company's international operating subsidiaries are not included in the Chapter 11 filing.
Robert F.X. Sillerman, Chairman and CEO said, "This expression of confidence from our lenders is testimonial to the vibrancy and potential of our business, and the dedication and professionalism of the over 600 people who make up SFX.
"Of course this was not where we thought we'd be but with this restructuring we have the opportunity to achieve all that SFX can and will be. I'm looking forward to continuing to be part of the new SFX as Chairman.
"We will immediately commence a search for a new CEO to lead us as we continue to set the trend in the exploding culture that is electronic music."
Last Monday (January 25) SFX's share price fell by 13.71% to an all-time-low on the New York Stock Exchange.
As a result, the troubled firm's market cap stood at a diminutive $9.52 million, the first time it's fallen under $10m – although it's since recovered to $12.86m.
Last month, it was revealed that SFX had defaulted on a $10.8 million loan after missing a $3 million interest payment due on January 4.
It subsequently secured $20 million in financing, which some saw as an emergency bailout, from a Canadian private equity firm.
In addition to digital music service Beatport, dance specialist SFX owns live music brands including Tomorrowland, Mysteryland, Life In Color, Electric Zoo and Sensation.
In what many saw as the final nail in the coffin for SFX, in November Sillerman scrapped his third and final bid to buy the 60% of SFX he doesn't already own.
Sillerman attempted to snap up the equity for $3.25 per share – a considerable drop on the $5.25-per-share bid made by Sillerman earlier in the same year.
It was also significantly lower than Sillerman's first bid for the company, which he launched in February, for $4.75 per share.
You can see the shocking decline in SFX's NYSE market cap over the past three years below.
It's now at around 1/100th of the share price it boasted as recently as December 2013.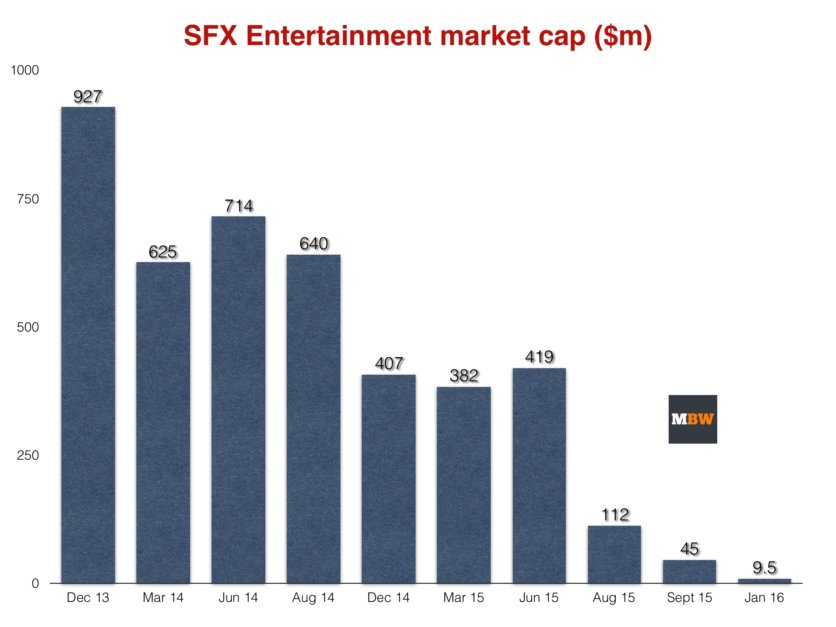 Music Business Worldwide