Loftus Road, home stadium to London football team Queens Park Rangers, is perhaps an unlikely crucible within which to experience a life-altering epiphany.
Yet for Richard Russell, co-founder and talisman of XL Recordings – the UK's most successful, and probably its most influential, modern independent record label – that's exactly where everything changed.
As Russell writes in his illuminating and often drily funny memoir, Liberation Through Hearing, it was while attending a QPR game with his son in 2005, that "inexplicably… I felt a great stillness, and became suddenly aware of my ego as a separate entity, like a half-brother who had been my constant companion until that point, controlling much of my behaviour, without my having been aware of his presence."
The XL founder adds: "To become aware of this force was not to eliminate it but to suddenly understand the reasons for much of what was happening in my life, and be more able to moderate my own actions." This was not an insignificant realisation for Russell, who by this point had already undergone several years of therapy to help vanquish his personal demons.
The QPR revelation in Liberation Through Hearing comes a few years, and six chapters, after we observe Russell, in his late twenties, lying on his bedroom floor at 4am, "hyperventilating and drenched in sweat, racked with an indescribable feeling of panic".
This is no old fashioned drugs'n'paranoia music biz yarn. It is actually the first sign of breaking point for Russell – a dawning appreciation that "seeing myself as the most important person in my life" was actually suffocating the best person he could be. Perhaps unsurprisingly, it also marked the onset of clinical depression.
By Russell's late twenties, XL had already become a global success story, largely thanks to The Prodigy, whose Fat Of The Land (1997) would go on to sell over 10 million copies worldwide. Yet despite this external triumph, internally, Russell was losing his grip. "I'd lost sight of my core values," admits Russell in his memoir. "I may have been unconsciously imitating some of the wealthy and powerful executives I'd met in the US."
Sound familiar to anyone out there? If you've progressed to an unexpected level of achievement in the business of show, but still have howling doubts over your own talent and your worth, Richard Russell's book, and especially this particular chapter, All Fall Down, will likely knock you for six. If you're on the way up, it's a valuable cautionary tale.
Russell says that, by the point of his bedroom floor breakdown, he'd become 30lbs heavier than he was before. He'd stopped wearing streetwear by Stüssy and started buying expensive clothes ("mostly black, from French boutique Agnès B"). It was all a complete charade, he notes, the accoutrements of how he imagined a flush, go-getting music executive should appear to the world. In his own words, everything was becoming "ridiculous".
Russell's searingly honest self-analysis of this stage in his life makes for captivating reading. But what's perhaps even more fascinating is the professional and personal triumph that ensued at XL after he put his self-regard back in its box, and simultaneously began channeling his creative energies in new directions. As he puts it: "When I stopped wanting things for the wrong reasons, they became possible."
In 2006, following a long hiatus from music-making going all the way back to his career beginnings in the UK rave scene, Russell approached his favourite artist, Gil Scott-Heron, about recording an album together. In the very same year, XL signed Adele (via the A&R combo of Nick Huggett and Tic Zogson).
For Russell, the two events were potent symbols of a new era, both creatively and professionally. In Liberation Through Hearing, Russell is full of praise for Adele's talents (just as he is for a number of other brilliant XL signings, including Dizzee Rascal, Jack and Meg White, Giggs, M.I.A and his friend, Liam Howlett). He says that, with an idiosyncratic mix of "vulnerability coupled with complete certainty", plus prodigious songwriting talent, Adele achieved a "holy grail": "Music with genuine emotional resonance that transcended all modern commercial expectations."
Russell was certainly there for important guidance and support during the A&R process – not least when Adele went back to the drawing board on producers for the record-shattering 21. But, ego firmly in check, he also knew when to get out of her way.
Russell says that, at one stage of his life, he would have likely obsessed over Adele's escalating success (and how it reflected on his own status) but that accepting a different reality actually made him more effective as the head of XL.
This was helped by the process of creating the Gil Scott-Heron album, eventually released in 2010 as the widely acclaimed I'm New Here – Scott-Heron's last album as an artist and Russell's first as a credited producer.
Since then, Russell has produced and/or co-produced the likes of Bobby Womack (The Bravest Man In The Universe, 2012), Damon Albarn (Everyday Robots, 2014) and XL signing Ibeyi (Ash, 2017). He's also created two albums of his own, working with a string of collaborators under the moniker Everything Is Recorded: 2018's Mercury-nominated, self-titled LP, and 2020's follow-up, FRIDAY FOREVER.
---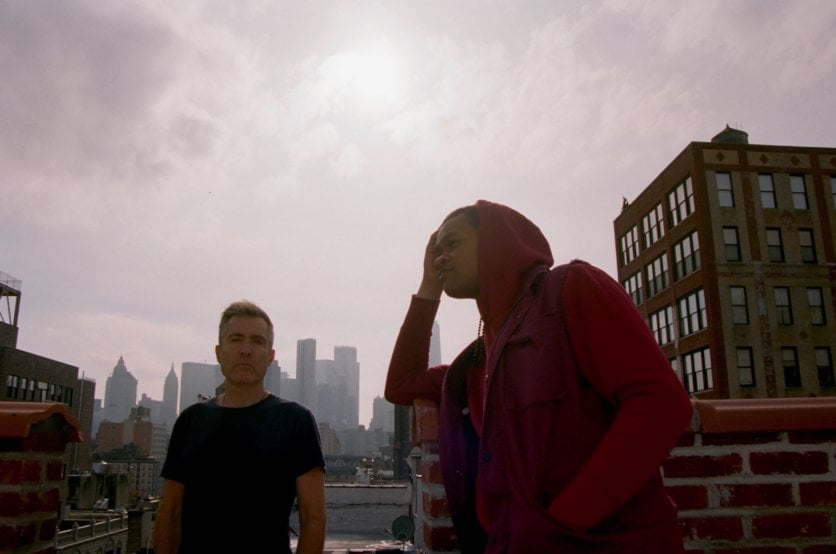 ---
Liberation Through Hearing is stuffed with hard-won wisdom, both for artists (sample quote: "The music industry will always contain insecure people who wish to make you conform because they fear the outcome otherwise. Ignore them!") and for people who work with artists ("Dysfunctionality comes with gifts as a consolation prize"). It is dedicated to the memory of Keith Flint.
MBW caught up with Richard Russell in early June. He was freshly returned from the Black Lives Matter protest in Hyde Park, espousing the greatness of Gil Scott-Heron's 1978, compilation The Mind Of Gil Scott-Heron and the sad current pertinence of one of its tracks, Jose Campos Torres, about an unarmed Mexican American murdered by the Houston police in 1977 ("The racist dogs that attack us… are in the street, alive, and the terror in our heart hasn't diminished.").
Russell openly talked about his career highlights so far, the music business's impact on people's self-judgment, and why he believes keeping the creative "tap on" is usually the best protection against a dangerous excess of inward regard…
---
You write in Liberation Through Hearing that your ego was wrapped up in your life and success before you sought 'detachment' from it, something which particularly struck you during that QPR game in 2005. Why was that process so important to you as an individual?
People have varying levels of familiarity with their own ego, and people have varying sizes of ego. You could say there are lots of big egos in the music industry, but then there are lots of big egos everywhere. At least people in music are doing something interesting. You'll find big egos in an insurance company's office. Look at Ricky Gervais' characters; David Brent is just a big ego walking around.
Ego makes people act in a certain way that is not really them, and that they might be oblivious to. But once you become aware of it, you can say, 'Okay, this entity wants stuff… but it's not me.' That [realisation] can be very powerful. [It can also be] confusing at first, when people start to see the power in doing things for the right reasons.
"Ego makes people act in a certain way that is not really them, and that they might be oblivious to."
Some people think the ego is responsible for their success; I don't believe in that idea, because you can still have drive and ambition, you can still want to achieve and do things in an excellent way, [without it]. The ego will be telling you that you are the most  important thing in the world. If you separate yourself from that, it doesn't mean you're going to try any less hard, it's just [you understand] there are things that are more important, which generally are to do with the other people in your life.
None of which is to say, and hopefully I make this clear in the book, that I've gained some sort of
unusual enlightenment. It's just a gradual process of dawning awareness and consciousness, you know, something to work on, to try and see things ever more clearly, which is a journey many people are on.
---
Do you think you're a better record company boss now that you see yourself in that way?
I don't see myself as a record company boss, and I haven't for a long time. I see Ben [Beardsworth] as the record company boss [at XL], because he's the boss of the company. I have an involvement, but it's not to be anyone's boss.
---
You talk about the strength of direction you saw in Adele, how she knew her own mind, her own art, in a way that reminded you of Liam Howlett. But you also talk about not trying to force Adele into a more left-field sound, as might be expected of XL. Why did you resist?
That would have been madness, right? Because she clearly knew what she was doing, so it was the right course of action. It's about going with your instincts. Sometimes doing the right thing is extremely hard, and then, once in a while, you get a gift.
As I explain, I was thinking something Joni Mitchell-esque [for Adele's sound], understandably, because that's kind of what she presented on stage. And then she began talking about a different type of process, with co-writers and co-producers, none of whom I was familiar with. That was how she wanted to make her record, and that just made total sense. That's what she was like then, that's what she's like now: she's super clear about things. She knew her taste and she knew what she loved. And as it happened, her taste was in tune with the taste of a very wide public.
---
There's a fascinating screenshot of her old MySpace page in the book. She names her favourite artists, and they're people like Jill Scott, Etta James, Karen Dalton, Ann Peebles, Billy Bragg. There's also Amy Winehouse, Destiny's Child, The Beatles…
Yes, she was openly saying, 'I'm into the Spice Girls' early on [in XL meetings]. No one in our world would have said that! I thought, 'That's just punk rock. She doesn't give a shit what anyone thinks about that.' It was the easiest thing in the world to back her.
It's not always that easy, you know, but that did remind me of Liam and The Prodigy. People might have been thinking [of Adele], it's quite pop, but I was thinking, not really. When I think of pop, I think of something malleable. [Adele's creative vision] was the least malleable thing you'd ever seen – same as The Prodigy. No one was going to be telling these people what to do.
---
Another artist who gets a chapter in the book is Giggs, and your recollection of the police targeting him through Operation Trident. It made me wonder what your views are on what's going on in the world right now with the anti-racist protests and societal unrest we're seeing in multiple places.
I think you've got to begin by asking tough questions. Is society racist? You can see how racist the US is; that's glaringly apparent at the moment. I have always felt racism in the UK was just as just as prevalent but more insidious, a more British type of racism.
In America, you kind of know where you stand. So is [UK] society racist? Yes. Is it sexist? Yes. Is it homophobic? Yes. The tougher question: is the music industry racist, sexist, homophobic? Which we also touch on in the book. I would say that it is all of those things. But is it more so than, say, the financial sector? I'd say probably not. Having sort of identified [society's] problems, which I think is only truly happening now, the bright side is you have the potential to start working on some solutions. You can't heal what you don't reveal.
---
There is kind of an ongoing conversation with yourself that I picked up from the latter half of the book as regards your creative pursuits. You're trying to accept the idea that nothing really matters in the long run – so there's nothing to be scared of or feel anxious about – without falling into the trap of, 'Ah, why bother?'
This is where this whole journey of self awareness comes in. I mean, I've always been blown away by how much wisdom young artists sometimes have. It's an amazing thing. If you're an artist, the idea is that you're free to do what you want. That doesn't mean people won't say, 'It's not going to work, it's going to be a disaster.' The whole job of being an artist is having the strength and the conviction to ignore that. It's not easy.
"I've always been blown away by how much wisdom young artists sometimes have. It's an amazing thing."
I've worked with really young artists who just know exactly what they're doing. I was not one of them; I did not know what I was doing, so my initial artist career in the rave scene fizzled out quick.
I had to learn about direction and focus, through working with people who are really great. [But] some artists seem to come built with those instincts. Then it's a question of, can you maintain them? Can you stay tuned into them for the long haul?
---
You write about Martin Mills helping you find Ibeyi, and that prior to their signing you had expressed to Martin that "new artists I was seeing on YouTube… seemed to be inhabiting a spiritual void". Do you worry about that, and worry about the track-led streaming world hurting the more patient demands of the album?
Well, I also say in the book that people have their golden age, when they are teenagers, and they think that was the best music ever made. And it was, to them, if they didn't maintain the openness as a listener that they had as a teenager. It happens to most people, but that's okay. People create a rose-tinted version of the past: the Beatles weren't always No.1, Englebert Humperdinck was No.1!
Look at the charts any year, any time, music with magical transcendent power is a constant thread. It might not hit the mainstream, that's going to come in and out, but it's always there.
"It's true that people have a lot of distractions now. There's a lot of noise. But there's always been a version of that going on."
Sometimes there's that holy grail thing – when something with genuine power also becomes the thing that most people listen to – but it's quite rare. If people are worried that it's about tracks and streaming now, it's alright, it's all cyclical; it was about jukeboxes in the '50s, right? It wasn't about albums.
Then, as the latter half of the '60s progressed, it became about albums. Albums haven't always been an art form; in the enormity of time that's relatively recent. So if we're in a phase now where it's more about the single, then it's more about the single. It's true that people have a lot of distractions now. There's a lot of noise. But there's always been a version of that going on.
And although I believe, you know, Gil's words would be very comforting to people right now, so will Kendrick Lamar's. And people might say, 'There aren't many Kendrick Lamars around.' Well there weren't many Gil Scott-Herons around.
---
It's interesting to think about young people today when you see the youth involvement in protests in America, the amount of education going on about Jim Crow laws, red-lining and other hugely important, often airbrushed things from our history. But at the same time, teenagers are putting themselves at the centre of their own entertainment, via TikTok etc. which, as a promoted worldview, can seem quite self-centered.
I think you're entitled to be self-centered as a teenager. I almost think you should be. That's part of the beauty of that age. But then that might not be so pretty when someone's in their forties.
"I think you're entitled to be self-centered as a teenager. I almost think you should be. That's part of the beauty of that age."
I do think there is a kind of new spirituality in younger people. There's a greater openness in a lot of ways now than there was before.
On the one hand people talk about the internet, materialism, social media – and yes, that's all going on. But I also see far more people meditating than there were; mindfulness is widely accepted. It's not just Instagram.
---
You have many different ventures going on today: There's XL, obviously, but also your production work, your radio show on NTS, you still DJ… What are you still trying to achieve?
Well, I've written a whole book, but I've never thought about that! It's not easily answerable. I'd like to keep learning, and keep enjoying what I'm doing, which are tied together, I'm sure – because if you're learning things, you don't get bored. I like the process of making music more than ever.
And when anything comes up that I haven't done before, I get interested. If it prompts a feeling of fear and anxiety, I'm even more interested because I've come to recognise that's where the good stuff lies. I wasn't interested in writing a book when I was first approached to do one, but then I thought, Why? One of the reasons: I'm probably scared of getting it wrong, and not being able to do it. And the whole world of real writers going, 'He's not a writer.' So I thought, Okay – I better do it then and see how it goes.
"'No' is still the most important answer to virtually everything."
Because what's the worst that can happen? I think in the world of A&R, people feel fear – a fear of failure and of judgment by your peers. It's alright to feel that, as long as you ignore it. And as long as it doesn't guide your actions. That's all linked to ego, because the ego is scared of failure.
But you don't really care if you fail at something; it doesn't mean anything. You're probably going to learn the most from that experience. So in a way, the whole idea of success and failure is a completely misleading notion. So yeah, I'm trying different things, but I don't take it lightly. If I'm going to do something, I want to do well.
That doesn't mean it has to be a blockbuster commercial success; I just have to do it well. But I don't take on things recklessly. 'No' is still the most important answer to virtually everything. But the things you do take on? I like to take them seriously, so that it's worthwhile. An old friend of mine who I grew up with said to me recently, 'Couldn't you just do something and, like, not take it really seriously?' And I said, 'Why bother? There's enough stuff out there already.'
---
You once said, in reference, I'm sure, to the way things are in this business, that the music industry is not a sport, and that someone else doesn't have to lose in order for you to win.
Well, of course, there's a competitive aspect to [this industry]. And a bit of competition can bring out really good work in people. When artists feel competitive with another artist in the right amount, with some balance, that's perfectly healthy and natural, and has given rise to people doing their best. That's fine.
It's when it becomes more of an ego thing that it becomes a problem. If you get too caught up in it, people [start] really desiring someone else's misfortune… and that ain't a good vibe, is it? I think the UK music industry, especially the A&R sector, has always been really impressive. Across the board, majors, indies, the lot, because there's always been so much new stuff that's come from here, and new sounds from the UK. I don't think I see it that way because it's where I'm from; I just think the UK is the place. I don't think anywhere else has an audience with such a thirst for new things; we're just up for it.
"People always knock the [UK] music industry and people always knock A&R, but there's a lot of people in that world who know a lot and have a lot of passion for what they do."
There'll always be an American artist who can't get accepted in America because it's too progressive and they'll come here and people will love it. That was Hendrix, Public Enemy, a lot of artists. The great American artists I've worked with – Bobby Womack, Gil Scott-Heron – they loved the UK, because they come here and people really dig it.
That's true of France to an extent as well. People always knock the [UK] music industry and people always knock A&R, but there's a lot of people in that world who know a lot and have a lot of passion for what they do. But too much competition and too much desire for the other guy to fail? I just doubt anyone benefits from that.
Maybe it's engendered by the higher-ups, I don't know. I can't imagine it's necessary. Success is an infinite resource.
---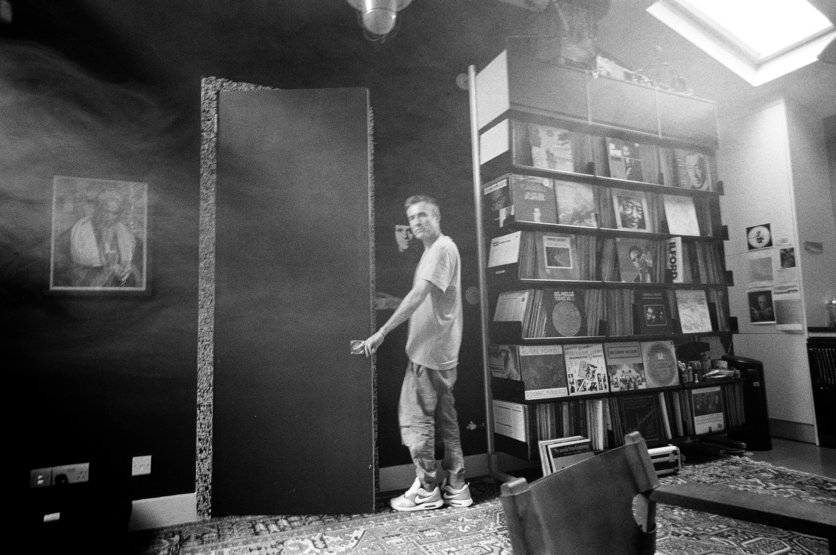 ---
If you could go back to around the time of The Prodigy's Experience, 1992, when XL started to become a more serious indie label, what advice would you give yourself in terms of how to stay happy?
Don't listen to your own insecurities. That's very important. You will have fears and insecurities – that's alright. But they're not to be listened to. The syndrome that I discuss in the book is that of a musician who stops being a musician after they see Prince, because his greatness brings out so much insecurity.
Any musician seeing Prince is going to think, I'm not as good as him. You can't have had any other reaction. No one ever saw Prince and thought, Yeah, I'm better than that. That range of abilities, as guitarist, as songwriter, as vocalist, as producer, as drummer, a dancer. But what would have happened if everyone who saw Prince, and then thought they weren't as good as Prince, just stopped? In [the early days of XL], working with Liam [Howlett], I thought, Well, I'm not as good a rave producer as he is.
Liam was always very encouraging and supportive of my [music], and he suggested we might change together, but I was like, 'No, this guy is better than me.' And of course in some ways the result was the right thing, because I said [instead], 'I'm going to provide a service to him, and do it with a deep understanding of what he does.' And it worked out great, and we're still close. But I also think people's creative outlet is incredibly important. With people who work in the music industry, the creative outlet's being commodified – and that's where the danger comes in. They start thinking it's not of value, and that's wrong. You sit with a child, they're creative. All children are creative. Then, for a lot of people, they stop, because they want to be a sensible adult. That's not a good idea.
"I'm really big on encouraging people to maintain their creative outlet, whatever it is, keep the tap on, keep doing whatever the thing is you do."
I'm really big on encouraging people to maintain their creative outlet, whatever it is, keep the tap on, keep doing whatever the thing is you do. In the music industry, people always feel shame about [that]; you'll see people saying, 'Oh, you know, that guy, he's just a frustrated musician.' It's like, well, you should be! If you're not a musician, you should be a frustrated musician! Why would you not want to be a musician?
Why would you not want to make stuff? There's massive therapeutic value in making things. And it leads to other things too; even if people are really focused on succeeding [in other areas], the same thing applies – if you've got your creative outlet engaged, if you've got the tap on, you'll be better at doing wherever else it is you do.
I believe in that really deeply. I feel like I've seen first hand the effects of the shutting down of a person's creative outlet – and it is disastrous. It really has a bad effect on people. To remain open and not get cynical is extremely important. And one of the best ways to do that is to keep the creative juices flowing. There's real power, in the right sense of the word power, personal empowerment, in making things.
---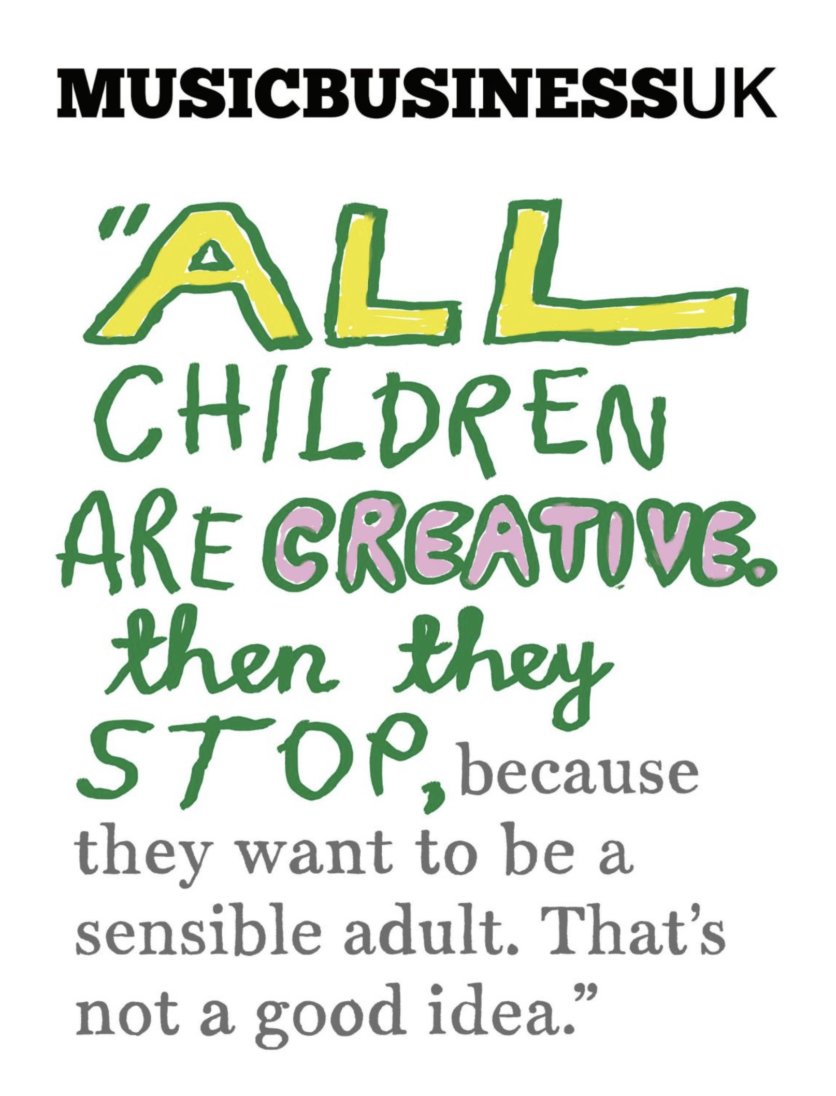 This article originally appeared in the latest (Q2/Q3 2020) issue of MBW's premium quarterly publication, Music Business UK (pictured), which is out now.

MBUK is available via an annual subscription through here.
All physical subscribers will receive a complimentary digital edition with each issue.Music Business Worldwide