Record companies that own catalogs with timeless appeal are thriving in the streaming age.
If you needed further proof of this fact, check out the fortunes of London-based XL Recordings, whose repertoire includes Adele's first three albums (ex-US), in addition to classic records from the likes of The Prodigy, Dizzee Rascal, Radiohead and The White Stripes.
XL, which is 50% owned by Martin Mills' Beggars Group, turned over £48.04m ($64.5m) last year, according to new data revealed on UK Companies House. (These figures include the performance, and release slate, of sister label Young Turks, in which XL owns 75%.)
Although that turnover was slightly down on the £52.08m generated by XL in the prior year, it was a remarkable achievement for a record label which, according to its accounts, released just six albums in 2018.
Those albums included Jungle's For Ever and Kamasi Washington's Heaven and Earth as well as Everything Is Recorded (pictured) – a collaborations project produced and creatively directed by XL founder, Richard Russell.
XL's operating profit (and its resultant profit margin) rose considerably in 2018. Total operating profit hit £16.1m ($21.6m), representing a 33.5% margin. That was up on 2017, when total operating income was £10.27m, representing a margin of 19.7%.
Although XL's respective 50% co-owners – Richard Russell and Beggars Group Ltd – didn't withdraw a dividend out of the label last year, a note in XL's latest accounts show that a £10m dividend was declared in the first seven months of 2019.
---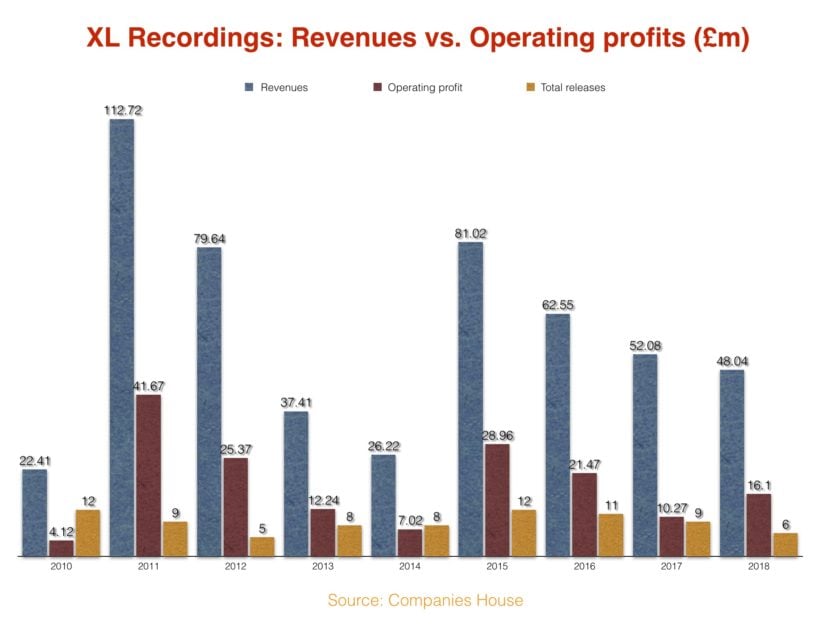 ---

The above chart suggests something interesting going on here: Adele's record-breaking 21 came out in 2011, and is undoubtedly XL's most commercially successful record to date. That year, XL saw revenues of £112.7m, and a whopping £41.7m annual operating profit – neither of which, unsurprisingly, have been matched since.
However, look at the swift decline in these numbers in the three years which followed: by 2014, XL's annual revenues (£26.22m) were less than a quarter of the size they were at the label's 2011 peak, while 2014 operating profits (£7.02m) were nearly a sixth of the volume they were three years before.
In 2015, Adele's next record-breaker, 25, came along, helping drive up XL's annual revenues to another spike at £81.02m, with a operating profit of £28.96m.
These figures were a way off those 2011 numbers (partly because 21 was released in Q1, while 25 came in Q4), but XL's commercial decline over the three years following 2015 is far less steep than that seen after 2011.
This suggests that streaming's growing influence is helping keep consumption of XL's enviable catalog, and its royalty payments from the likes of Spotify, snowballing.
---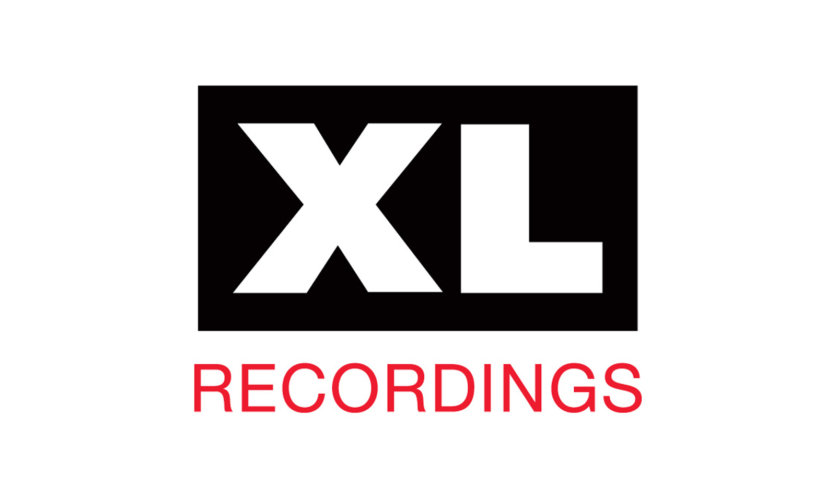 According to its accounts, less than a quarter (£10.2m) of XL's annual revenues (£44.9m) in 2018 were generated within the UK.
These £44.9m revenues made up 65% of total global sales at Beggars Group – which owns 50% of XL, in addition to labels such as Matador and Rough Trade – in 2018.
XL's post-tax profit in 2018 was £13.1m, up from £9.3m in 2017.
"XL Recordings Group had another successful trading year, consolidating on the success of recent releases which continue to stream well," said XL in its business review to shareholders. "Most importantly we have been busy finding and developing an exciting roster of new artists and new music across our labels, many already at launch stage.
"As streaming and subscriber growth continues apace our music too has enjoyed growth in line with the market. Our entire catalogue has been the beneficiary of this phenomenon, not just recent releases. We're pleased to note the growth in streaming from developing markets and the enormous success of our US business. Revenues from our traditional European territories and Australasia remain strong and are a significant part of our success."
---

---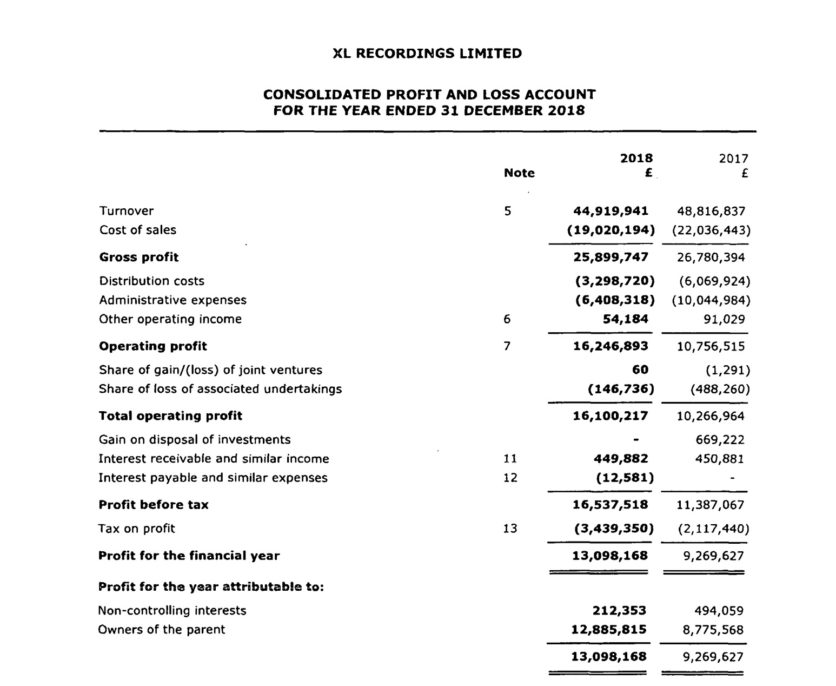 ---
Mirroring a note from Beggars Group to its own shareholders, XL added: "During the year we received the proceeds of the sale of our shares in Spotify. We believe that our artists should share equally in that windfall. So, we accounted 50% of those revenues to our artists, past and present. After allowing for recoupment, 46% was paid out in cash. Certain other companies apparently distributed these revenues based on the artist royalty rate, meaning a far lower percentage irrespective of recoupment.
"We are dependent on our ability to achieve success with new acts as much as our ability to continue to exploit globally our prestigious catalogue.
"To that end we are committed to treating artists fairly and have developed a number of industry-leading policies to reflect that."Music Business Worldwide