When is a profitable company not a profitable company?
Ask Shazam, and the many publications which reported last week that it was now firmly in the black.
The Financial Times, TechCrunch, The Telegraph, the Wall Street Journal and Forbes all shouted of Shazam's billionth download, before following the line of a company press release announcing that the UK-based enterprise had achieved EBITDA profitability after 15 years in operation.
It was a smart bit of PR on behalf of Shazam.
These publications will have known there were a few significant details missing from Shazam's announcement – including its annual net income.
Funnily enough, just a few days later, Shazam Entertainment Ltd's yearly financials for 2015 have now appeared on Companies House in the UK.
MBW has gotten hold of them, and they make for slightly less jubilant reading.
Shazam Entertainment Ltd, the parent of the music identification app, posted a consolidated turnover of £35.17m ($44.8m) in 2015 – down 2.3% on the £36.01m ($45.9m) recorded in 2014.
Following the textbook 'spend way more than we earn' pattern of many a growing digital music business, Shazam's administrative expenses stood at £49.58m ($63.3m) in 2015 – increasing 5.5% on 2014.
Most importantly, the business actually posted a £16.57m ($21.1m) pre-tax loss in the 12 months.
Post-tax, its annual losses hit £16.74m ($21.4m) – widening 11.3% year-on-year.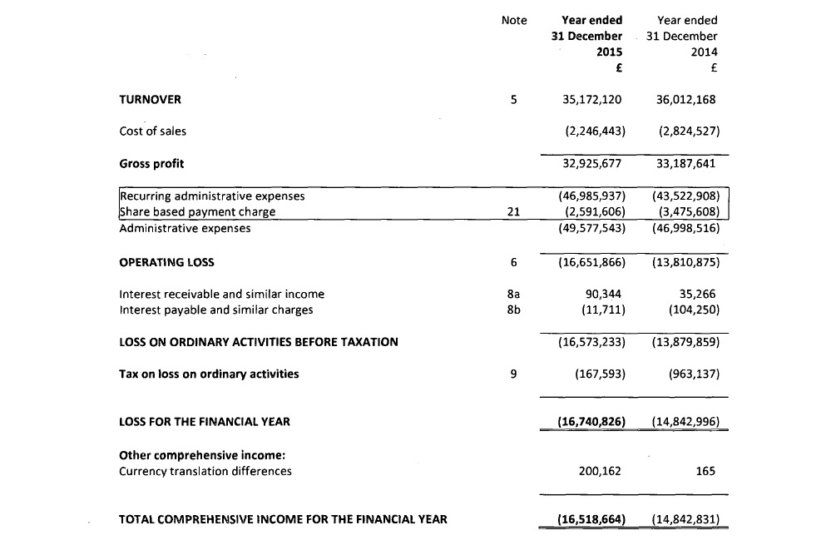 Further analysis of the fiscal situation at Shazam in 2015 – run by CEO Rich Riley (pictured) – shows how this money is primarily being put to use.
The company spent £26.34m ($33.6m) on staff in 2015, up 2.3% year-on-year.
£21.34m ($27m) of last year's staff costs went on wages and salaries, across 251 employees – resulting in an average per-head annual wage of £85,012 ($108,400).
The year before, Shazam Entertainment Group spent £19.93m on wages and salaries across 243 employees – a per-head salary of £82,016 ($104,500).
Compare that to Spotify, another loss-making business, which spent €155.3m ($174.4m) in 2015 on 1,610 employees; an average per-head salary of €96,460 ($108,180).

Shazam Entertainment Ltd finished 2015 with £27.64m cash in the bank, following the receipt of a combined $48.9m investment from six parties in January last year, who all took new shares in the business.
This was enough for Shazam's directors to state that the group "should be able to operate within the level of its current facilities" as a going concern, and that "the directors have a reasonable expectation that the Group has adequate resources to continue in operational existence for the forseeable future.
The past year has seen two members of Shazam's board leave: MTV co-founder John Skyes and Last Minute.com co-founder Brent Hoberman.Music Business Worldwide