Pandora's share price tumbled 8% in after hours trading yesterday – mainly because its Q2 revenue missed expectations at $343m.
Yet for the music business, there's a more alarming stat to digest: Pandora's active monthly listener count fell in the three months to end of June, down 1.3m to 78.1m, compared to 79.4m in the same period of 2015.
This is the second quarter over the past nine months in which Pandora's active listener base has declined year-on-year; it is currently more than three million people behind its monthly peak of 81.5m in Q4 2014.
Compare that to Spotify, which revealed an active user base in excess of 100m in Q2 (June) – a figure which grew by 25m people over the previous 12 months.
In other words, this time last year, Pandora had more active users than Spotify. Now, it's the other way round…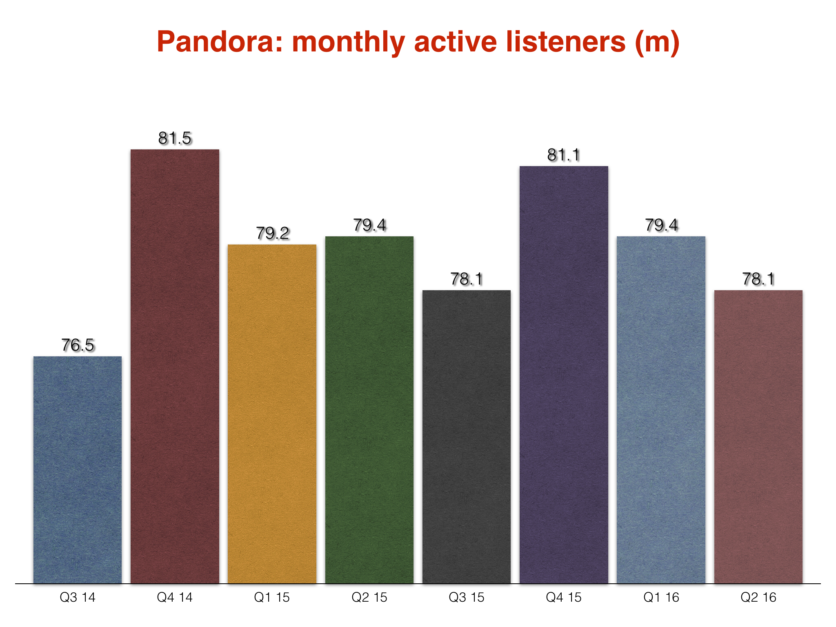 Analysts will wonder if the introduction of Apple Music and the continuing growth of Spotify over the past year have dealt blows to Pandora's appeal – especially with Pandora CEO Tim Westergren (pictured) currently readying the service for its own on-demand offering.
Westergren would no doubt counter that Pandora's loyal users are getting more engrossed with his service: total listener hours stood at 5.66bn in Q2, growing 7% year-over-year.
Financially, though, things aren't so rosy.
Pandora's net loss in the three months to end of June was $76.3m, compared to a net loss of $16.1m in the same quarter last year.
That followed a net loss of $115m in Q1 2016, meaning that in Pandora's first six months of its current fiscal year – from Jan-June – it saw a cumulative net loss of $191.4m.
That's an average net loss of $31.9m per month, $8m per week and over $1m a day.
Excluding revenue from ticketing services, total revenue was $320.3m in Q2, an increase of 12% year-over-year.
Advertising revenue was $265.1m, a 15% year-over-year increase.
Yet subscription and other revenue was flat at $55.1m, a 1% year-over-year increase.
---
In an interesting twist, Pandora's latest results came hours after it was reported that the Pandora board turned down a buyout offer of around $3.4bn earlier this year.
According to The Wall Street Journal, Liberty Media – the majority owner of satellite radio giant Sirius XM – offered to purchase Pandora for $15 per share in recent months.
Although that was significantly higher than Pandora's value at the time, the company's management resisted, apparently holding out for a pricetag closer to $20 per share.
A wise move – or looking a gift horse in the mouth?

Music Business Worldwide