Pandora Media has today (Jan 12) told a significant chunk of its US employees that they're being laid off.
The streaming music company has announced a 'reduction in force plan' which will affect approximately 7% of its employee base in the States, not including Ticketfly.
Pandora employed 2,219 people around the world at the end of 2015, according to filings – with the vast majority in the US.
Judging by the expected growth of the company since then, it is estimated that around 100-150 staff will now be facing imminent redundancy.
In a note to investors, Pandora said the move "will allow the Company to focus and realign existing resources on execution and make further investments in product innovation to drive advertising revenue and subscription growth".
It confirmed the cuts would be completed by the end of the first quarter of 2017, adding that it expected them to incur between $4m and $6m in severance/benefits expenditure.
---
Pandora CEO Tim Westergren (pictured) said: "2016 was a year of significant investment for Pandora. In 2017, we will manage the business toward full year adjusted EBITDA profitability.
"While making workforce reductions is always a difficult decision, the commitment to cost discipline will allow us to invest more heavily in product development and monetization and build on the foundations of our strategic investments."
In brighter news, Pandora also said today that it expected to beat Q4 guidance on revenue and EBITDA in its upcoming earnings – sending after-hours stock up over 5%.
It added that it planned to "leverage [our] analytics platform and ad insertion logic to drive additional revenue and realize leverage in content costs".
In conjunction with the job cuts, it said these measures "are designed to ensure the company can execute on its core strategic initiatives without additional capital and enable further investments in product innovation to drive advertising revenue and subscription growth".
---
News of the headcount reduction come less than a month after we learned Pandora COO Sarah Clemens was resigning from the business.
Clemens' departure itself arrived barely a month after Pandora Chief Financial Officer Mike Herring announced the dropping of his CFO role (while maintaining his title as Pandora President).
As MBW revealed last year, Pandora posted a net loss in excess of $250m in the first nine months of 2016, with total revenue of $992.5m.
The service attracted 77.9m active listeners at the close of Q3 2016, down from 78.1m in the same three-month period (July-Sept) of 2015.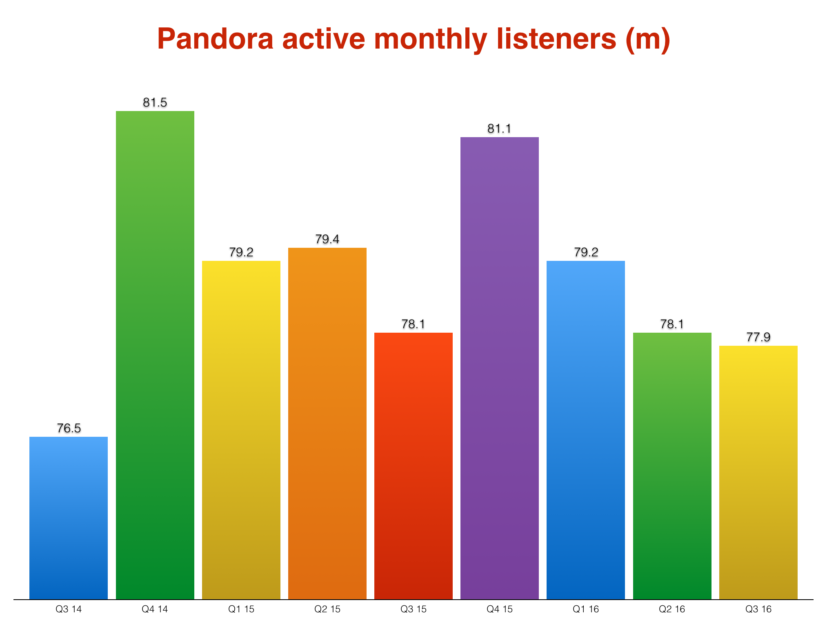 ---
Pandora also announced today that it had now surpassed 4.3m paid subscription customers – ahead of launching a $9.99-a-month on-demand Spotify rival product later this quarter.
As a result of new direct deals with music labels and publishers, Pandora introduced its $4.99-a-month, semi-interactive 'Pandora Plus' tier in September – in addition to adding functionality to its ad-funded product.
By the end of December 2016, said Pandora today, the $4.99-a-month product had generated more than 375,000 net new subscribers.Music Business Worldwide