Pandora endured mixed fortunes in the first three months of 2018 – with listeners down and a hefty net loss posted, but positive signs surrounding its subscriptions business.
According to freshly-posted financials, Pandora saw Q1 revenues hit $319.23m, up 1.1% on the same period in 2017.
This was an approximate 12% year-over-year increase compared to the year-ago quarter, excluding Australia, New Zealand and Ticketfly. (Pandora discontinued its service in Australia and New Zealand on July 31, 2017, and Ticketfly was sold to Eventbrite on September 1, 2017.)
However, quarterly advertising revenues fell 3.9% year-on-year in Q1 2018 to $214.57m – a worrying sign for Pandora, with ad revenue making up 67.2% of all sales in the three months.
That said, Pandora's subscription business is showing signs of blossoming into life, following its launch of interactive tiers – including a $9.99-per-month Premium offering – last year.
In Q1, Pandora's subscription business turned over $104.67m, up 61.3% year-on-year versus the $64.88m posted in Q1 2017.
Combined subscribers to Pandora's $4.99-a-month Pandora Plus tier and the $9.99-a-month Pandora Premium tier was 5.63 million, up 19% YoY.
The average revenue per subscriber across these tiers in Q1 2018, then: $18.59, equivalent to $6.20 per month.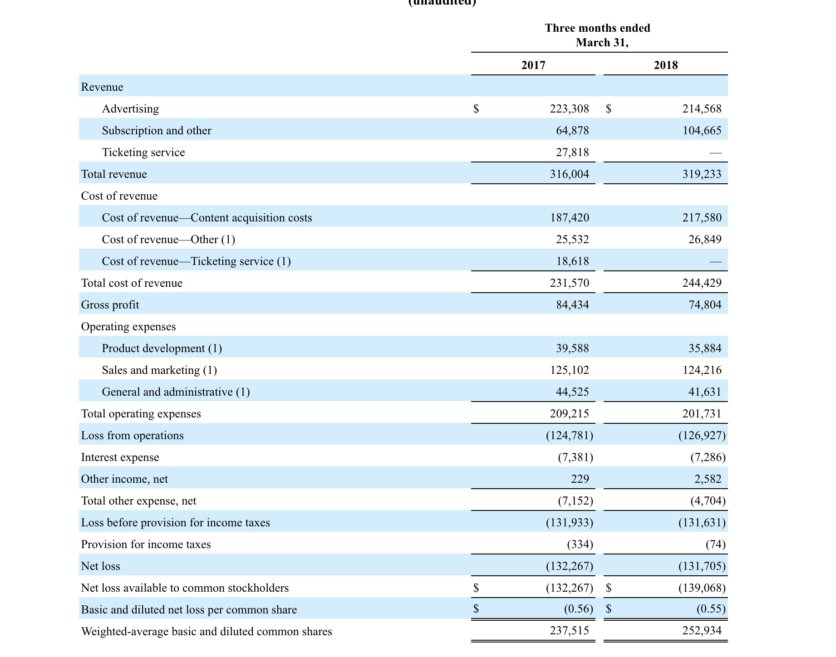 ---
The company is still battling heavy losses, however.
In Q1 alone, the company's operating loss stood at $126.93m, widening slightly on the $124.78m it posted in the prior year quarter.
Its net loss in the same period improved slightly on Q1 2017's $132.27m, but not by much: Pandora lost $131.7m in the three months to end of March this year.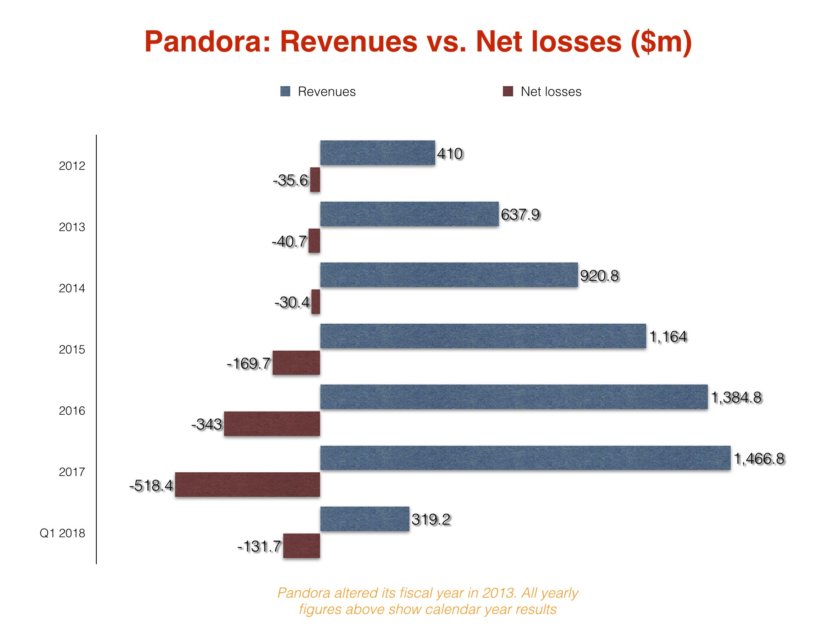 For the first quarter of 2018, the Company ended with $544.4 million in cash and investments, compared to $500.8 million at the end of the prior quarter.
In terms of total monthly active listeners, Pandora's count fell to a four-year low of 72.3m.
That's over 9m fewer than the company's all-time high, recorded in Q4 2014, of 81.5m.
It's also 4.4m down on Q1 2017 (76.7m).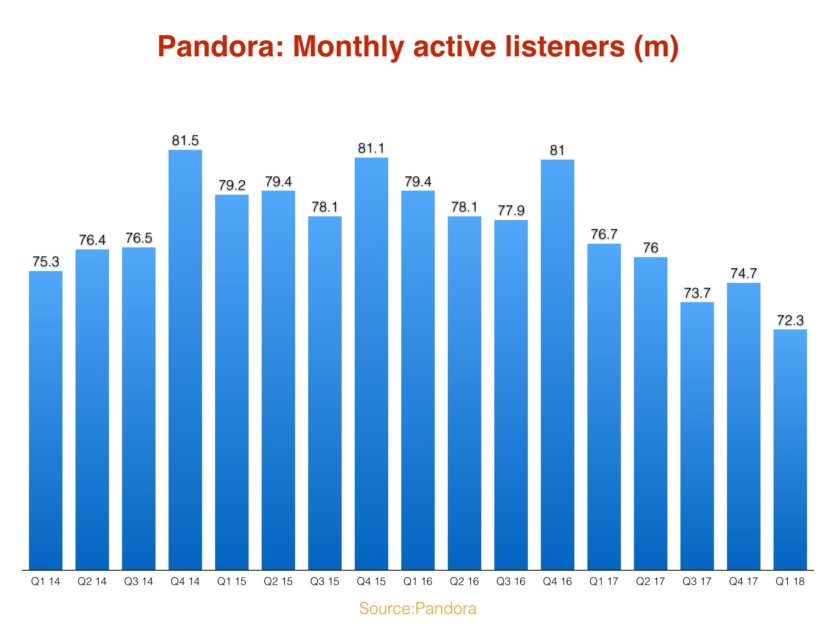 Listener hours also fell year-on-year.
Total listener hours were 4.96 billion for the first quarter of 2018, compared to 5.21 billion for the same period of the prior year.
"Music streaming and digital audio continue to see massive growth, and this quarter we took key steps to position Pandora to capture this significant opportunity," said Roger Lynch, CEO of Pandora.
"We improved audience metrics—in part by increasing usage of Premium Access, which gives ad-supported listeners the ability to enjoy Pandora Premium after viewing a 15-second ad. We also accelerated our ad-tech roadmap with the acquisition of AdsWizz, and launched exciting new product features like personalized playlists.
"Looking ahead, Pandora is exactly where we want to be: at the center of a growing market with huge potential."Music Business Worldwide