US digital radio platform Pandora's active listener tally dropped by 2 million people in the first three months of 2015, as it posted a Q1 net loss of US $48.3m.
The personalised radio app saw its active user base reach 79.2m people in the period, down 2.3m (2.8%) on the 81.5m who used Pandora in the last quarter of 2014.
It is Pandora's first quarterly drop in listeners since the same period last year, when its figures fell by a more modest 1.1m to 75.3m.
Pandora CEO Brian McAndrews put a positive spin on the drop, telling investors: "We naturally expected to see some seasonality post-Q4 where we get a lot of listeners particularly around the holidays.
"I think we're encouraged by the stickiness in the sense that our Q3 number was in the 76 million and we went up to 80 million over the holidays and now 79.2 million."
In terms of a year-on-year comparison, Pandora's active listener levels rose 5.2% from 75.3m in Q1 2014.
Unlike on-demand services such as Spotify – which, with 60m active users, is available in 58 countries – licensing restrictions mean Pandora is currently only available in North America, Australia and New Zealand.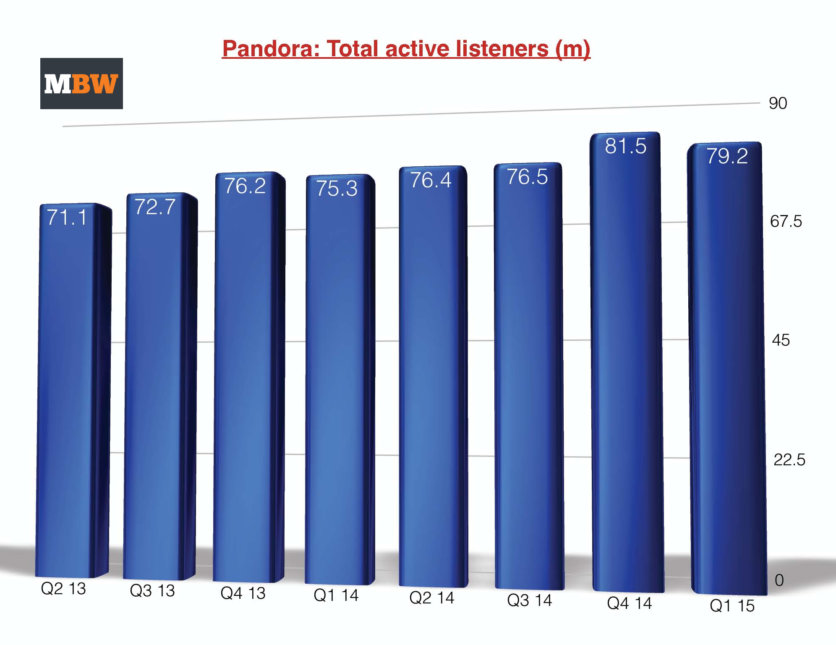 Pandora's quarterly net loss in Q1 appears to be the biggest in its history.
At $48.3m it was actually 59% bigger than the net loss suffered by Pandora in the whole of calendar 2014 ($30.4m).
Why is Pandora losing so much money?
For that you have to find the line in their financials called 'content acquisition costs': aka the licenses paid to labels and publishers via SoundExchange and the likes of BMI and ASCAP in the US.
In Q1, this figure hurt Pandora to the tune of $126m – over half its total revenue figure.
Royalty payments were up considerably year-on-year from $108.3m in Q1 2014.
Pandora is due to battle SoundExchange over its public performance royalty payments to labels next week. The radio firm is attempting to bring down its current $0.0013-per-stream payout, while SoundExchange wants to double it to $0.0025.
Meanwhile, Pandora faces a similar battle with ASCAP and BMI over statutory publishing performance royalty rates – while the likes of Universal Music Publishing, Kobalt and Sony/ATV are attempting to circumvent the PROs to negotiate this rate with Pandora direct.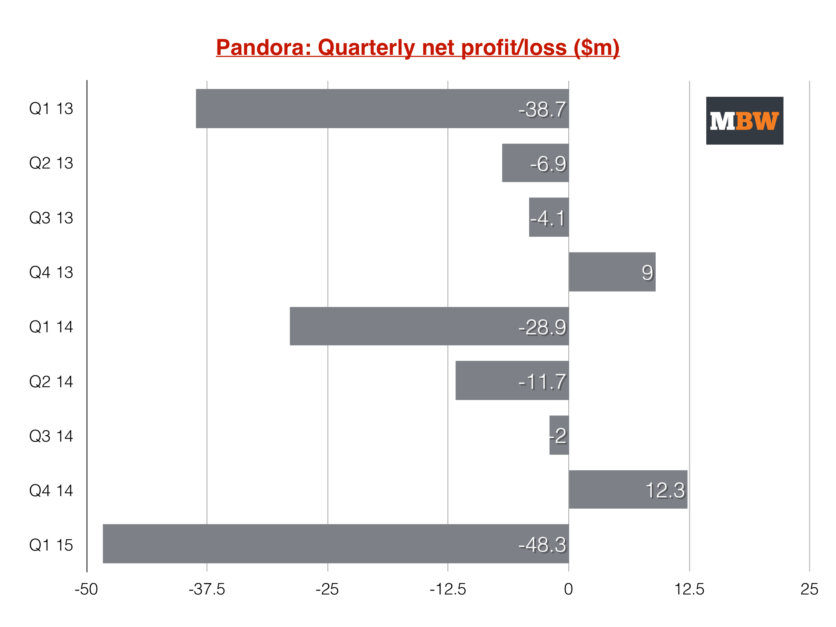 There was better news for Pandora in Q1 2015 when it came to its overall revenue, which grew 18.8% year-on-year in to $230.8m.
As such, Pandora says it's on track to top $1bn in annual revenue for the first time in 2015.
Ad revenues were up 27% to $178.7m, but subscription revenue fell, dipping slightly from $53.7m to $52m.
Although its overall listener numbers fell, Pandora said that listener hours grew year-on-year by 11% in Q1 to 5.3bn in the first quarter of 2015.
Roger Faxon, former CEO of EMI Group, is set to join Pandora's board in June.Music Business Worldwide