Those who thought streaming would bring about a rapid modernisation of radio playlists, prepare to scratch your head.
According to data from trusted airplay tracking service RadioMonitor, just one song in the Top 20 biggest tracks on UK radio so far this year was originally released in 2016.
Some will suggest that such stats reflect a slowdown in movement at the top of the UK's singles market since streaming data was folded into its Official Chart back in 2014.
However, there's another notable little trend going on – and it's why 'originally released' here is important phrasing.
---
No.3 on Radiomonitor's Top 20, a chart based on 'impacts' (the number of 'listens' a track has received across 408 UK stations), is Lush Life by Swedish artist Zara Larsson (pictured).
Lush Life was originally released in June last year, but was given a spruce-up with a Tinie Tempah remix in February; the version that has proven so popular on UK radio since.
A similar embellishment improved the chances of Sia's Cheap Thrills, which first appeared online in December.
A remix of the track featuring Sean Paul – UK radio's favoured version – was subsequently issued in February this year.
---
Radiomonitor's Top 20 is led by Lukas Graham's 7 Years.
The Danish band's song was originally released last summer by their homeland label Copenhagen, but was only pushed globally by Warner at the end of 2015 and start of 2016.
DNCE's Cake By The Ocean, the sixth track on the rankings, was originally released in September last year on streaming/download services – but served to radio in early 2016.
Regardless, the only track on the Top 20 to be first unveiled to the public this year is Zayn's PILLOWTALK, which was released on January 29.

Every other song on the Top 20 – including two Justin Bieber hits within the Top 5 – was originally released in 2015.
---
Another quick observation: there are no British artists within the Top 5 of the list, and only three (Coldplay, Adele and Little Mix) in the Top 10.
For comparison's sake: in Radiomonitor's Top 20 list of the biggest tracks on UK radio across last year, the majority of songs – 11 out of the 20 – were originally released in 2015.
Across this year's Top 20 so far, only three British acts that can be considered 'breaking' – Snakehips, Sigala and Jonas Blue – appear, and they're all outside the Top 10.
(Although this discounts Zayn due to his previous superstar status with One Direction).
You can view the full Radiomonitor Top 50 for the UK market in 2016 up to Thursday, June 16 through here.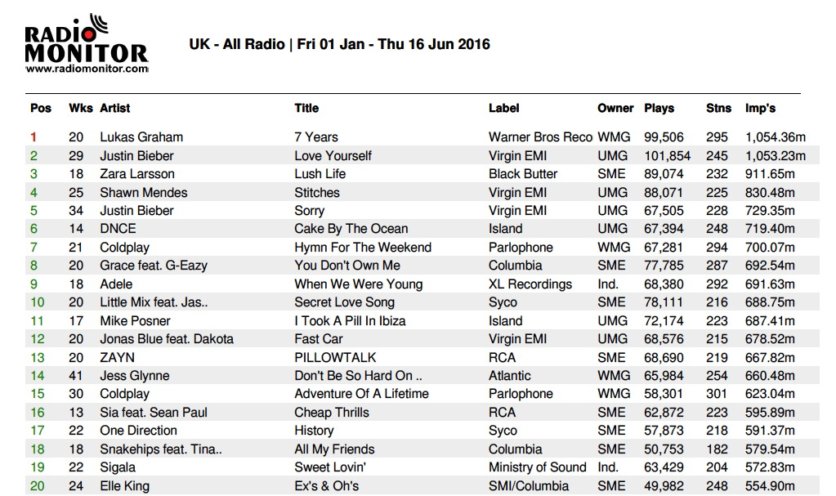 ---
That list is for 408 stations of all types across the UK, including local and national – as well as commercial plus public service broadcasters.
Interestingly, the Top 20 for just commercial stations actually shows a slight improvement for new records, with Fifth Harmony's 2016 release Work From Home joining Zayn's Pillowtalk in the rankings.
You can check out the Top 20 for commercial radio below, and the full Top 50 through here.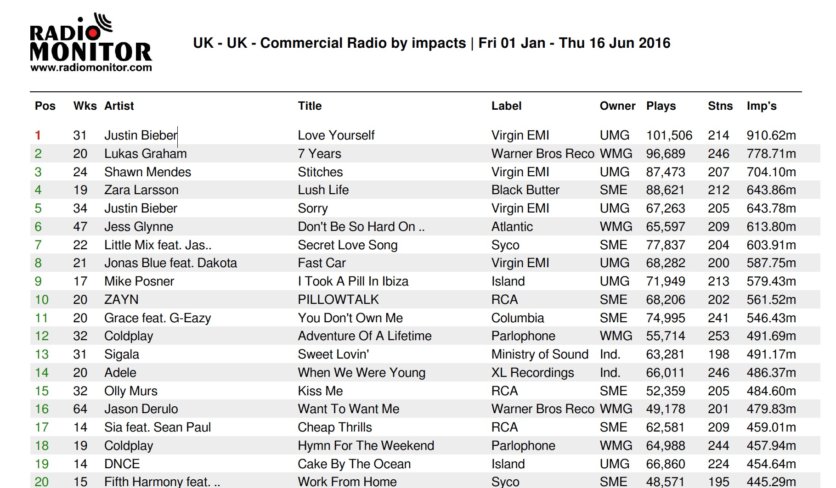 Music Business Worldwide