If you thought the streaming numbers for Adele's massive comeback single, Hello, were impressive, get a load of its performance on radio.
The track was the No.1 airplay song in the UK in the last chart week, according to stats from airplay data authority Radiomonitor analysed by MBW.
It was played 5,063 times across 284 UK stations during its opening seven days after being released onto the airwaves – and to buy – on Friday, October 23.
That equated to 95.25m radio 'impacts', which can be interpreted as individual 'listens'. (A bit of help: Imagine that every listener to Hello on the radio is wearing a pair of headphones. 'Impacts' therefore counts up the number of people wearing headphones every time a track every is aired.)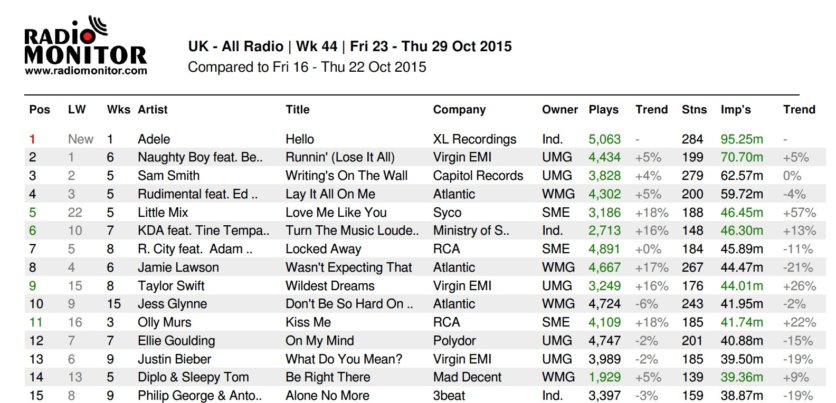 To date, including yesterday (November 2), the track has enjoyed 127.2m 'listens' in the UK alone from 7,496 separate plays.
Across Europe, Hello's number of impacts has topped 766m – a figure on course to surpass the billion mark this week.
These stats, remember, don't include airplay in the US.
The European impacts number alone outstrips the song's latest worldwide play-count on Spotify (61.16m) and YouTube/Vevo (192.2m) – which combined equal 253.36m.
In the last chart week (inclusive of Thursday, October 29), Hello was the third most listened-to track on all European radio, behind two tracks – Reality by Lost Frequencies and Sugar by Robin Schulz – which have both been on the airwaves for more than 10 weeks each.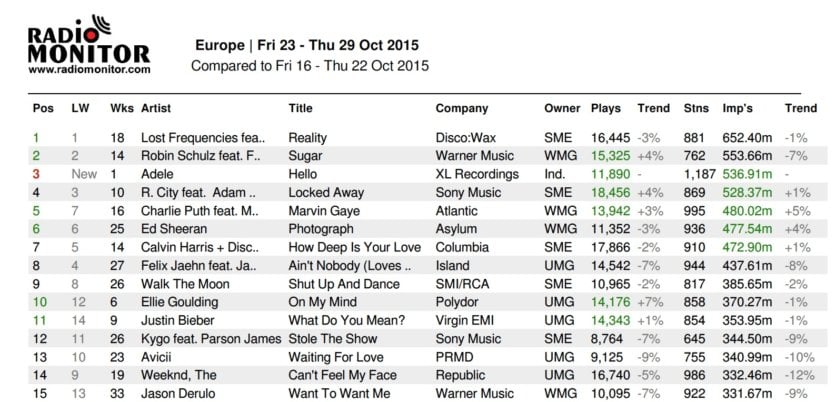 Where in Europe other than the UK is locked in Hello-mania?
The good people of Germany have enjoyed 161.9m 'impacts' to date from 1,567 plays, according to Radiomonitor.
And the Italians have clocked up 104.8m 'impacts' in the same time frame.
All of this airplay has clearly had an effect on sales.
In the UK, Hello sold 333,000 last week to hit the top spot on the Official UK Singles Chart.
It was the biggest No.1 single in three years since James Arthur's X Factor winner's single Impossible  (490,000 sales) in December 2012.
The 333,000 figure is comprised of 259,000 downloads plus a record-breaking 7.32m UK streams (not including YouTube).In the US, Hello has sold more than a million units in its opening week, but we're waiting to see where it lands on the Billboard Hot 100.The track has also gone straight in at No.1 on the Australian ARIA chart, as well as local charts in Belgium, France, Germany, Greece, Hungary, Ireland, Israel, Italy, Luxembourg, The Netherlands, New Zealand, Norway, Portugal and Switzerland.
It went to No.2 in Finland and Slovenia. Disappointing.Music Business Worldwide