Mr Eazi never planned on being an artist. "When I finished high school, I just wanted to be rich," he jokes, speaking to Music Business Worldwide over the phone from Dubai. "I thought I would either be a pilot or an engineer."
And so, explains the Nigeria-born star, he proceeded to study Mechanical Engineering at university in Ghana to follow in the footsteps of his successful uncles.
Five years on, however, and Mr Eazi (aka Oluwatosin Ajibade) has married his entrepreneurial sensibilities and tech startup experience with a distinct artistic identity to become one of West Africa (and the wider African continent)'s biggest contemporary pop stars.
By blending hip-hop, Ghanaian high-life and dance-pop via his signature 'Banku' style of music – a "mix of Nigeria and Ghanaian styles", named after the Ghanaian dish of the same name – Mr Eazi has played a key role in the global explosion of Afrobeats.
He's amassed more than 900 million streams, including over 226m plays on YouTube alone, while recording guest spots on the likes of J Balvin & Bad Bunny's Como Un Bebe, Major Lazer's Tied Up and Beyoncé's Don't Jealous Me and Keys to the City.
The 27-year-old dabbled in a number of business ventures before settling on music, with his portfolio to date including the launch of a "taxi concierge service", a telecom startup, participation in several tech incubators and a stint in the gold mining sector. He entered the music business while at uni, where he ran a successful live promotions business.
This led to him going into the studio to record music himself as "a hobby", and eventually released his hit, Bankulize, in 2013, followed by his breakout track, Skin Tight (featuring Efya), two years later. "I would do parties and concerts every two weeks," he explains. "I became really successful at that, and that would make me hang out with loads of emerging artists and established artists from Nigeria and Ghana."
"There is not one company that is 100% focused on just distributing African music, just servicing African music, working with African artists. If emPawa can be that, if the artists can feel free, and we can give them good services, then I'll be in business for a long time…"

Mr Eazi
By March 2016, Eazi had been invited by Lauryn Hill to play at King's Theatre in New York and it was during this period, thanks to a visit to London to play the O2 Kentish Town Forum, that he decided to make music a full time career.
He recalls the exact date of his epiphany: "[It was] July 22, 2016. Everything was just blowing up so fast. I had to make a call between continuing my [telecoms] business and doing music full time; I had, like, 14 outlets and 20 staff [in my company]. But only music brought me to London. It just made me realise."
Eazi then enlisted his old school mate, Doregos Camillo, his "right-hand man", to manage him. Camillo had just left pilot school and needed something to do "to pass the time". With the help of Camillo and a small, core team, Mr Eazi's business remains fiercely independent. In spite of his global success, the artist has signed only three licensing deals, for singles, in the US (Mad Decent), the UK (Columbia) and South Africa (Universal Music Africa) so far.
---
---
Putting that independent mindset into practice beyond his own artist business, Mr Eazi started emPawa Africa in November 2018, an artist and label services company that provides distribution, publishing administration and marketing for independent African artists and labels. "I had always wondered how to mix my tech days [with] VC-type funding [for] music," he explains.
"I saw music artists as startups, and labels – or 'label services' companies – as sort of VCs. I wondered if I could apply the same thing where I invest in an artist [as if they were] a startup. I just want maybe max 20-30% stake in the artist's business. I wanted to see if I could do that for music."
Eazi's multi-faceted company launched with the #emPawa100 initiative, which awards grants of $3,000 each to 100 emerging artists from 11 African countries, with 10 of these acts then selected to take part in a talent incubator.
"I [was] like, wait, I'm already funding 10 artists, why don't we increase it to 100? Why don't we fund all these 100 artists and pick 10, bring them into a master class where they get incubated for a while. [After that] I pick one or two or three to give them a sort of VC-type funding deal."
Nigerian star Joeboy and Ghana's J. Derobie became two of the artists to progress to the final stage of the #emPawa100, receiving an investment of $50,000 each to grow their businesses.
Says Eazi: "Once we started to see success [with Joeboy and Derobie] we were like, 'Yo, we're onto this,' you know? If it works, why not?" Eazi adds that emPawa Africa doesn't recoup on all of the artists it funds, but he is proud of the fact that these acts all own their masters. He says that he "feels good about helping the artists". "I'm indirectly building their businesses," he says.
"I'm basically becoming the Uber for African music, that's what we want to be. We don't need to own anything. But if you want an African producer, you should be able to reach out to emPawa Publishing. If you want to book artists, you should be able to reach out to emPawa Live.
"There is not one company that is 100% focused on just distributing African music, just servicing African music, working with African artists. If emPawa can be that, if the artists can feel free, and we can give them good services, then I'll be in business for a long time…"
---
You studied mechanical engineering at university, then went to work for [oil company] Schlumberger, right?
Yes. I was studying mechanical engineering and, of course, I wanted to be really successful, so every holiday I would apply to intern at Schlumberger, in order to gain practical experience. The plan was to intern every summer so that by the time I completed uni, applying to be a trainee engineer would be just quick, because I had already gone through the system.
But whilst working there, I decided I wanted more of a life; parties had made me savvy at life and entrepreneurship and that [lifestyle]. You know, gambling with different businesses. This one time I used my school fees to buy a taxi. There was no Uber [in Ghana] then. I started what I would call a taxi concierge service. Just running that business led to successes, and at that point I didn't want to be an engineer anymore. I would have only [gone back to that] if everything failed. I just wanted to go the entrepreneur route.
---
So you didn't plan on becoming an artist? What happened when you first went into the studio?
I might have been [receiving] training [in recording music] that I didn't realise, because every time an artist came to play at my concerts or my parties, they would want to record locally, so I would take them to the studio and just watch them [working]. Then I started becoming friends with emerging artists in university. They were inviting me to the studio to come watch them. As a matter of fact, my roommate wanted to be a rapper, so he was [often] recording in the next room. One day, I'm in the studio with I don't know who, and he was recording and I was like, 'No, that's not how you do the backing vocals. You do it like this.'
He was like, 'If you know so much, why don't you just go in there and do it?' I went in there and did it, and everybody thought it was [good]. It was so funny, the producer would then not let anybody else come to record because he just wanted me. He just wanted to record me, because I was better than the rest of them. They were wasting his time. I would just go [to the studio] every Friday instead of going to the club. And I'm trying to graduate because I've been partying all through these four years; I'm trying to run away from the clubs, but I wouldn't [study]. Instead of reading, I would just go to the studio.
---
Can you tell us about your Banku music label and how you ended up signing a licensing deal with Universal Music Group?
I had always been signed to myself [as] Banku Music. For two years since 2017, I [have been] obsessed with taking my music global. I started coming to London a lot, and last year I was like, 'You know what? I need a team to work on Africa for me.' There were two options: hire a bigger team to work my music across Africa whilst I focused on working my music globally, still independently, or I talk to a [global] label. My manager was like, 'You know, let's talk now, with the label.'
We had been talking back and forth with Universal; we even met Sir Lucian [Grainge] at some point. We did a [UMG] licensing deal for the last mixtape, Leave Us Alone, but just for South Africa – we didn't end up doing it for the rest of Africa. There's a disconnect between the South African music industry and the rest of Africa. I thought, Let me just work with the partner who kind of understands that market, and give it a shot.
---
What's it been like working with Universal, specifically Sipho Dlamini [MD, Universal Music South Africa and SubSaharan Africa]?
You know, Sipho (pictured inset) is more like a friend. Sipho understands where I come from. He [appreciates] that, okay, these guys are entrepreneurs. He's not just looking to just give me songs or sign me. Even right now, I'm not doing any [active] business with Universal, but we still talk about business. I still run ideas by him, we go back and forth, you know? It's kind of like he doesn't realise he's one of my best friends!
Every now and then, when we are in the same city, we just sit down, catch up. He tells me what's going on. We never know where the relationship [will end up]… whether there'll be some more business between us. It's the same kind of relationship I have with Ferdy UngerHamilton from Columbia.
That's why I licensed London Town [to him]. I licensed two records to Columbia UK, just for the UK last year, and it is the same kind of relationship. It's funny; the three times I've signed licensing deals, with Ferdy for the UK, with Sipho for South Africa, and Jasper [Diplo] from Mad Decent, it's always been direct with whoever is running [the company], and calling the shots there. It's like businessman to businessman. I just keep learning from all of them.
---
How did the licensing deal that you signed with Mad Decent come about?
I was doing a college tour in the US [in 2017]. Then I saw Diplo playing one of my songs and I reached out to him. We started DM'ing. I was in LA and we hung out, we didn't record anything, we just kind of became friends, and maybe a month later I went back to LA. We recorded some more music that we've not even put out. I always wanted him to remix Leg Over.
By the time he agreed he's like, 'Okay, you know what, why don't we help you put out this remix?' I wanted to try, because before then, my only deal with a label was All Around The World in the UK for Dance For Me. I wanted to try something in the US, without having to spend [too much]. We did that, and things beyond putting out that record, like touring together.
---
Could you tell us about emPawa Africa? How did it start?
There's two sides to that story. A couple of my friends put money together to help me fund my very first two music videos and I just felt a calling to help some of the kids, and so right from when I got my first big paycheck, I just planned on helping [local artists] that I see on Instagram or Twitter. One of the first artists I funded a video for was Kwesi Arthur, a rapper from Ghana. At this point my manager was like, 'These videos you're funding for people, why don't you make it more structured?' Just structure it and give 10 people funding – and that's how Empawa Foundation was founded.
So I said, 'Okay, let's fund 10 videos,' and before we knew it, that became 100 videos. It's just grown from there. I wanted it to be across Africa because I tour across Africa. On the business side, I'd always been trying to brainstorm on how to [progress] beyond the music. I don't want to be singing [on stage] for the next 50 years, so I would study hip-hop and reggae. Afrobeats artists have been performing for like 10, 20 [years] and I've always known that at some point it will [grow] beyond the [sub]-culture.
I was just wondering how to position myself, or have a company that can be in the mix of things, from now, when Afrobeats is growing, [to] when it gets to the mainstream. I have a label, but I didn't want to 'sign' artists, because I wanted to give artists the kind of deals I would accept myself. I've always wanted to [develop] artists like myself, artists who know what they're doing, and own their masters, and get into business with them, on a business to business level. Sort of like an aggregator.
The main spark for me was when I wanted to drop my last mix, I wanted to give it to a label to work it globally, because I didn't want to spend my money. But I couldn't find a deal that I liked, and I didn't feel like a lot of the labels I was talking to really and genuinely understood the genre. I could tell that no-one was going to put in 100%, a priority effort, because they don't even understand [the music]. I think people just wanted to be in the conversation. People just wanted to make bets, like okay, just in case he pops, then we're going to be in the mix of things. I said, 'Okay, I'm not going to do a traditional deal.'
"I didn't feel like a lot of the labels I was talking to really and genuinely understood the genre. I could tell that no-one was going to put in 100%, a priority effort, because they don't even understand [the music]. I think people just wanted to be in the conversation. People just wanted to make bets, like okay, just in case he pops, then we're going to be in the mix of things."
Especially because I would see things in the deals [being offered] like exclusivity; I can't put out another song [elsewhere] until 12 months after the project drops, which to me was insane, because anybody who knows Afrobeats will know, just like dancehall, culturally, we're meant to be [releasing] music as often as possible. That was the main thing for me. I went back to my distributors and was like, 'Okay, you know what, let me take things into my own hands.'
So I drew up the marketing plan. I wanted cash from my distributors, like an advance to push the project. But my distributors, rather than just giving me an advance, started asking me for my publishing, asking me for an exclusivity period [in return]. It was so much and I was like, 'Wait, you know what, fuck all of this, man. I'm just going to do this myself.' At this point [emPawa] is distributing, I'm helping some [artists] distribute via my distributor. I'm also helping some of them collect on the publishing, via a couple independent publishers. I'm helping some [artists] get bookings [via] booking agents I work with.
I'm like, 'Wait a minute, I'm going to set up all of this.' I co-own a festival, I'm doing live events, and I didn't [initially] realise that [I was building a multi-faceted music company]. When I did, it was like a wake-up call for me. When we started the emPawa project, I ran into to a YouTube page called KondZilla. It's a Brazilian page. This YouTube page has about 50 million subscribers. It has multiple videos with a billion views, and then it's also a record label. I'm like, 'Whoa, this is my business model right here.'
---
Is there a view to compete with companies like TuneCore or AWAL/Kobalt?
Not immediately. I've worked with TuneCore, and I've worked with Kobalt. I like the [AWAL] model, because it's not as openended [in terms of limitless signings] as the TuneCore model. Maybe in the future I [might] also migrate to do something like TuneCore, but for now I just feel like it's very important that, instead of having one million artists, it's better to have 100 artists; or instead of having maybe 100 artists, I'd rather have 10 artists who have priority, and are serviced properly, just to prove the business model for the next three to five years. Then we will see where it goes from there. [We'll monitor it] for the next three years, and see where we want to take it. I'm happy with the initial successes; the artists we've given VC-type deals, or the music we've put out where we've pitched them. We're still building, so we're on track.
---
Can you tell us about the importance of YouTube as a music distribution platform in Nigeria and in Ghana?
YouTube is arguably the platform with the [lowest] barrier to entry for music in Africa, not just Nigeria and Ghana. The only barrier for you to access YouTube is data. It's data cost, the cost of loading, or the cost of watching. YouTube is that platform where every artist can just easily [upload] their project, and people all around the world can see. Not only does it have [a low] barrier to entry, but it also has the smallest barrier to market and to viewing for the rest of the world. YouTube is in a very unique position, and YouTube has been very instrumental, even with me. When people out in the world connect with videos, they start from the back end of YouTube.
---
How important are services like Boomplay for listeners in Ghana and Nigeria?
The thing is, the way people consume music [in Africa] is totally different [than in the rest of the world]. I would say 70% of music consumers in Africa get their music from the block, from the street, which kind of shows you why YouTube is important. People have not gotten used to the idea of paying for subscriptions for music, but they feel like when they go on [YouTube, it's free], especially those that use a browser that also compresses the music and the sites to make it even cheaper for them to use data, like Opera Mini. You have to understand that you have over 20 million people using Opera Mini to go online, and the reason they're using Opera Mini is because it's cheaper – the data cost is smaller.
It's only when you get to A-list level of artist, when you get to Wizkid, Davido, Burna Boy level that they start caring about those [paid-for streaming services]. When you start generating revenue from outside of Africa from your streaming, that's when you start to really care [about this topic]. For the average artist, he needs his music to get on those [free] websites, because that's the only way the fans will see it. Because if you don't have Apple Music, you don't have Spotify, if they're not on Boomplay, if they're not on Deezer, the best place you can reach them is free sites. I'd say of the 70% [of people in Africa] who consume [this kind of] music, 50% of them get the music on the free websites, and the other 50% get it from vendors on the street.
You have vendors in the hardware, software markets, who have their laptops up, and they download [music on demand], they load it up on their phone, and you can just walk up to them and pay them money, and they will update your music library with new songs. This is how people consume music, and this is why these free websites are kind of the de facto biggest websites. They are the Apple Music or the Spotify of Ghana because they have the lowest barriers to entry.
---
What are your views on the globalisation of Afrobeats, and how that will grow in future?
It's been driven by the internet, it's been driven by the diaspora, the live part of the whole movement and the whole industry. It is exciting, because what that will do is that will make music companies and people who are in the music business take the genre more seriously. When I mean more seriously, I also mean investment, which ultimately will help everybody involved. I'm happy about it. The only thing I'm always telling my colleagues about is, I'm not going to say don't sell, but when you sell, make sure it's worth it. Make sure you know what you're getting into, you know? Just like you tell anybody going into business. Just be aware.
---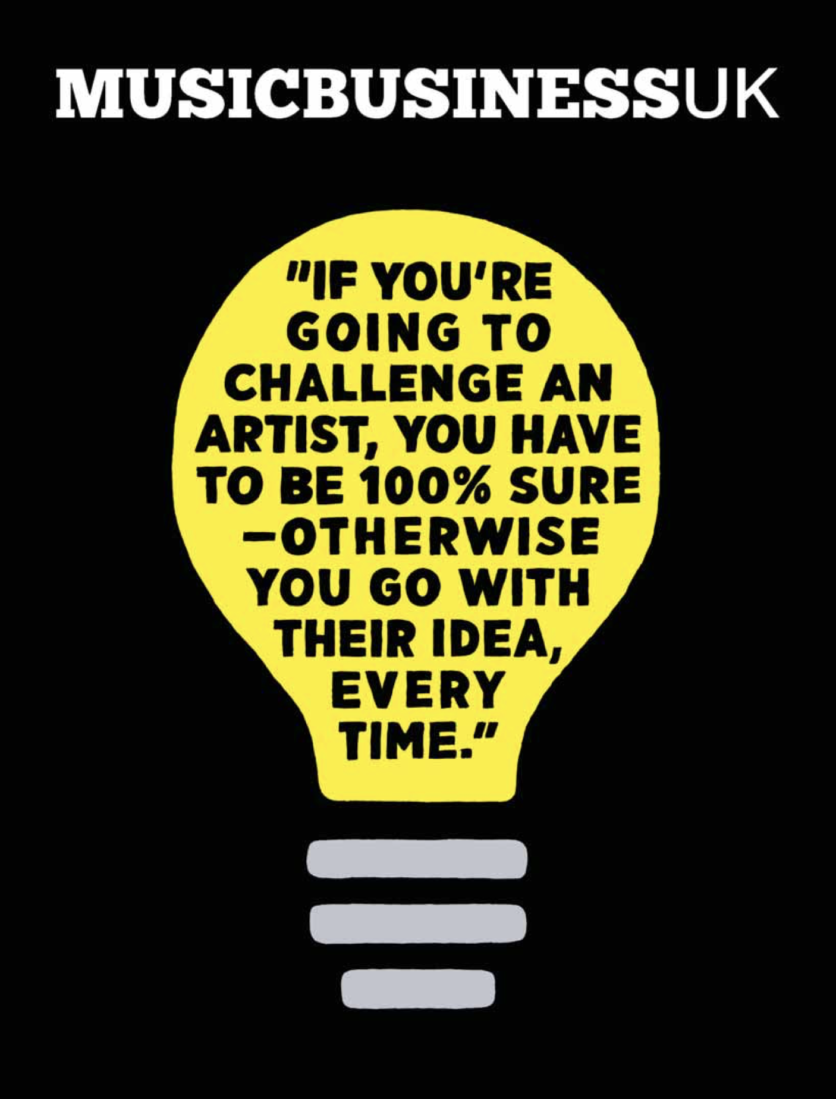 This article originally appeared in the latest (Q3 2019) issue of MBW's premium quarterly publication, Music Business UK (pictured), which is out now.

MBUK is available via an annual subscription through here.
All physical subscribers will receive a complimentary digital edition with each issue.Music Business Worldwide