Digital rights agency Merlin has revealed that its agreements resulted in $353m being paid to its members in the 12 months to the end of March this year – the equivalent of nearly $1m every day.
The figure was up 52%, or $121m, on the previous 12 months.
Merlin negotiates digital revenues for more than 700 independent recorded music members across the world –  a group it says command more than 12% global market share. They include Beggars Group, Domino, Epitaph/Anti, Kobalt Music Recordings, [PIAS], Secretly Group, Sub Pop and Warp Records.

Before the end of March, Merlin's admin fee for these members was 2% of total revenues – it proudly reduced this to 1.5% in April – suggesting its total collections in the 2016/2017 period stood at around $360m.
If Merlin can repeat this 52% rise in digital payouts in the April 2017-March 2018 period, it will pay out over $500m (approx $536m) to its members across the 12 months.
That would be almost 13 times bigger than the $42m Merlin handed over to its members in 2012/2013.
Worth remembering that the organization recently inked a new global, multi-year licensing deal with Spotify, announced in April. (Merlin doesn't distribute revenues from the likes of Apple, Amazon and Rhapsody.)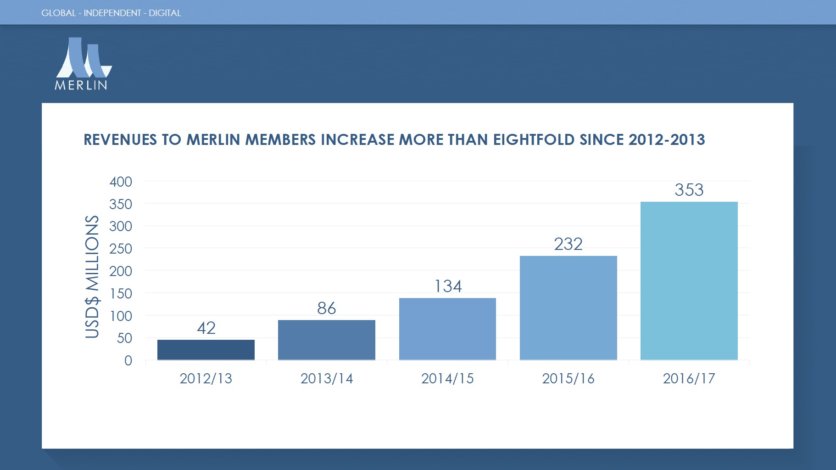 ---
News of Merlin's buoyant latest numbers arrive in a new report by the agency, which includes interesting stats from its latest member survey – particularly those related to the so-called 'value gap' on YouTube.
Some 42% of Merlin members reported that services such as YouTube and Vevo provide less than 5% of their annual digital revenues – with 67% of members saying these online video services pay less than 10% of their digital income.
Merlin said that, according to its own analysis of billions of streams comparing the 12 months to March 2017 with the year before, revenue growth from audio streaming outpaced that of video streaming at a rate of more than 3-to-1.
Nearly two-thirds (64%) of Merlin members reported that audio streaming accounted for the majority of their digital revenues in 2016/2017 – a big jump on 2015/2016, when less than half (46%) said this was the case.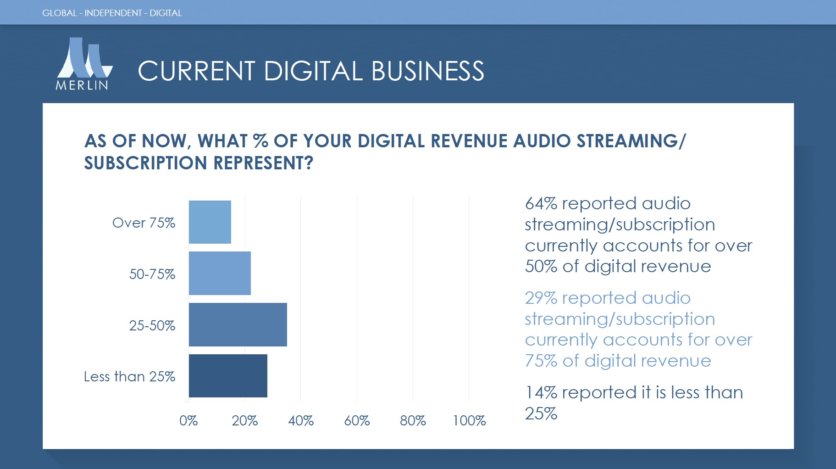 Meanwhile, more than two-thirds of members (67%) said digital income accounted for more than half of their overall revenues in the 2016/2017 period – up from 55% the year before.
Charles Caldas, CEO, Merlin (pictured), said: "Over the past 12 months, we have witnessed a great leap forward. Audio streaming is now dominating Merlin members' digital business, and we are continuing to see the vast majority of our independent labels thrive under what are very different market dynamics.
"As a global-facing agency, it is especially pleasing to see such consistent international growth, and the continuing over-performance of Merlin-licensed repertoire on paid subscription tiers. Clearly, the labels we represent and the artists they support hold a unique value to music fans the world over.
"The only relative step backwards is the industry-wide under-performance of video-streaming.
"If we can address this market anomaly, then the uplift across the business would be enormous."Music Business Worldwide