The four 'major' recorded music companies – which in this instance means Universal Music, Sony Music, and Warner Music, plus indie collective Merlin – have cumulatively lost 12% of market share on Spotify over the past five years.
That stat came to light in Spotify's new annual investor report, which reveals that 75% of plays of music tracks on its platform last year were distributed by the 'big three' majors or a Merlin member.
Obviously, that means that a quarter of music streams on Spotify last year (25%) were distributed by companies who were unaffiliated with the majors or Merlin.
Said companies include the likes of TuneCore (and its parent, Believe), plus UnitedMasters, and certain other distribution platforms for independent (or 'self-releasing') artists.
(Important note of context: Merlin represents famed indie labels such as Beggars Group, Cinq Music Group, [PIAS], Mushroom and others, but it also represents indie distributors – including DistroKid. Merlin claims to represent somewhere around 15% of the global music market.)
The major-plus-Merlin market share of all streams on Spotify was as high as 87% in 2017, according to previous Spotify fiscal reports. You can see the gradual decline of this figure since then below.
---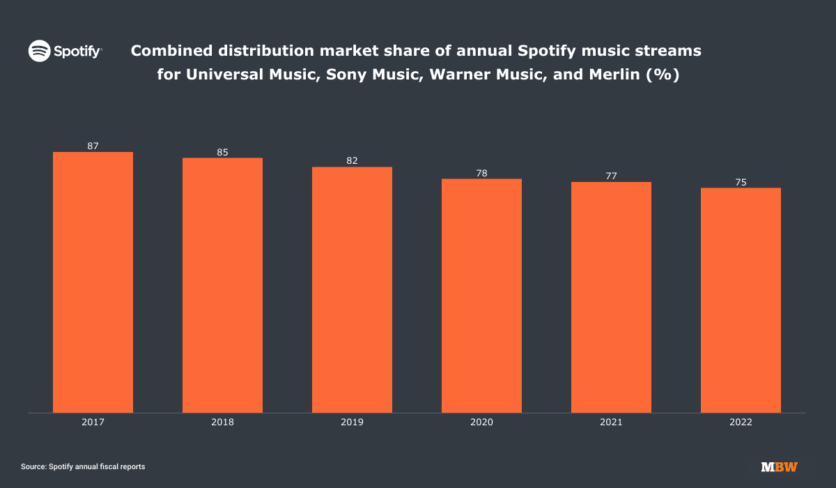 ---
The dilution of major record company market share on Spotify has become something of an annual inevitability, when you consider the huge volume of releases now hitting streaming services each day (and the fact that the majors can only release a certain percentage of it).
Recent estimates suggest that over 100,000 new tracks are now bring uploaded to streaming services like Spotify every 24 hours.
The decline in market share of volume of plays for the majors has a concurrent impact on their share of revenue earned from the service – thanks to the dominant 'pro-rata' model of royalty payouts adopted by Spotify and others.
The majors are certainly not unaware of this trend, and are keen to alter its continuing impact on their businesses.
Last year, Rob Stringer, Chairman of Sony Music Group, spoke plainly about the subject to his company's investors. He noted that Sony Music's overall distribution market share (and by association, the market share of all majors) was being "diluted by default" from "the sheer volume of tracks" being released each day via DIY distribution companies.
Stringer discussed Sony's strategy to slow down this trend of dilution. He said Sony was deliberately "casting our nets deeper" in a bid to stem the market share shift to independent distribution – i.e. bringing a larger volume of independent music into's Sony's system via indie-facing operations like The Orchard and AWAL.
Stringer memorably spoke of his distaste for "flotsam and jetsam" eating up market share on streaming services – a clear reference to low-quality "functional" music and 31-second tracks designed to game the pro-rata royalty model on Spotify and other services.
Stringer is not alone in that distaste.
Last month, Sir Lucian Grainge, CEO and Chairman of Universal Music Group, announced to his global staff that Universal had concluded that the current royalty model on services like Spotify was not providing equitable value to premium-level artists.
Grainge made it clear that UMG was making a movement towards new royalty models on services like Spotify a matter of global priority.
He noted that UMG strongly objected to streaming services pushing customers towards "lower-quality functional content" which, he said, "in some cases can barely pass for 'music'".
Grainge specifically castigated playlists on streaming services that are stuffed with 31-second tracks of 'functional music' (i.e. music to relax/sleep/unwind/focus to) whose brevity is deliberately designed to trigger a streaming royalty payment as many times in a row as possible.
"This year, [UMG] will be working on the innovation that is absolutely essential to promote a healthier, more competitive music ecosystem, one in which great music, no matter where it's from, is easily and clearly accessible for fans to discover and enjoy," he wrote.Music Business Worldwide