Live Nation Entertainment has just boosted its liquidity by $1.2 billion, which President and Chief Executive Officer Michael Rapino states will provide "extra cushion to withstand any scenario well into 2021".
The company has not been able to host a single concert worldwide since March 12 due to COVID-19, with socially-distanced shows to be trialled by Live Nation New Zealand later this month.
The $1.2bn was raised via a secured note sale, with repayment due in 2027. The debt carries an annual interest rate of 6.5% per annum.
"This added liquidity will help bolster our already strong balance sheet, providing us with extra cushion to withstand any scenario well into 2021, as well as ample resources to capitalize on current innovations and ramp business up quickly when the time is right," said Michael Rapino, President and Chief Executive Officer of Live Nation Entertainment.
"Artists' endless creativity along with the enduring fan demand for concerts fuels our confidence that there is, and always will be, a strong future ahead for concerts and live events."
Today's news is the expected outcome of a financial announcement made last Wednesday (May 13).
According to today's announcement, the offering was upsized to $1.2bn from $800m "due to overwhelming investor demand".
As reported last week, the $1.2bn secured note sale will take Live Nation's long-term debt up to approximately $4.85bn (see below for LN's published debt list as of the end of Q1 2020).
The company has told its investors that  the proceeds from the transaction will be used for general corporate purposes.
---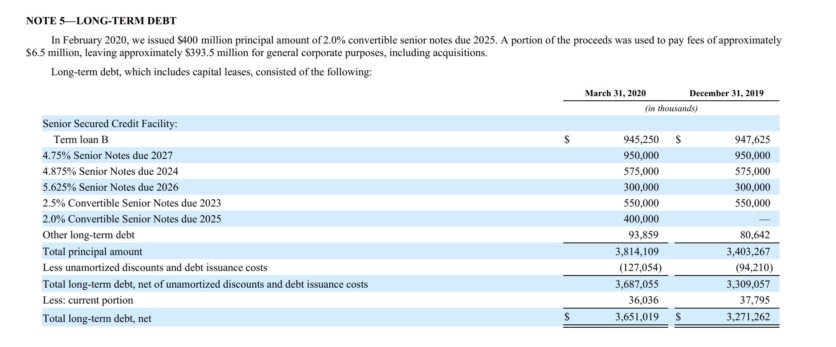 ---
As of March 31, 2020, Live Nation's total cash and cash equivalents balance was $3.3 billion, which included $817 million of free cash and $2 billion of 'event-related deferred revenue' (which includes money paid for tickets to shows that have been postponed or haven't taken place yet.)
In addition, the company reported today that it has available debt capacity of $963 million.
Last month, ahead of its Q1 earnings, Live Nation announced it had secured a $120 million revolving credit facility loan to boost its liquidity.
At the same time, the company announced plans for $500 million in cost cuts this year, including salary reductions for Michael Rapino and other top executives.
Live Nation confirmed on May 7 that this $500m target had been met, and had been raised to $600m (i.e. $50m per month).
The company's Q1 2020 revenues fell significantly in Q1 (the three months to end of March) by 20% YoY.Music Business Worldwide