It's been a difficult couple of months for Live Nation Entertainment, which stands as one of the most exposed companies on the planet to the economic impact of COVID-19 lockdown.
Today (May 7), we got our first insight into the fiscal health of the Ticketmaster parent during the global Coronavirus pandemic.
Live Nation's Q1 2020 financial results (the three months to end of March) showed quarterly revenues of $1.37bn, down 20% at constant currency year-on-year.
However, in brighter news for shareholders, Live Nation CEO and President Michael Rapino noted that over 90% of fans have opted to keep their tickets for postponed shows, rather than take refunds.
Live Nation, alongside others in the the live industry, announced that it was suspending all upcoming concerts on Thursday, March 12.
That move, which has so far continued without adjustment, effectively wiped out nearly three weeks of Live Nation's Q1 period.
See below to read the firm's just-released Q1 2020 fiscal announcement, featuring a letter from Rapino.
You can expect MBW to closely analyze these results in the coming days.
---

Highlights
Over 90% of Fans Opting to Keep Tickets for Shows Over Refunds
91% of Global Live Music Goers Say They Want to Return to Concerts   
$600 Million Cost Reduction Program Target in 2020
$1.0 Billion Cash Management Program Target in 2020
At the beginning of the year, we were on track for tremendous growth across all our businesses with both fan demand and artist touring increasing on a global basis. However, in mid-March we came to a halt and we have held no concerts in almost two months. Despite these challenging times, we continue to have full confidence in the long-term supply and demand dynamics of the live concerts industry, Live Nation's leadership position and our business model's ability to successfully deliver profitable growth and shareholder value.
Ensuring Health & Safety
Our top priority is to ensure the health and safety of our employees, fans and artists. Like most of the world, we have been working remotely since mid-March and we will return to work only after there is clear consensus that it is safe to do so, and then in appropriate numbers with expanded cleaning and social distancing protocols. Similarly, we recognize the experience at our venues will change when concerts start back up, and we are working with medical experts and public health officials on procedures to keep people safe while enjoying our shows.
When we asked over eight thousand fans across North America about their requirements for returning to shows, they had two clear priorities – with 85% of fans stating they want increased cleaning and sanitizing of the venues and ready access to hand sanitizing stations, while no other actions received more than 40% support. In addition, we expect to have additional safety protocols in place, potentially including reduced capacity, touchless concessions and creative ways to apply our digital ticketing technology.
Planning For Reopening
Our next priority is planning for the reopening of concerts when the time is right. First and foremost, we will let the facts and science tell us when we should start putting on concerts again.  We are working with the government at the federal and state levels in the U.S. and across all countries, building plans that fit within reopening phases for each specific market. In the meantime, we have fortified our balance sheet to have the resources to ramp up quickly when the time is right.
We know from fans that demand will be there when the shows return. Globally, over 90% of fans are holding on to their tickets for rescheduled shows where refunds are available, which is the clearest demonstration of pent up demand that will enable us to quickly start concerts back up. Reinforcing this, in a global survey of ten thousand live music goers, over 90% indicate they will be back to concerts once possible to do so. Looking further out, given that 80% of shows have been rescheduled rather than canceled, and as we noted almost all fans are holding on to their tickets, we believe 2021 can return to show volume and fan attendance at levels consistent with what we've seen in recent years.
Well Positioned to Lead Live Industry
As we plan the resumption of concerts, we are lso seeing a number of innovations within our company as artists look to stay connected to fans.  Almost a million fans have come to our Live From Home site to find virtual tours and acoustic performances from home. We've seen millions of fans in over a hundred different countries join Insomniac's Virtual Rave-A-Thons, while drive-in concerts are finding a new purpose as socially distanced concert halls.
Throughout all this, we remain motivated by the long-term potential of global live events. It is in our DNA to gather, socialize and celebrate and, as we provide reassurances on health and safety at the venues, we expect our business to build back. Live Nation is best positioned in the live ecosystem to play the long game, capture new opportunities and continue leading the industry into the future.
Michael Rapino
President and Chief Executive Officer
Live Nation Entertainment, Inc.
---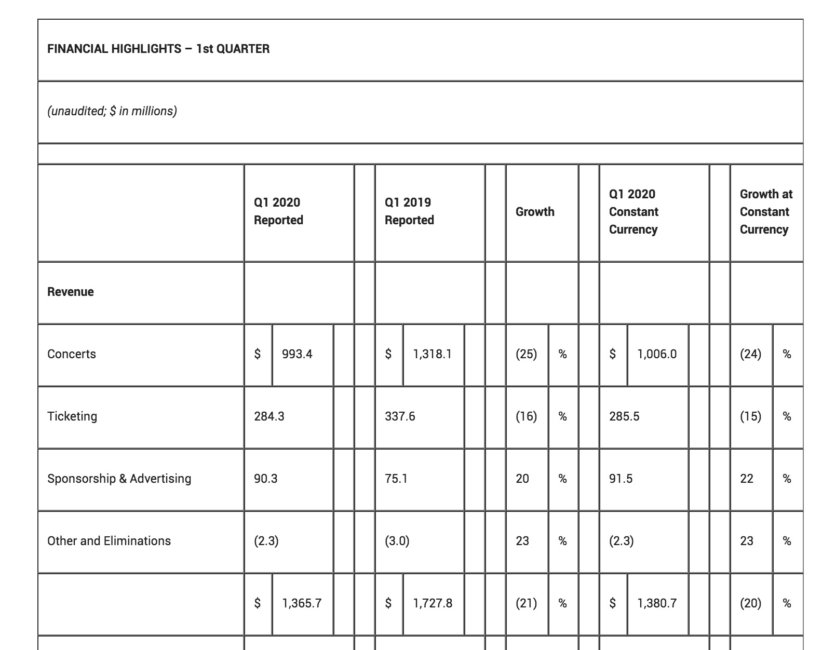 ---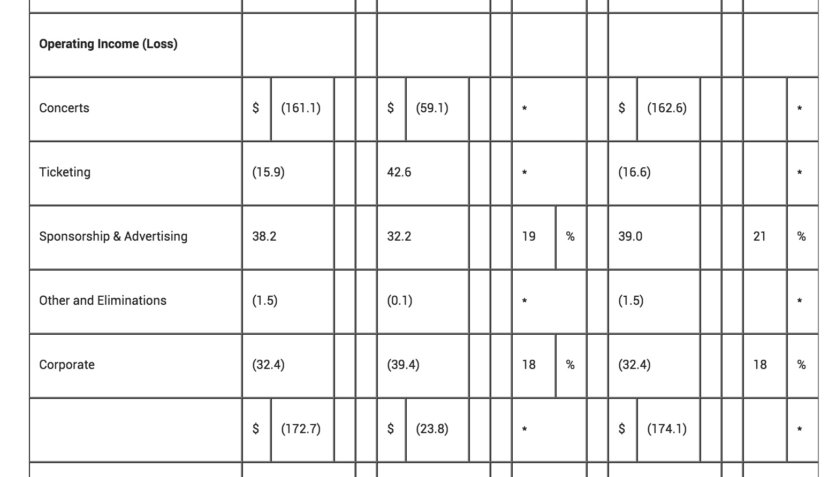 ---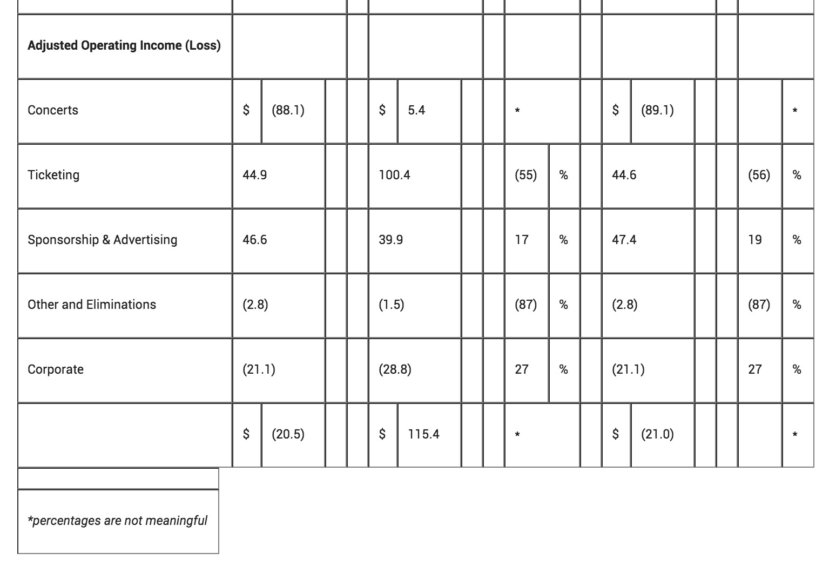 ---
As of March 31, 2020, total cash and cash equivalents were $3.3 billion, which includes $842 million in ticketing client cash and $817 million in free cash.
Event-related deferred revenue was $2.0 billion as of March 31, 2020, compared to $1.8 billion as of March 31, 2019.
For the year ended March 31, 2020, net cash provided by operating activities was $632 million and free cash flow — adjusted was $(115) million.
We currently expect capital expenditures for the full year to be approximately $200 million.
Music Business Worldwide