Twitter is a place where the world's biggest music stars can command huge influence – not least when they want to point millions of fans in the direction of their new single on iTunes.
Music artists are reportedly the most popular figures on the worldwide social network, with Katy Perry boasting the biggest number of followers of anyone.
Perry's follower count clocks in at more than 64m, closely followed by Justin Bieber on 60m – the world's second most-followed Twitterer.
Barack Obama is third with more than 54m, but he's followed by another musician at No.4: Taylor Swift, with more than 51m followers.
Rounding out the musician's Top 5 is Lady Gaga with 44m followers, ahead of Rihanna, with 41m.
But as we all know, not every Twitter follower is all they first appear: fake accounts are everywhere on the service, and seem particularly attracted to music megastars.
It's not for us to ponder about who may or may not have deliberately added hordes of fake Twitter followers to inflate their count.
But with new research from Twitter follower analysis tool TwitterAudit.com – commissioned by MBW – we can at least get a picture of how many of these superstars' digital acolytes are (and aren't) living, breathing fans.
Here's how Twitteraudit does its business, in its own words:
Each audit takes a random sample of 5,000 Twitter followers for a user and calculates a score for each follower. This score is based on number of tweets, date of the last tweet, and ratio of followers to friends.
We use these scores to determine whether any given user is real or fake. Of course, this scoring method is not perfect but it is a good way to tell if someone with lots of followers is likely to have increased their follower count by inorganic, fraudulent, or dishonest means.
So there you have it. Not perfect, but a good rough guide as to who's genuine… and who's faking it. Below are the results:

1) Katy Perry:
64.2m followers
Twitter audit:


35% real /
65% fake
According to TwitterAudit's sample report, just 35% of Katy Perry's followers are the real deal.
Extrapolated across the Roar star's entire follower count, that would mean 41.63m of the Roar superstar's followers are bots or inactive.
And on the flip side, it would mean that more than 22m of Perry's followers were actual humans.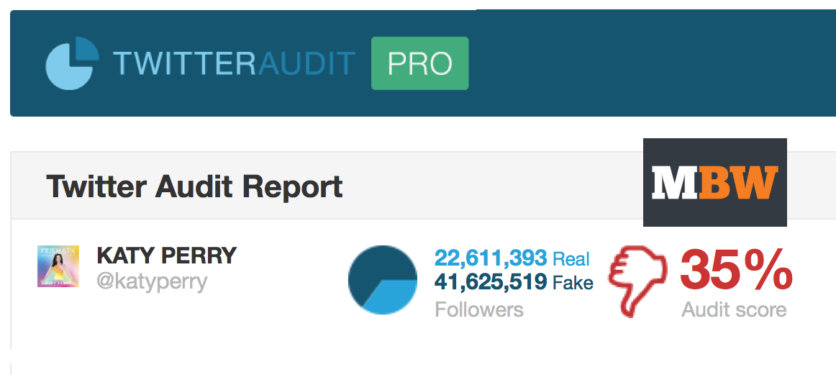 2) Justin Bieber:
59.9m followers
Twitter Audit:


42% real /
58% fake
A higher score that Katy Perry for Justin Bieber: according to TwitterAudit, the solo star has 42% real followers on the service.
Across his full follower count, that would amount to 25.3m real fans reading his words on the service.
However, TwitterAudit estimates that the singer has attracted 58% fake followers.
If that was applied to his full follower count, it would be he carrier 34.6m bots or unused Twitter accounts.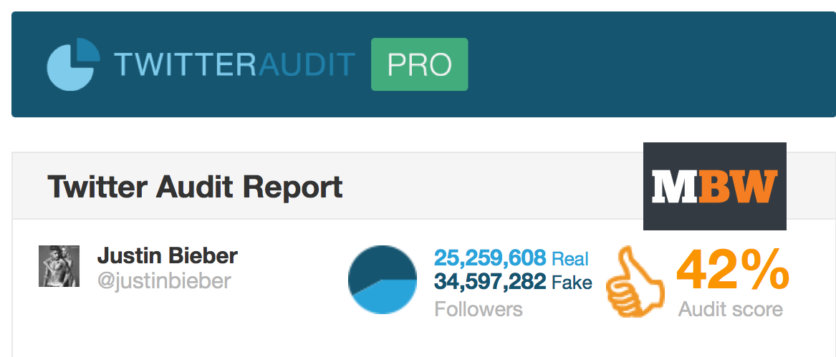 3) taylor swift:
51.6m followers
Twitter Audit:
33% real /
67% fake
She's undoubtedly one of the world's biggest modern music stars, but Taylor Swift is burdened with a whole lot of fake Twitter followers, according to TwitterAudit.
The company's report for MBW estimates that 33% of the 1989 singer/songwriter's Twitter friends are real people.
But that means a whopping 67% of her followers are bots or inactive accounts.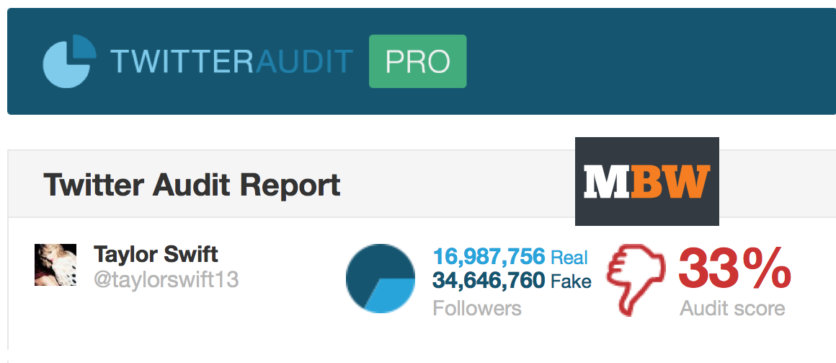 4) Lady gaga:
43.9m followers
Twitter Audit:
45% real /
55% fake
Lady Gaga's 'Little Monsters' on Twitter are certainly numerous: TwitterAudit estimates that close to half of her followers – which would equate to around 19.8m accounts in total – are real.
However, of the sample analysed for MBW, 55% of Gaga's followers were found not to be real.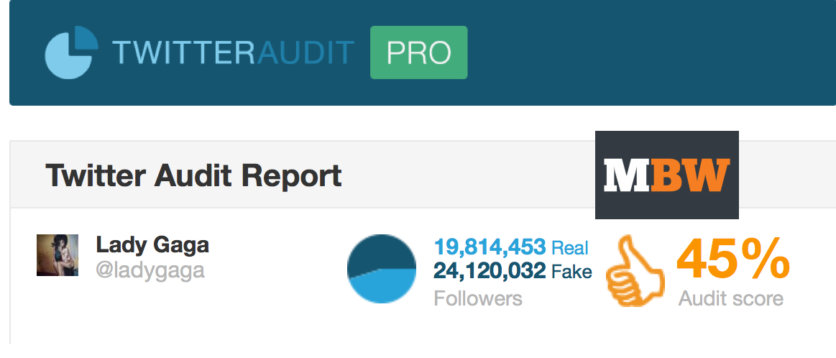 5) RIHANNA:
41m followers
Twitter Audit:
38% real /
62% fake
So there you have it: TwitterAudit's report for MBW suggests that 50%+ of the followers on the the music world's most-followed Twitter accounts aren't real.
The sample for Rihanna suggests that around 38% of her 41.1m followers – which would equate to 15.2m people – are real.
But the majority of TwitterAudit's sample, at 62%, were deemed fake.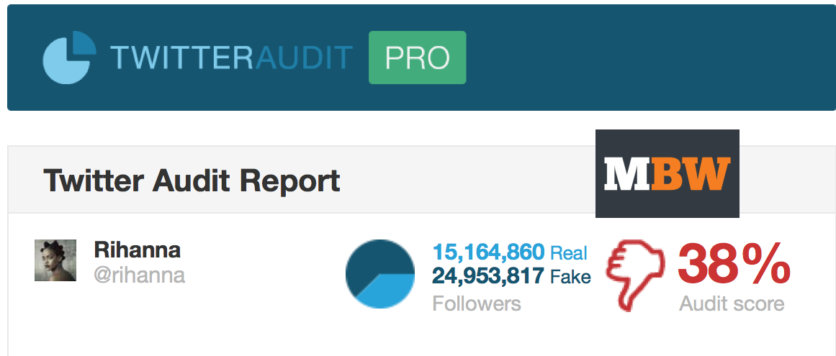 Music Business Worldwide