MBW Reacts is a series of analytical articles from Music Business Worldwide written in response to major recent entertainment events or news stories. 
---
Apparently, TikTok's the music industry now.
Labels are obsessing over it. Artists can't live without it. If you're not on it, and if you're not going viral on it? You, chump, are out of the game.
But what's this?
Here comes creaky old Netflix – with its knackered knees, its arthritic hips, and its 70%-down-YTD share price – to flip the entire music business on its head, and remind us that, actually, no one in this industry can predict anything anymore.
And that no one, not even TikTok, is ever fully in control of what makes a hit, a hit.
If you've been living under a boulder for the past couple of weeks – or are one just of the 2 million people Netflix is expecting to unsubscribe from its service in Q2 2022 – allow us to explain.
On May 27, the fourth series of Netflix-exclusive sci-fi drama, Stranger Things, premiered on the platform.
Kate Bush's Running Up That Hill (A Deal With God) was featured in a climactic scene that has wowed the series' global fanbase.
(We'd post the official video of that scene here, but it's a bit scary – as in 'horror themes' scary – so we won't. But if you're made of stern stuff you can watch it on the official Netflix YouTube channel, where it already has over 5 million plays.)
Just look at what's happened on Spotify since Stranger Things' return:
---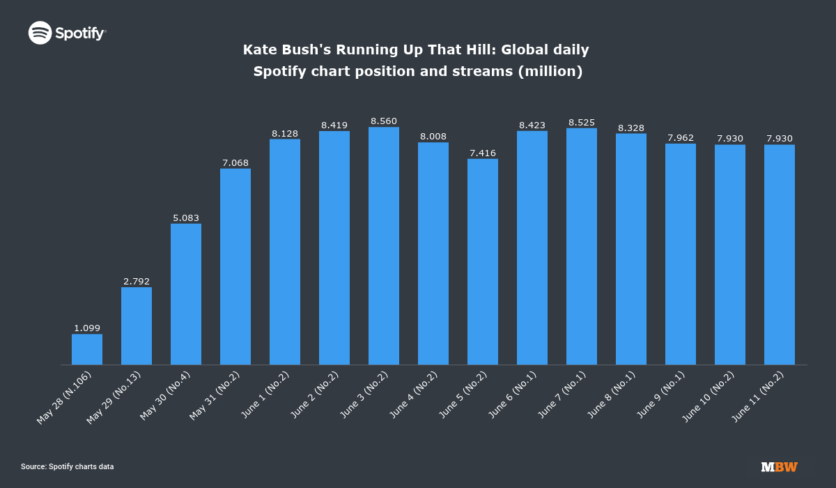 ---
What you see above are chart-eligible Spotify streams, which – as MBW understands it – discount anything over 10 plays per user per day. So Kate Bush's actual global daily streams would be bigger than the figures in our chart, probably topping 9 million at their peak.
The big takeaway:
Fuelled by virality due to its inclusion in a blockbuster Netflix drama, Kate Bush's Running Up That Hill  – 37 years (!) after it was released – was the No.1 most popular track in the world on Spotify over the last chart week (the seven days to EOP Thurs, June 9).
It beat massive pop hits from the likes of Harry Styles, Bad Bunny, Karol G, and Lizzo to this crown.
---

---
Yet if you looked at the UK's latest weekly Official Singles Chart, which runs across the same chart week, you'd get a very different impression.
In the UK – Kate Bush's home nation – Running Up That Hill was announced to have reached No.2 on the Official Chart on Friday (June 10), behind Harry Styles' As It Was.
Here's the shocker: MBW has confirmed with multiple label sources that Running Up That Hill actually beat As It Was last week in terms of both UK streams and UK downloads – and it wasn't even close.
In fact, in terms of weekly UK streams, we're told Running Up That Hill racked up more than 9 million plays across various platforms in its last chart week (again, to end of Thurs, June 9).
Our label sources tell us that this figure was comfortably over 2.5 million streams ahead of Harry Styles' latest hit (which is now celebrating a tenth week at No.1 in the UK).
"MBW has confirmed with multiple label sources that Running Up That Hill actually beat As It Was last week in terms of both UK streams and UK downloads – and it wasn't even close."
In fact, MBW has confirmed that Running Up That Hill just had a bigger UK chart week than As It Was in terms of all of the following: (a) Premium streaming; (b) Ad-funded streaming; (c) Premium video streaming; and (d) Downloads.
Why that's important: Each of these categories are the only formats that contribute to the Official UK Singles Chart.
So how on earth did Kate Bush end up losing out on a UK No.1 single for Running Up That Hill – which previously peaked at No.3 back in the mid-eighties?
It's all because of a formula used by the Official Charts Company called Accelerated Chart Ratio (ACR).
In short, this formula is designed to make it harder for tracks that have already had a successful run on the UK chart from duking it out with newer releases.
ACR, which was first introduced in 2017, serves a specific purpose: To keep new entries flowing on to the chart each week, and to ensure that emerging British talent gets a leg-up against global hits that otherwise wouldn't leave the Top 10 for months.
Because Running Up That Hill has already had a crack at the UK chart (albeit over 30 years ago), it is being punished with an ACR penalty, while young Harry's latest bop avoids such fate (for now).
"Kate Bush's track had to attract double the streams of Harry Styles' track to earn the same 'sale' units that contribute to the UK weekly chart."
As a result: Running Up That Hill's premium streams on the UK chart this week were worth one 'sale' for every 200 plays; its ad-funded streams were worth one 'sale' for every 1,200 plays.
In contrast, As It Was earned one 'sale' for every 100 premium streams, and one 'sale' for every 600 ad-funded streams.
In other words, Kate Bush's track had to attract double the streams of Harry Styles' track to earn the same 'sale' units that contribute to the UK weekly chart.
And if you think that sounds like utter madness, well, that's because it is.
---
It's easy to blame the UK charts arbiter – the Official Charts Company (OCC) – for this ridiculousness, but it's an org co-owned and directed by the UK's biggest record labels.
The OCC is ultimately following the whims of the record business. Therefore, the record business needs to have a word with itself.
Five years ago, the OCC introduced ACR as a bulwark against the charts getting too boring.
This was a time when, thanks to young people rinsing tracks on streaming services, the likes of Drake and – particularly – Ed Sheeran were dominating the British chart to a laughable degree.
ACR was an understandable if debatable adjustment – a bid to protect a key artist marketing platform for record companies (i.e. a dynamic, don't-miss weekly Official Chart).
---
Half a decade on, times have changed again.
Today's global music business is rapidly coming to terms with another new era, where catalog tracks – especially proven evergreen tracks – can explode in streaming popularity with a young audience via a single, epoch-grabbing moment in wider media.
Recent examples include Nirvana's Something In The Way recurrently appearing in the The Batman movie, propelling the track to chart on the Billboard Hot 100 for the first time, 31 years after it was released.
And, of course, there was last year's big catalog viral smash – Fleetwood Mac's Dreams –  which racked up over 36 million global audio streams in the fortnight after it became a TikTok sensation via a skateboarding man and a bottle of cranberry juice.
(To further reiterate the extraordinary scale of the Stranger Things sync: Running Up That Hill did 57 million global chart streams on Spotify in the past week alone.)
---
Obviously, the Official Charts Company must now quickly review its ARC suppression formula, which: (i) Just robbed Kate Bush of a rightful No.1 record; and (ii) Doesn't seem fit for purpose in this here-comes-another-catalog-sync-smash era.
Yet all of this is arguably symptomatic of a wider problem: a record industry whose all-consuming obsession with new and youthful artists hasn't yet quite been fully re-calibrated for catalog's power in the streaming age.
'New' music remains the lifeblood of the record business, and it's apt that the majority of record label investment and energy continues to head in the direction of frontline A&R, and new signings.
But perhaps the Kate Bush / Stranger Things story – especially the associated UK chart debacle – tells us that more focus, more resource, and frankly more thought should also now be pushed in the direction of established artists, with established songs.
---
There is an old adage that junior journalists are taught when they first make it to a professional news desk: News is simply something true that people don't know yet.
The purpose of the maxim is to remind whippersnapper scribes that just because an event might have happened a few decades ago, they shouldn't discount its relevance to modern-day reader.
News doesn't have to be new; it just has to be new to your audience.
It's high time the music industry heeded this advice.
---
Millions of teenagers would have started watching Stranger Things when it first aired back in 2016. Millions more will have joined their ranks as the years, and the seasons, have rolled on.
One wonders how many of these millions of young people have just heard Running Up That Hill for the very first time.
They do not come with the baggage of history; they do not come with a pre-disposed idea of who Kate Bush is, or how they may or may not relate to her.
They just hear a timeless tune, that moves them to press play (and, evidently, save) on Spotify.
How the music industry now capitalizes on this moment – and, indeed, publicly celebrates one of its all-time great artists as a result – will speak volumes.
---
Modern record label A&R executives are often keen to remind you how, in the streaming age, "global hits can come from anywhere".
They might be referring to Brazil, or Korea, or Finland, or Nigeria, or any other region where a young person is currently cooking up a banger in Ableton. And that's a wonderful thing.
But, as Kate Bush has proven, "anywhere" isn't just geographical – it's chronological, too.
It's the year 1985.
For a hit-making music industry so determined to face forwards, this might sound like a far-off, scary place – perhaps even scarier than the Upside Down.
But oh, there is thunder in its heart.Music Business Worldwide