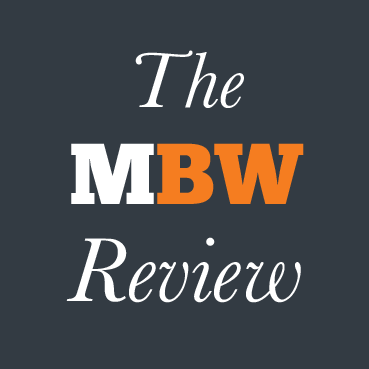 The MBW Review is where we aim our microscope towards some of the music biz's biggest recent goings-on. This time, we rifle through Warner's updated IPO filing with the US Securities & Exchange Commission to see just how big a deal Len Blavatnik did in 2011. The MBW Review is supported by Instrumental.
---
What's the most audacious record business deal any one individual has ever pulled off?
Thoughts go immediately to Clive Calder's Zomba Group, which the South African magnate flogged to (the old) BMG for $2.74bn in 2002 – 27 years after he co-founded the indie label with Ralph Simon.
To put the magnitude of that Zomba deal in perspective, it netted Calder more money than all of the following record label mega-sales combined: Island Records (to PolyGram, $300m, 1989); Geffen (to MCA, $550m, 1990); Virgin Records (to Thorn EMI, $960m, 1992); Motown (to PolyGram, $325m, 1993); and Def Jam (to Universal, $133m in total, 1999).
Obviously, on a blockbuster corporate level, you can't count out Universal's $1.9bn buyout of EMI in 2012 – a deal which helped fuel UMG's own $34bn valuation when it sold 10% of its company to a Tencent-led consortium earlier this year.
But, in terms of private, entrepreneur-led label deals, has Len Blavatnik just trumped even Calder's era-defining sale?
There's a solid argument that he might have.
With a bit of good fortune, Blavatnik could be about to do something most moguls can only dream of: entirely recovering the money it cost him to buy Warner, while maintaining majority ownership of a $16bn-valued music company.
Here's how.
Len Blavantik's Access Industries acquired Warner Music Group for $3.3bn cash in 2011. In doing so, Blavatnik and Access took Warner off the stock market, with the company previously trading on the New York Stock Exchange since 2005.
Earlier today (May 26), we got confirmation that, nine years on, WMG is headed back to the public markets, this time on the Nasdaq, via the sale of 70m Class A common shares in its company.
The devil is in the detail, here. Warner's amended S1/A form, which confirms its IPO, reveals that those 70m Class A shares currently make up 13.7% of the firm's common stock.
This means that Access Industries / Len Blavatnik will continue to own 86.3% of Warner Music Group even if these 70m shares are successfully sold. And there's good reason for Blavatnik to be confident they will, despite the COVID pessimism that has hurt global markets of late.
For one thing, according to Warner's S1/A form, there are no less than 28 underwriters involved in the IPO, including many names that will be familiar in music industry circles – such as LionTree, Raine Group, CitiGroup, Bank Of America, JP Morgan, and SunTrust.
All of these underwriters will be repped, in the first instance, by a trio of book-runners: Morgan Stanley, Credit Suisse and Goldman Sachs.
---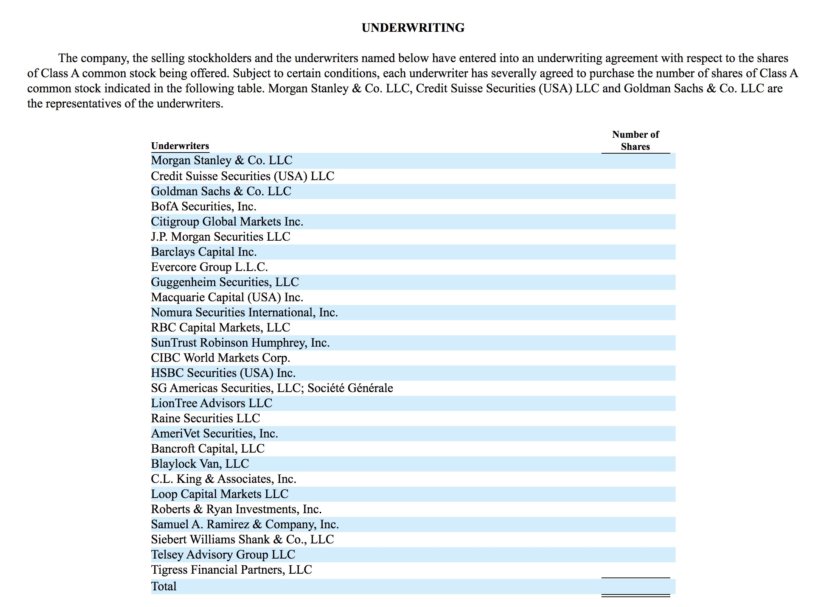 ---
Back to Len Blavatnik.
MBW has rifled back through Warner Music Group's annual filings today, and totted up the dividends that the music company has paid Access Industries since the $3.3bn WMG acquisition was completed in July 2011.
Here's how those dividend payments stack up, year-by-year, in terms of Warner's FY (which ends in September in each case).
---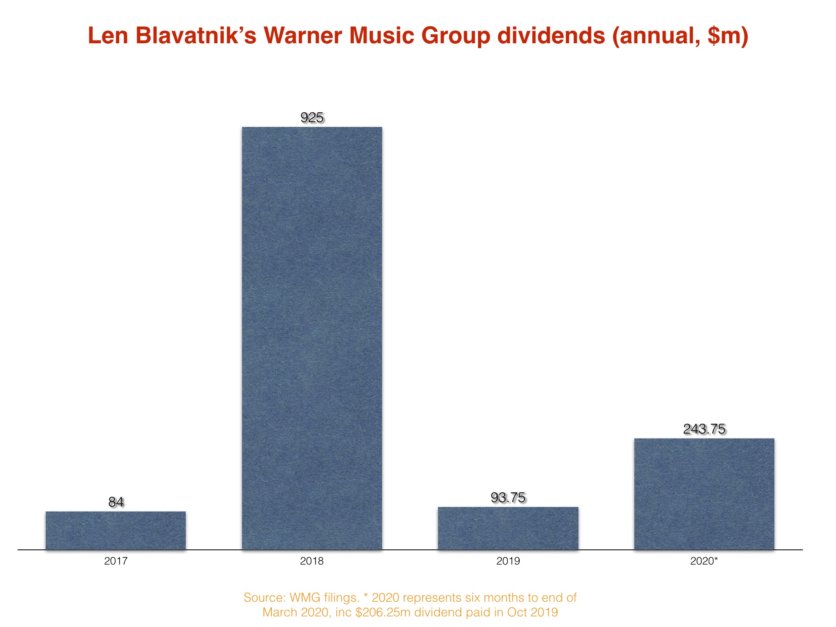 ---
Access didn't take a single dividend out of Warner until FY 2017, with its biggest annual extraction – $925m in 2018 – made possible by WMG's sale of $504m in Spotify stock during the quarter ending June 2018. (As noted above, Access's second biggest dividend, for $206.25m, came in October 2019.)
In total, then, Len Blavatnik's Access Industries has extracted $1.35bn in dividends since acquiring WMG for $3.3bn in 2011.
---

Now, let's take a closer look at Warner's Nasdaq IPO.
In the updated S1/A filing, WMG makes clear: "We anticipate that the initial public offering price will be between $23.00 and $26.00 per share."
As MBW noted in our earlier news story, this lays the way clear for Warner's IPO on the Nasdaq to raise between $1.61bn and $1.82bn in total (i.e. for 70 million shares).
This money won't be going to Warner, the music company has confirmed – it will instead be banked by Access Industries.
The US markets are going through a sustained rally at the moment, with the Nasdaq composite index rising by over a third in the two months since March 23.
So let's for a moment forecast that this frothy stock exchange allows Warner to IPO at the top-end of its estimates ($26.00 per share), pulling that $1.82bn into Access's coffers.
This, combined with the $1.35bn in WMG dividends extracted by Blavatnik over the past decade, will bring Access's total to-date return from Warner Music Group up to $3.17bn – in tantalizing reach of that initial $3.3bn investment.
---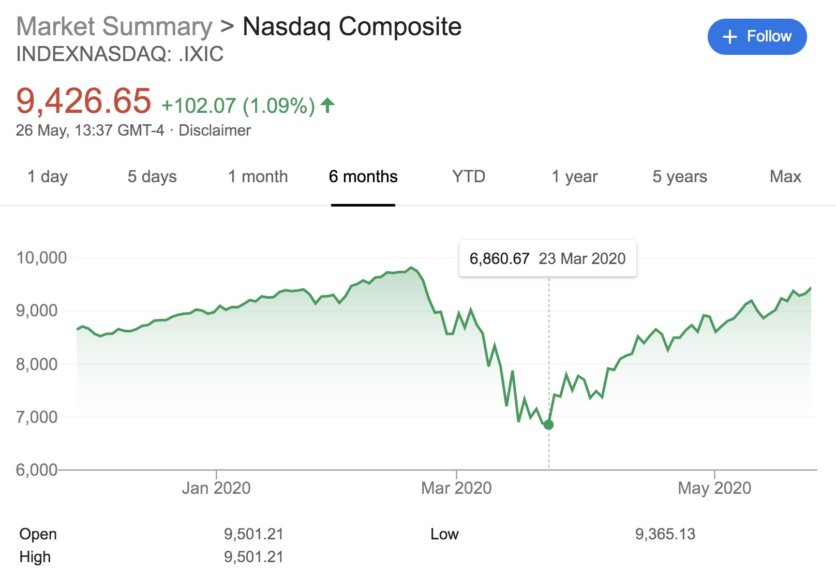 ---
But Warner's amended S1/A also reveals that the company could actually sell off more than those 70m shares in its initial IPO.
"The underwriters also may purchase up to 10,500,000 additional shares from the selling stockholders at the initial offering price less the underwriting discounts and commissions, within 30 days from the date of this prospectus," reads the document.
If we continue our optimistic forecast that Warner will debut on the Nasdaq at $26.00 per share, then a sale of an additional 10.5m Class A shares would bank Access approximately another $273m (minus fees) – more than enough to ensure that Len Blavatnik gets his full $3.3bn back, and then some.
(Those wondering how Warner's £487m ($765m) buy of Parlophone in summer 2013 affects Blavantik's return here, it doesn't. That deal was financed via a term loan facility provided by Credit Suisse, Barclays, UBS, Macquarie and Nomura – i.e. debt, which we'll come back to shortly.)
---

So, it's looking eminently possible that Len Blavatnik and Access Industries are going to recover the entire three-billion-and-a-bit they ploughed into acquiring Warner Music Group at a time (2011) when the streaming-led fortunes of the modern record business were a far riskier bet.
What will this mean for Warner Music Group in the future? For one thing, it will transform WMG, officially speaking, into a $16bn+ business.
If Warner nails a $26.00 stock IPO in the weeks ahead, and that initial 70m tranche of shares is sold as expected, it will mean that 13.7% of WMG is valued at $1.82bn, and, therefore, that the whole of WMG is valued at $13.28bn.
However, this number doesn't take into account Warner's current total debt ($2.98bn as of the end of March), or its current cash/cash equivalent position ($487m at the end of March).
Adding these factors into the mix, once again based on the prospect of a $26.00 per share IPO, would take Warner's total Enterprise Value as a company up to around $16bn.
The best bit for Blavatnik? He'll continue to own the vast majority of Warner's business post-IPO.
If the 70m shares in WMG are sold, it will leave Access Industries with 86.3% ownership of the music company.
Even if those additional 10.5m shares are also snapped up by underwriters, this ownership will fall only slightly, to 84.2%.
---

---
And there's another big discovery in Warner's amended IPO document.
Over the past few months, like many others, MBW been guilty of suggesting that Access Industries will continue to control Warner Music Group post-IPO by maintaining the majority of voting rights in the company.
In a certain light, this is true. As Warner's S1/A makes clear: "Access and its affiliates will hold approximately 99.2% of the total combined voting power of [WMG's] outstanding common stock (or approximately 99.1% if the underwriters exercise in full their option to purchase additional shares from the selling stockholders) through their ownership of all of the Class B common stock. Accordingly, [WMG] will be a 'controlled company' within the meaning of Nasdaq corporate governance standards."
Dig a little deeper into Warner's SEC filing, though, and you make an important additional discovery. I've highlighted it in blue below.
---

---
Throughout this article, I've written 'Len Blavatnik' and 'Access Industries' as interchangeable entities.
This is fair enough – when it comes to Warner Music Group, you can't have one without the other, and the former owns the latter – but legally speaking, they are obviously separate parties.
Now, look above under '% of Total Voting Power', both before and after Warner's IPO. See who individually has a full 100% before, and a full 99%-plus after?
Why, it's Len Blavatnik. The billionaire tycoon who's about to get a full return on his bold 2011 investment in Warner Music Group… while still absolutely calling the shots.
---

The MBW Review is supported by Instrumental, which powers online scouting for A&R and talent teams within the music industry. Their leading scouting platform applies AI processes to Spotify and social data to unearth the fastest growing artists and tracks each day. Get in touch with the Instrumental team to find out how they can help power your scouting efforts.Music Business Worldwide